Press Release
MARNmentorship program aims to bring Milwaukee's artists outof their silos
For the 18th year this July, the Milwaukee Artist Resource Network's hallmarkmentorship program returns, with a focus on intergenerational exchange
On paper, a lot was going well for Colin Matthes' career in 2009. He had multiple exhibitions scheduled and his body of work around war, business and leisure was gaining momentum.
Usually, this is not the type you'd expect to apply to a mentorship program. But as Matthes looks back now, he was experimenting and exploring in many directions but lacked direction.
"Not realizing it at the time, I was in a muddy place. I was doing too much, going in too many directions, and without a clear trajectory," Matthes said.
To leave no stone unturned, Matthes applied to the Milwaukee Artist Resource Network's then-two-year-old mentorship program called "MARNmentors," and spent the nearly year-long program as a mentee to Santiago Cucullu, a multi-media artist that has mounted numerous international exhibitions.
Matthes and Cucullu quickly developed a working relationship, followed by a genuine friendshipas the  two installed exhibitions together and have kept in touch to this day.
"It is hard to quantify how important it was to work with Santiago. A lot of my work has roots that can be traced back to our mentorship," Matthes reflected.
Over a decade later, the program Matthes and Cucullu bonded within is not only still running annually, but has helped hundreds of other artists find their footing, receive creative and business critique, and learn from new perspectives.
The program also sports a new moniker: "MARNmentorship."
Lois Bielefeld, overseeing MARNmentorship as MARN's new program director, says the name change signifies a nod to the program's roots while simultaneously mirroring subtle changes to the program's focus for 2022 and beyond.
Bielefeld, a queer series-based artist working in photography, audio, video, and installation, is excited to be a part of the program's legacy and develop its next chapter.
Early into her career she wishes she had known about and participated in the program as she hungered for a sense of community in the arts. She wants MARNmentorship to continue offering a chance for local artists to learn from each other and build collective capacity.
"Having a strong cohort of peers has become integral to me in the development of my work and having a Mentor would have been immense in those early years," Bielefeld said.
What is changing, and what is staying the same
In broad strokes, the core goals of the MARNmentorship program remain the same as they have since the program began in 2004; provide a structure for Milwaukee's creatives to assist each other in their development and offer professional workshops for both Mentors and Mentees.
Themes for workshops include but are not limited to grant writing, artist statement development, business 101, understanding gallery representation, artwork pricing, headshots, portfolio review, field-trips, and documentation of artworks.
Those familiar with the MARNmentorship program however may notice subtle differences in this year's program. For one, MARN is looking for both Mentees and Mentors to apply, whereas in the past only Mentees were asked to apply.
Bielefeld said this is done in order to recruit mentors from a wide range of mediums, from visual arts to comedy to curatorial practices. She added that MARN is committed to making every effort to fully engage every community, including BIPOC and LGBTQIA+ communities.
Also changing this year is that the program will no longer solely focus on the run-up to an exhibition, but the post-exhibition process as well.
After the exhibition ends in early June, the program will dedicate time to next steps for the Mentees to ensure they continue developing their practice and have a smooth after-show transition.
For Bielefeld, this focus on the post-exhibition process is in part due to her own lack of direction on what to do after a show, when so much effort was spent preparing for it.
"I so often have felt a bit lost after a show closes, wondering, now what?" Bielefeld mused.
An intergenerational exchange
While a program with the word 'mentorship' in it may imply that knowledge can only flow from the mentor to the mentee, past mentees and mentors have argued that the relationship cultivated is less of a teacher-student relationship and more of a peer-to-peer relationship. Often it ends up being a unique opportunity to communicate across generations in a somewhat-structured environment.
Maeve Jackson joined the program in 2015 as a mentee, and was paired with Portia Cobb, an interdisciplinary artist interested in storytelling around the "double-consciousness of African-American history, identity, memory and forced forgetting."
Jackson described her relationship with Cobb in terms of continuous conversation and mutual support, wherein the two compared perspectives and bonded in a way that challenged the notion that artists, particularly women artists, should compete with one another in order to grow.
By the end, Cobb told her that she saw Jackson as a mentor to her even though Jackson held the official title of 'mentee.'
"When Portia shared that with me, it made me feel like she saw me as an equal in the art community, and that is what I probably needed to hear the most during that time as an emerging artist," Jackson said.
"That is where the power in the program comes from – how artists from different times in their lives can exchange ideas and support each other in a balanced way,"
To apply for the program, fill out an application by May 17 at 11:59 CST. Apply here.
Mentioned in This Press Release
Recent Press Releases by Milwaukee Artist Resource Network
Mar 21st, 2023 by Milwaukee Artist Resource Network
Rosy Petri finishes off book tour by demystifying the publishing process and raising programming funds to help Milwaukee's emerging artists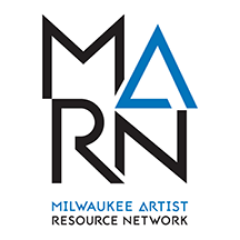 Apr 29th, 2022 by Milwaukee Artist Resource Network
For the 18th year this July, the Milwaukee Artist Resource Network's hallmarkmentorship program returns, with a focus on intergenerational exchange
Mar 1st, 2022 by Milwaukee Artist Resource Network
The Milwaukee Artist Resource Network's first exhibition of 2022 explores how to make sense of contradictory expectations with three events in its final month