Press Release
Laughter, Inspiration, & Cocktails: Milwaukee Film Reveals Spotlight Presentations
Director and subjects set to attend inspiring Opening Night film STUMPED. U.S. Premiere scheduled for documentary celebrating creative cocktails, Schumann's Bar Talks.
MILWAUKEE – Thursday, August 24, 2017 –  The 2017 Milwaukee Film Festival, presented by Associated Bank, is excited to announce the full lineup for Spotlight Presentations, including the multiple award-winning Opening Night film STUMPED, directed by MFF alum Robin Berghaus, and Closing Night film Landline, directed by Gillian Robespierre (Obvious Child) and starring Jenny Slate and Jay Duplass.
Milwaukee was first introduced to STUMPED director Robin Berghaus when her short film of the same name screened at the 2014 Milwaukee Film Festival. Following the rehabilitation of quadrilateral amputee, Will Lautzenheiser, as he coped with his trauma through stand-up comedy, Berghaus expanded the film into a feature when Lautzenheiser took a chance on a risky double arm transplant surgery. A documentary both funny and deeply moving, STUMPED tells the story of a truly indomitable spirit. Both Berghaus and Lautzenheiser are scheduled to attend the screening.
Celebrating the art of cocktails and a U.S Premiere, the documentary Schumann's Bar Talks has world-renowned bartender, Charles Schumann, taking audiences on a tour of some of the world's finest bars. Immediately following the premiere on September 30th, there will be an event, The Craft of the Cocktail, featuring creative concoctions by Bryant's Cocktail Lounge, Goodkind Bay View, Dock 18, and Boone & Crockett.
Spotlight Presentations is presented by Donald and Donna Baumgartner. The program is sponsored by 88Nine Radio Milwaukee and OnMilwaukee.
The 2017 Milwaukee Film Festival will take place at the Landmark Oriental Theatre, Landmark Downer Theatre, Fox-Bay Cinema Grill, Times Cinema, and Avalon Theater from September 28th – October 12th. Festival Passes and ticket 6-Packs are now on sale at mkefilm.org/tickets.
FILMS
OPENING NIGHT
STUMPED
(USA / 2017 / Director: Robin Berghaus)
Will Lautzenheiser thought he was on the verge of realizing his dreams, teaching film classes at Montana State University, when what he thought was an extreme pulled muscle suddenly escalated into something far more severe—a bacterial infection that forced doctors to amputate all of his limbs in order to save his life. Instead of letting this unimaginable setback defeat him, Will took his trauma head-on, performing stand-up comedy to cope with his new normal. But as Will begins to adjust to his new life with the help of his loving partner, Angel, news breaks of a risky, experimental double-arm transplant that offers him the hope of reclaiming his independence. A medical mystery tucked in a comedy nestled in a deeply moving personal portrait, STUMPED is a funny, character-driven exploration into cutting-edge medicine that happens to coincide with the story of a truly indomitable spirit.
CENTERPIECE
The Blood Is at The Doorstep
(USA / 2017 / Director: Erik Ljung)
Trailer: https://vimeo.com/205828363
It's a scene Milwaukee natives will not soon forget: Dontre Hamilton, an unarmed Black man resting in Red Arrow Park, shot 14 times by a police officer in broad daylight, leaving behind a devastated family to pick up the pieces and bringing a community already struggling to maintain positive police-community relations even closer to the brink. Filmed over a three-year period, The Blood Is at the Doorstep focuses intimately on the Hamilton family's strength in the face of unspeakable tragedy, as we follow mother Maria and older brother Nate as they turn to community organizing as a means of honoring Dontre's memory while still doggedly pursuing answers, with public outcry intensifying the longer none are given. A heart-rending portrait of justice deferred from director Erik Ljung, illuminating one family's remarkable ability to channel their grief into fuel for activism and community building, and a sobering reminder of the chasm that so often divides us.
CLOSING NIGHT
Landline
(USA / 2017 / Director: Gillian Robespierre)
Trailer: https://www.youtube.com/watch?v=5aIu1zB4o9c
It's 1995 in Manhattan, and the Jacobs sisters are struggling to get along. Older sister Dana (the ever-effervescent Jenny Slate) is acting out in response to her recent engagement to the stable, straight-laced Ben (Jay Duplass) while younger sister Ali (fantastic newcomer Abby Quinn) is living a life of drugs, parties, and promiscuity despite still being in high school. But when the sisters discover evidence of their father's (John Turturro) infidelities, it brings them closer as they attempt to expose him without alerting their tightly wound mother (Edie Falco) in this warmly ingratiating portrait of family dysfunction from the creative team behind Obvious Child. Cannily observed '90s nostalgia intermingles with a wittily acerbic screenplay to bring back to life an era when families couldn't hide their animus behind the glow of a cell phone screen, a celebration of life and family in all its imperfection, and the ways in which our endless mistakes only serve to bring us closer together.
AlphaGo
(USA / 2017 / Director: Greg Kohs)
Think Kasparov vs. Deep Blue on steroids and you've got the story behind the engrossing documentary AlphaGo. The game: Go, an ancient board game played the world over, with nearly infinite complexity. The players: Lee Sedol, a South Korean Go player widely considered the world's best, facing the titular AlphaGo, an artificial intelligence developed by Google's DeepMind whose modus operandi is to play the game beyond human capacity. What follows is a gripping battle of man vs. machine, a cerebral competition unlike any in human history!
The B-Side: Elsa Dorfman's Portrait Photography
(USA / 2016 / Director: Errol Morris)
Trailer: https://www.youtube.com/watch?v=mZSTFnUaKsM
Acclaimed documentarian Errol Morris (The Thin Blue Line) turns his camera on lifelong friend and photographer Elsa Dorfman in this entertaining and profound portrait of a portraitist. From her start in literary circles, where she photographed cultural titans of the day to her eventual discovery of her preferred format—large-scale 20-by-24-inch Polaroids of her subjects, always taking two, allowing them to choose so she could keep the titular B-sides—Morris warmly illuminates Dorfman's analog process for our digital world.
I, Daniel Blake
(UK, France, Belgium / 2016 / Director: Ken Loach)
Trailer: youtube.com/watch?v=ahWgxw9E_h4
I, Daniel Blake, the 2016 Palme d'Or winner from director Ken Loach (The Angels' Share, MFF2013) is a work of startling empathy and relevancy about the working class coming together as a community. It's the story of one man's struggle for dignity as he navigates byzantine British bureaucracy in an attempt to maintain welfare benefits as he recovers from a heart attack. As this old dog attempts to learn new tricks to get by (using computers and smartphones), he befriends a single mother and her two children on this gripping journey toward compassion.
The Lost World (feat. Alloy Orchestra)
(USA / 1925 / Director: Harry O. Hoyt)
Trailer: https://www.youtube.com/watch?v=w6aabhIo6Bk
Alloy Orchestra returns to the historic Oriental Theatre, and this time things are going to get prehistoric! This silent adaptation of Sir Arthur Conan Doyle's classic tale of a ragtag crew in search of a dinosaur-filled land untouched by time is a rip-roaring adventure that's fun for the whole family. Combine Willis O'Brien's pioneering stop-motion effects (eight years before his work on King Kong!) with the vibrant electric accompaniment only Alloy Orchestra can provide and you have the recipe for an unforgettable night at the movies.
Schumann's Bar Talks
(Germany / 2017 / Director: Marieke Schroeder)
U.S. premiere! Charles Schumann is a bartender par excellence—known the world over for his iconic Munich-based Schumann's Bar— and best-selling author of a cocktail guide the New York Times called "the drink-mixer's bible." Here Schumann is your tour guide through some of the finest bars the world has to offer, traveling from New York to Tokyo with numerous stops in between to explore the fascinating history and rich culture behind these monuments to social imbibing, a pursuit all Milwaukeeans agree is in need of extensive documentary study.
Stop Making Sense
(USA / 1984 / Director: Jonathan Demme)
Trailer: https://vimeo.com/5804404
The Milwaukee Film Festival's annual screening/dance party/best concert film ever made/unforgettable filmgoing experience returns for yet another year! The late, great Jonathan Demme combined forces with David Byrne and the Talking Heads to make cinematic history, the rare concert picture that makes you feel like you're in attendance, experiencing the performance for the first time. From the stripped down "Psycho Killer" opener all the way to its joyous "Crosseyed and Painless" finale, Stop Making Sense is certain to burn down THE house yet again.
About Milwaukee Film
Milwaukee Film is a nonprofit arts organization dedicated to entertaining, educating, and engaging our community through cinematic experiences. This year's 15-day film festival takes place September 28 – October 12. Discounted passes and ticket 6-Packs are available now at mkefilm.org/tickets. For more information, visit us online at mkefilm.org.
Facebook: facebook.com/MilwaukeeFilm | Twitter: @mkefilm | Instagram: @mkefilm
About the Milwaukee Film Board of Directors
Milwaukee Film's independent board is made up of the following members: Chris Abele (Past President); John P. Bania; Donna Baumgartner; Karen Ellenbecker; Jeff Fitzsimmons; Alexander P. Fraser (President); Cecelia Gore; Bill Haberman (Past President); Carmen Haberman; Susan Haise; Katie Heil; Patti Keating Kahn; Michael G. Klein; Michael J. Koss Jr.; Tracey L. Klein (Immediate Past President); Kenneth C. Krei; Mary Ann LaBahn; Alexander Lasry; Steve Laughlin (Past President); Emilia Layden; Marianne Lubar; Sara Meaney; Steve Mech; Barry Poltermann; Bob Pothier; John Ridley; Joseph A. Rock; Ramona Rogers-Windsor; Lacey Sadoff; Dave Stamm; Julia Taylor; John Utz. Emeritus members: Tom Barrett, Jacqueline Strayer.
NOTE: This press release was submitted to Urban Milwaukee and was not written by an Urban Milwaukee writer. It has not been verified for its accuracy or completeness.
Mentioned in This Press Release
People
:
Alexander P. Fraser
,
Barry Poltermann
,
Bill Haberman
,
Bob Pothier
,
Carmen Haberman
,
Cecelia Gore
,
Chris Abele
,
Dave Stamm
,
Donna Baumgartner
,
Dontre Hamilton
,
Emilia Layden
,
Erik Ljung
,
Jacqueline Strayer
,
Jeff Fitzsimmons
,
John P. Bania
,
John Ridley
,
John Utz
,
Joseph A. Rock
,
Julia Taylor
,
Karen Ellenbecker
,
Katie Heil
,
Kenneth C. Krei
,
Lacey Sadoff
,
Marianne Lubar
,
Mary Ann LaBahn
,
Michael G. Klein
,
Michael J. Koss Jr.
,
Patti Keating Kahn
,
Ramona Rogers-Windsor
,
Sara Meaney
,
Steve Laughlin
,
Steve Mech
,
Susan Haise
,
Tom Barrett
,
Tracey L. Klein
Recent Press Releases by Milwaukee Film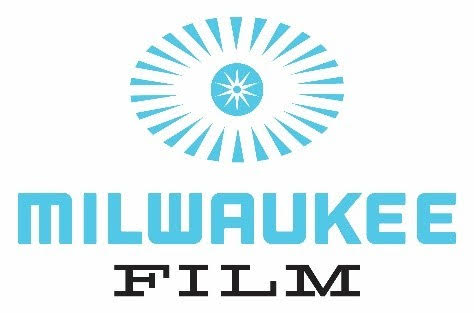 May 10th, 2023 by Milwaukee Film
Milwaukee Film is also pleased to announce the dates for the 16th annual Milwaukee Film Festival, which is set to occur April 11-25, 2024.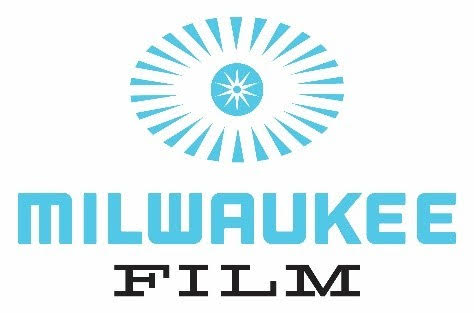 May 9th, 2023 by Milwaukee Film
Gala event to include the film's cast and crew, as well as gay rights leaders from across the state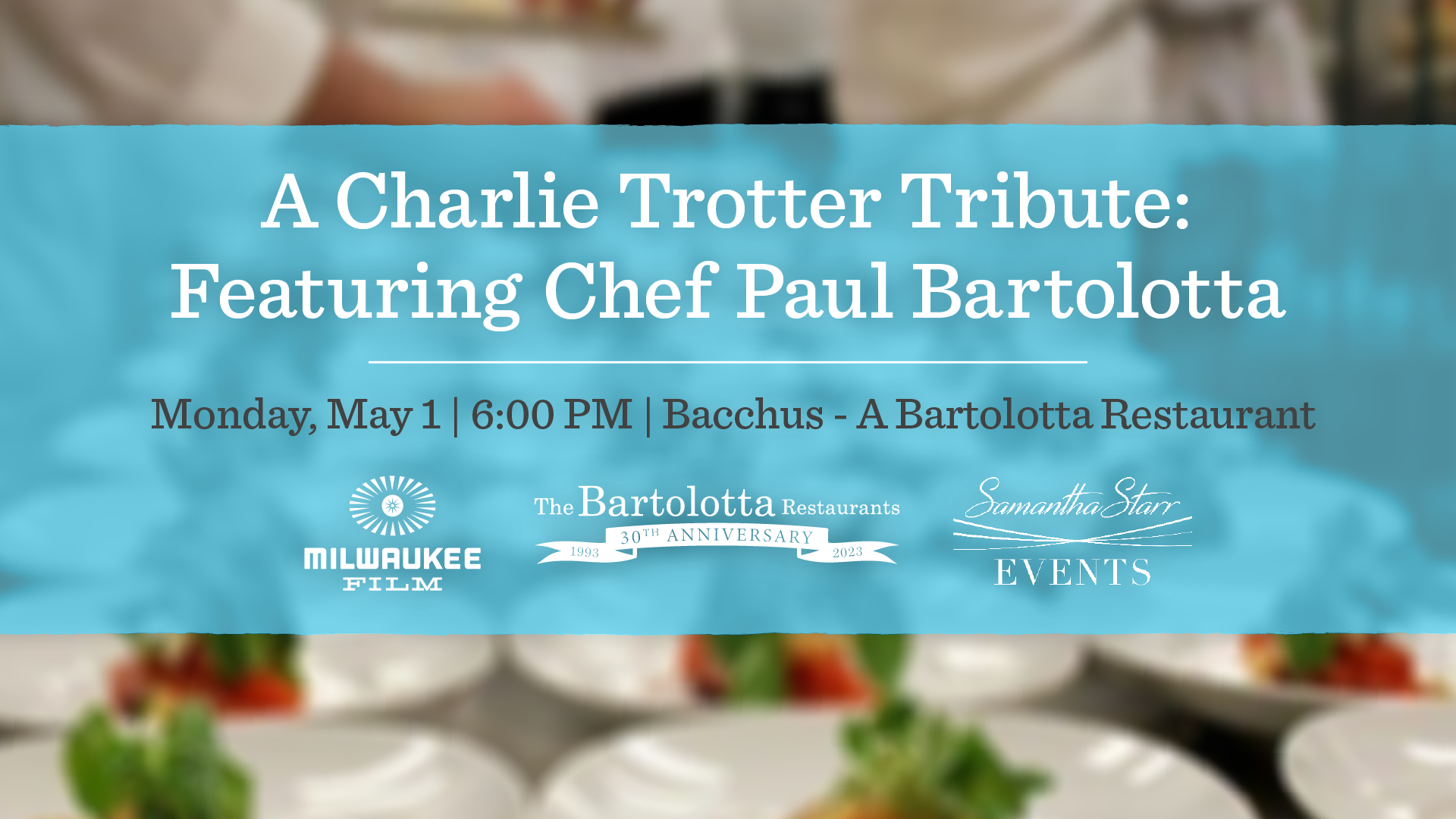 Apr 26th, 2023 by Milwaukee Film
Featuring a five-course meal with five pairings inspired by the film "Love, Charlie: The Rise and Fall of Chef Charlie Trotter," showing at The 2023 Milwaukee Film Festival