Press Release
Disney's Queen of Katwe and Academy Award-Winners Highlight Spotlight Presentations
Festival opens with Life, Animated from Academy Award-winner Roger Ross Williams. Milwaukee 53206: A Community Serves Time returns to Milwaukee after sold-out June premiere
MILWAUKEE – Thursday, September 1, 2016 – The 8th Annual Milwaukee Film Festival, presented by Associated Bank, announces its Spotlight Presentations Program lineup, including the Opening Night, Centerpiece, and Closing Night films. For the first time, these three marquee presentations are films directed by Milwaukee Film Festival alumni.
"The uplifting, award-winning, and critically acclaimed Life, Animated is a perfect way to begin our eighth edition, as it is a testament to the power of movies," shares Artistic & Executive Director Jonathan Jackson. "Films with strong local ties, star power, and inspiring story lines make up the rest of our Spotlight Presentations lineup, which I think is the strongest in our history."
The festival's Centerpiece film, Almost Sunrise, is an example of one of these local stories. Director
Michael Collins
and producer
Marty Syjuco
(Give Up Tomorrow, MFF2011) follow local veterans
Tom Voss
and
Anthony Anderson
on Veteran's Trek: when, in August 2013, they set out to walk from Milwaukee, WI to Santa Monica, CA to raise awareness around veteran's issues. Collins, Syjuco, Voss, Anderson, and several other subjects from the film are scheduled to attend the festival.
"I am thrilled that we get to share Tom and Anthony's powerful story with Milwaukee in its Wisconsin premiere. Audiences have embraced this film at recent festivals, and I expect no less for the film's homecoming," enthuses Milwaukee Film's Programming & Education Director Cara Ogburn.
Program Books for the 2016 Milwaukee Film Festival will be available to the general public starting Saturday, September 3 from 12 PM – 4 PM at Good City Brewing and Cafe Centraal. This will also be the last day to purchase Festival Passes and ticket 6-Packs in person at an early discount rate. For a full list of Program Book locations, visit mkefilm.org/program-book-locations.
Presented by: Donald and Donna Baumgartner
Program Sponsors: 88Nine Radio Milwaukee & OnMilwaukee
2016 MILWAUKEE FILM FESTIVAL
SPOTLIGHT PRESENTATIONS
If you can only make one screening, we are sorry for you and strongly suggest choosing one from this list. These crowd-pleasing presentations are perfect for first-time festivalgoers and seasoned screen junkies alike.
FILMS
OPENING NIGHT FILM
Life, Animated
(USA, France / 2016 / Director: Roger Ross Williams)
Trailer: youtu.be/8DLLFuiyWRY
Owen Suskind was your traditional toddler: a playful, chatty bundle of energy and joy, curious about the world around him. But at the age of three he began a sudden withdrawal into himself that seemed irreversible; he ceased to speak altogether, and his diagnosis of autism suggested little hope of ever retrieving the boy he once was. But then, a discovery: armed with the knowledge that Owen spent untold hours watching and rewatching Disney films and memorizing the dialogue (preferring their comforting consistency over the ever-changing real world), his father donned an Iago (the parrot sidekick from Aladdin) hand puppet and asked Owen what it was like to be him. Any lover of film can attest to the power a great movie has to reshape our views and make sense of a chaotic world, but few would imagine a story as incredible as this one, told here by Oscar-winning director Roger Ross Williams.
CENTERPIECE FILM
Almost Sunrise
(USA / 2016 / Director: Michael Collins)
Trailer: youtu.be/cpkzrFfoli8
When Milwaukee-based veterans Tom Voss and Anthony Anderson returned home from Iraq, they didn't expect their debilitating battles with depression and anxiety to prove every bit as life-threatening as the war zones they left behind. In an effort to help mend the emotional scars and moral injury they've sustained and put their pasts behind them, the two men set out on an extraordinary journey—a 2,700-mile trek on foot across America, starting off in Milwaukee and ending in California. Along the way they run into many who support their journey, including veterans willing to share their painful experiences and even an American Indian shaman who offers them spiritual advice. With suicide rates among veterans at near-epidemic levels (a veteran commits suicide nearly every hour), Almost Sunrise is an inspiring and intimate portrait of two men who journey on behalf of the mental health of fellow veterans.
CLOSING NIGHT FILM
Morris From America
(Germany, USA / 2016 / Director: Chad Hartigan)
Trailer: youtu.be/AKhFNgFdbDk
Morris is dealing with all of the normal problems a boy entering his teenage years faces: feelings for girls, struggles to make friends, concerns about where he fits in the world. These issues are compounded by his status as the only African-American student in his new residency of Heidelberg, Germany, thanks to his single father's (The Office's Craig Robinson) newly acquired job. With his well-meaning father and protective German instructor as the only friends he has, Morris relies on his love of hip-hop music to help him cope with his outsider status. When Morris catches the eye of 15-year-old Katrin, things seem to be looking up, even though he'll still have to learn to be comfortable with himself before he can connect with his peers. Director Chad Hartigan tells a fish out-of-water/coming-of-age story with youthful energy and verve to spare in this irresistibly funny and sweet crowd-pleaser.
All the President's Men
(USA / 1976 / Director: Alan J. Pakula)
Trailer: youtube.com/watch?v=9AroQdon3ZY
Celebrating its 40th anniversary, All the President's Men has never felt more timely. We follow Washington Post journalists Bob Woodward and Carl Bernstein (youthful Robert Redford and Dustin Hoffman) as they doggedly pursue the true story behind a break-in at the Democratic National Headquarters, an investigation that eventually leads them to the highest levels of government. The film, winner of four Oscars (including Supporting Actor for Jason Robards), features precise direction from Alan Pakula and gorgeous cinematography from the master, Gordon Willis. And what better time to reacquaint ourselves with this marvelous story of persistence in the face of deception than in an election year? The film will be screening on 35mm.
Five Nights in Maine
(USA / 2015 / Director: Maris Curran)
Trailer: youtu.be/HOjUxaKfeoM
Sherwin (Selma's David Oyelowo) is in a tailspin. His wife, suddenly lost in a tragic car accident, encouraged him to connect with her cancer-stricken mother (the great Dianne Wiest) in one of their last conversations. Despite his reservations, grieving Sherwin makes his way into the Maine woods to connect with a woman who previously disapproved of him, only to find himself trapped in an echo chamber of resentment and anguish. An electric chamber drama that generates the kind of frisson that can only occur when two great actors square off against one another, Five Nights in Maine is a sensitive portrait of love, loss, and companionship, eschewing melodrama in favor of understated naturalism.
Halfway
(USA / 2016 / Director: Ben Caird)
Trailer: N/A
The good news for Byron (The Blind Side's Quinton Aaron) is that he's being released from jail on parole. The bad news, however, is twofold. First, he's being sent to rural Wisconsin to work on a relative's struggling farm, a place where he will be the only black resident—a fact not lost on his inhospitable neighbors. Secondly, the drug dealers in the life he left behind aren't going to give him up easily. A story of the possibility of redemption and the power of perseverance in the face of small-town discrimination, Halfway is a beautifully photographed, suspenseful, and moving drama made in our very own Montfort, WI.
Jim: The James Foley Story
(USA / 2016 / Director: Brian Oakes)
Trailer: youtube.com/watch?v=vFOWAMC5D-E
While all Americans became familiar with the grisly end of freelance journalist James Foley (kidnapped in Syria in 2012, publicly executed by ISIS two years later), few are familiar with the personal story of this Marquette graduate and his devotion to covering stories in some of the most dangerous parts of the world. This is a deeply personal and emotionally powerful tribute to a life fully lived, with family and friends providing testament to Foley's selflessness and courage while fellow prisoners reveal the harrowing chronicle of his captivity and his incredible attempts at helping those around him even in his final days.
Metropolis
(Germany / 1927 / Director: Fritz Lang)
Trailer: youtube.com/watch?v=9VxgQN2GfMY
Alloy Orchestra returns to the Milwaukee Film Festival, inspired by the Milwaukee Art Museum's upcoming "Haunted Screens" exhibit, to provide their inimitable brand of musical accompaniment to Fritz Lang's sci-fi opus Metropolis. A stunning tale of working-class rebellion, mad scientists, and sexy lady robots whose influence has never waned, Metropolis is the urtext of sci-fi cinema. And there is simply no other experience that matches up to seeing a classic silent film with live music in the Oriental Theatre's main house. Whether this is your first experience or not, there's no doubt this one-night-only event will be unforgettable!
Milwaukee 53206: A Community Serves Time
(USA / 2016 / Director: Keith McQuirter)
Trailer: vimeo.com/180648049
53206: a Milwaukee ZIP code where 62% of the adult male residents have spent time behind bars. A character-driven, immersive ensemble helps tell the stories behind the statistic, showing the effects mass incarceration has on the hearts and minds of those left behind. These stories are sensitively brought to us, showing the familiar human faces behind what is so often used as simply a talking point. This encore presentation to our world premiere of the film back in June will be followed by an onstage, moderated panel discussion, one that should prove especially resonant to local audiences.
Motley's Law
(Denmark, Afghanistan, USA / 2015 / Director: Nicole N. Horanyi)
Trailer: vimeo.com/140760408
University of Wisconsin-Milwaukee and Marquette graduate Kimberley Motley travels far from her husband and three kids to become the only American lawyer licensed to practice in Afghanistan. While the whip-smart Motley would be the first to admit that she initially made this career move for the money, she has since found motivation in seeking justice for the human rights cases on her docket, working to untangle the gnarled hotbed of corruption that is local government in Afghanistan. But with the situation on the ground becoming more chaotic by the day, Motley must decide whether to continue to work or return to the family she misses so dearly.
Queen of Katwe
(South Africa / 2016 / Director: Mira Nair)
Trailer: youtube.com/watch?v=z4l3-_yub5A
Based on the inspiring true story of one young Ugandan girl's journey from selling corn on the streets of Kampala to performing gambits against world-class chess opponents in international competition, Queen of Katwe is a peerless work of entertainment from beloved director Mira Nair (Monsoon Wedding, Salaam Bombay!). When young Phiona (Madina Nalwanga in her acting debut) is introduced to the sport of chess, it's immediately apparent she has a gift, and with the support of her coach (David Oyelowo), her family (Oscar winner Lupita Nyong'o), and her rural community, she's given the confidence necessary to pursue her dream of becoming an international chess champion.
PRESS NOTE: The 2016 Press Accreditation Application is now open at mkefilm.org/accreditation. Applicants are encouraged to apply early; deadline is September 6, 2016.
Festival Passes and ticket 6-Packs for the 2016 Milwaukee Film Festival are now on sale. For a complete list of prices, as well as a breakdown of the discount deadlines, visit mkefilm.org/tickets.
About Milwaukee Film
Milwaukee Film is a non-profit arts organization dedicated to entertaining, educating, and engaging our community through cinematic experiences. In addition to our annual 15-day Milwaukee Film Festival, Milwaukee Film provides a number of year-round opportunities for film lovers, filmmakers, and educators. For more information, visit us online:

mkefilm.org | facebook.com/MilwaukeeFilm | Twitter: @mkefilm | Instagram: @mkefilm
About the Milwaukee Film Board of Directors
Milwaukee Film's independent board is made up of the following members: Chris Abele (Past President); John P. Bania; Donna Baumgartner; Dr. Robert M. Davis; Michael Drescher; Karen Ellenbecker; Jeff Fitzsimmons; Alexander P. Fraser; Cecelia Gore; Bill Haberman (Past President); Carmen Haberman; Susan Haise; Katie Heil; Patti Keating Kahn; Michael G. Klein; Michael J. Koss Jr.; Tracey L. Klein (President); Kenneth C. Krei; Mary Ann LaBahn; Alexander Lasry; Steve Laughlin (Past President); Emilia Layden; Marianne Lubar; Sara Meaney; Steve Mech; Barry Poltermann; Bob Pothier; John Ridley; Joseph A. Rock; Lacey Sadoff; Dave Stamm; Julia Taylor; John Utz. Emeritus members: Tom Barrett, Jacqueline Strayer.
NOTE: This press release was submitted to Urban Milwaukee and was not written by an Urban Milwaukee writer. It has not been verified for its accuracy or completeness.
Mentioned in This Press Release
People
:
Alex Lasry
,
Alexander P. Fraser
,
Anthony Anderson
,
Barry Poltermann
,
Bill Haberman
,
Bob Pothier
,
Cara Ogburn
,
Carmen Haberman
,
Cecelia Gore
,
Chris Abele
,
Craig Robinson
,
Dave Stamm
,
Donald Baumgartner
,
Donna Baumgartner
,
Emilia Layden
,
Jacqueline Strayer
,
James Foley
,
Jeff Fitzsimmons
,
John P. Bania
,
John Ridley
,
John Utz
,
Jonathan Jackson
,
Joseph A. Rock
,
Julia Taylor
,
Karen Ellenbecker
,
Katie Heil
,
Kenneth C. Krei
,
Kimberley Motley
,
Lacey Sadoff
,
Marianne Lubar
,
Mary Ann LaBahn
,
Michael Drescher
,
Michael G. Klein
,
Michael J. Koss Jr.
,
Patti Keating Kahn
,
Robert M. Davis
,
Sara Meaney
,
Steve Laughlin
,
Steve Mech
,
Susan Haise
,
Tom Barrett
,
Tom Voss
,
Tracey L. Klein
Recent Press Releases by Milwaukee Film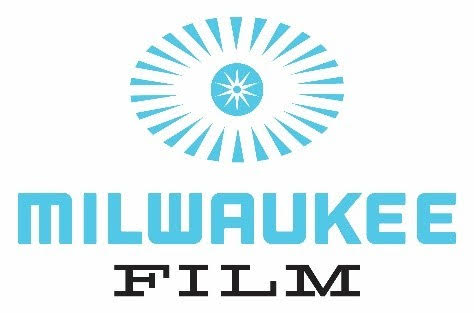 May 10th, 2023 by Milwaukee Film
Milwaukee Film is also pleased to announce the dates for the 16th annual Milwaukee Film Festival, which is set to occur April 11-25, 2024.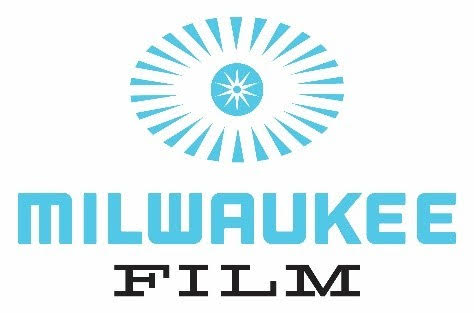 May 9th, 2023 by Milwaukee Film
Gala event to include the film's cast and crew, as well as gay rights leaders from across the state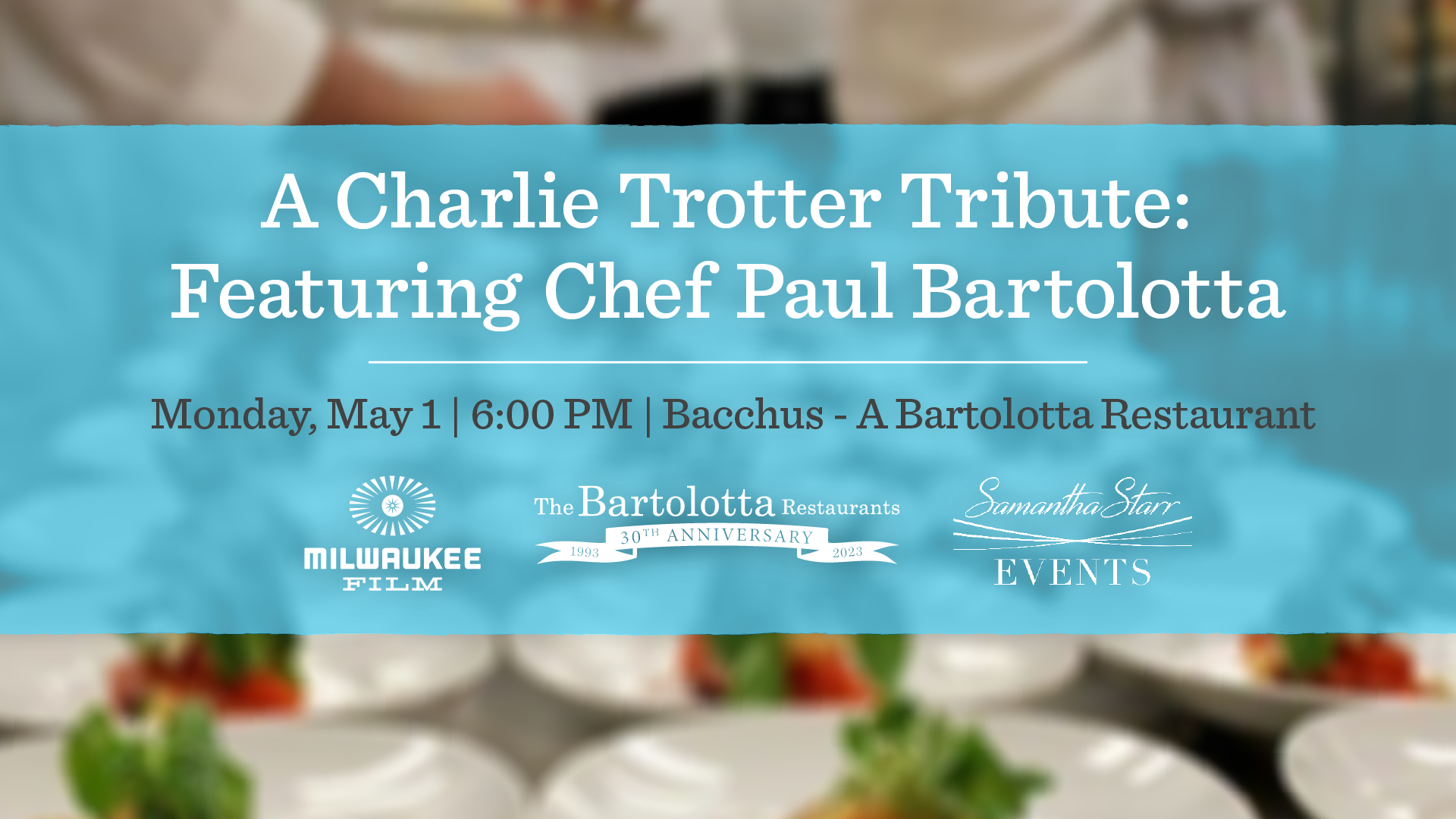 Apr 26th, 2023 by Milwaukee Film
Featuring a five-course meal with five pairings inspired by the film "Love, Charlie: The Rise and Fall of Chef Charlie Trotter," showing at The 2023 Milwaukee Film Festival