Press Release
Community Forum Urges WISDOT to Scrap I-94 Expansion
Community Members & Elected Officials Call for Smarter Transportation Investments
MILWAUKEE — More than 100 community members, state and local elected officials and organizational representatives gathered for a community forum and panel discussion on the proposed expansion of I-94 between the Zoo and Marquette Interchanges last night. The forum was co-sponsored by State Representative Daniel Riemer and the Coalition for More Responsible Transportation, and hosted by the Hunger Task Force. Panel discussants included Barbara Little with MICAH; Karyn Rotker of the ACLU; Dr. Jeanne Hewitt with the UWM Children's Environmental Health Sciences Core Center; and Ash Narayanan, Transportation Director at 1000 Friends of Wisconsin.
"We came together for this forum because the Wisconsin Department of Transportation plans to needlessly add lanes to I-94 in a way that would negatively impact Milwaukee and Wisconsin," said Peter Skopec, WISPIRG Director. "This expansion would cost close to $1 billion and fail to address many of Milwaukee's real and urgent transportation needs. In fact, the huge cost of this proposed expansion would make it even harder for us to find money for things like fixing potholes and sidewalks on local roads, or providing better bus service to connect people to the places they have to go."
WISDOT plans to unnecessarily add lanes to I-94 between 16th and 70th Streets in a way that could lead to further cuts in bus service and local road repair funding, displace homes and businesses, and cost taxpayers up to $1 billion. The Department is accepting public comments on the proposed expansion until April 15, 2016. State Representatives Riemer and Evan Goyke, as well as Milwaukee Common Council President Michael Murphy urged forum attendees to express their concerns about the project by submitting comments before that deadline.
"We all know about the repeated cuts to the Milwaukee bus system that have left thousands of people without access to jobs," said Caleb Roberts, community organizer with MICAH. "We also know about the maintenance crisis on our city streets. Instead on focusing on these more pressing problems, WISDOT is proposing to waste a staggering sum of money on a project that would actively hurt the community."
Community leaders and residents want the Department to provide a brighter transportation future for Milwaukee that connects people to jobs, businesses and services; is safe, effective, fair and affordable for all residents of our communities, including communities of color, people with disabilities and transit riders, as well as for drivers; and uses our tax dollars responsibly to address real community needs for better transportation.
"We all agree that the highway is reaching the end of its useful life, but this proposal to add lanes to I-94 is based on faulty assumptions that will hurt the City in the long term," said Ash Narayanan, Transportation Director at 1000 Friends of Wisconsin. "All the objectives of the project, like reducing congestion and improving safety, can be met without expanding the highway, at a far lower cost, and real benefits for the City and the community."
"We should focus on solutions that work for everyone in Milwaukee," concluded Skopec. "A good place to start is the Rehab/Transit Alternative put forward by our coalition, which would return the highway to a safe state of repair and give people who don't drive access jobs, school and services. It will also give developers a greater incentive to invest in the corridor, bringing more jobs and economic vitality to Milwaukee."
The Coalition for More Responsible Transportation will be delivering hundreds of public comments to WISDOT before the I-94 East-West Corridor project comment period ends on April 15, 2016. Members of the public can submit comments to WISDOT by mailing Jason Lynch (141 N.W. Barstow St., Waukesha, WI 53187), or by e-mailing Jason.Lynch@dot.wi.gov.
Mentioned in This Press Release
Recent Press Releases by Coalition for More Responsible Transportation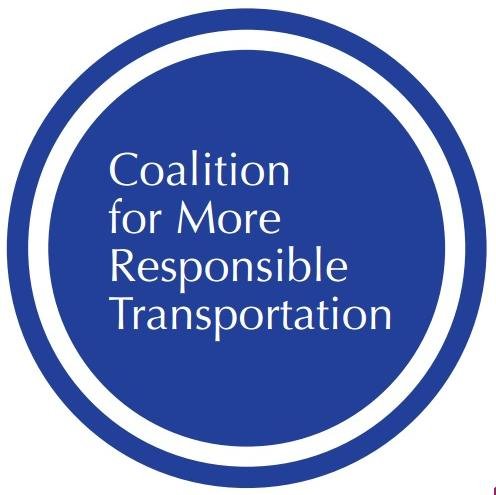 Jul 9th, 2021 by Coalition for More Responsible Transportation
Transportation advocates condemn unprecedented cuts to Milwaukee and Madison transit systems while green-lighting the unnecessary I-94 E/W highway expansion project