Press Release
Attorney General J.B. Van Hollen Announces Mortgage Settlement Relief to Wisconsin Residents Tops $143 Million, Exceeding Initial Estimates
Loan-related relief has averaged more than $46,000 per eligible borrower.
MADISON — Attorney General J.B. Van Hollen announced today that $143,628,842 in loan-related relief has reportedly been provided to 3,065 Wisconsin borrowers under the National Mortgage Settlement.  This represents an average savings of $46,861 for each borrower receiving benefits.  In addition, 184 Wisconsin borrowers have been offered $13 million worth of savings in approved mortgage modifications.  These benefits apply to borrowers who did not lose their homes to foreclosure but to consumers struggling to make payments, or to consumers who owed more than their home was worth.  A detailed report released by the Settlement Monitor can be found here.
This financial relief has resulted from the National Mortgage Settlement between 49 states' Attorneys General and the five largest mortgage servicers in the country, which had an original estimated value of $25 billion and minimum requirement that the settling servicers provide at least $20 billion in loan-related relief to consumers struggling to make payments, or to consumers who owed more than their home was worth.  As of December 31, 2012, the settling servicers have reported offering $45 billion in loan-related relief to such consumers, which far exceeds the initial projected figures.  Loan-related relief includes refinancing, principal reduction, mortgage modification offers, second-lien forgiveness, short sales and enhanced transition assistance, among other options to homeowners.  In Wisconsin, this loan-related relief was initially projected to be $91.3 million, but based on preliminary reports, the banks are on target to exceed $150 million.
In addition, the settlement separately earmarked approximately $1.5 billion for payments to two million borrowers nationwide who lost their homes to foreclosure from 2008-2011.  In Wisconsin, beginning in mid-2013, approximately $17.2 million will be available for cash payments to more than 22,000 Wisconsin borrowers who have lost their homes to foreclosure.   Under the two combined settlement pools, direct relief to Wisconsin consumers under the National Mortgage Settlement is projected to top $167 million, exceeding the initial estimate of $109 million.
"While these numbers have not been audited yet, the relief reported so far has exceeded our expectations.  The numbers show a demonstrated commitment to hold the mortgage servicers to their obligations under the settlement, and give Wisconsin families much needed mortgage relief," Van Hollen said. "But the servicers have more work to do.  They must continue to comply with the specific servicing standards under the settlement for the next two years, or face penalties."
The "servicing standards" under the settlement require the settling banks to comply with comprehensive rules that govern how the banks handle mortgage loans and foreclosure actions.    These standards require better communication with borrowers, a single point of contact, adequate staffing levels and training, and appropriate standards for executing documents in foreclosure cases.
In the coming months, the Settlement Monitor will measure compliance with the servicing standards by several means, including the monitoring of the documentation of foreclosures, loss mitigation offers, proper evaluation of loan modification applications, accuracy of borrower account information, and assessment and reasonableness of any fees. A servicer that fails to remedy a violation is subject to civil penalties of up to $5 million.  To report a violation of the servicing standards, visit www.mortgageoversight.com.
Additional information about the settlement is available at: http://www.nationalmortgagesettlement.com.
Beware of scams
Attorney General Van Hollen also warns consumers of settlement-related scams.  Relief under the settlement is free, so be especially wary if you are asked for a fee for assistance in obtaining benefits under the settlement, including loan modification.  If you suspect a scam, please contact the DOJ Office of Consumer Protection (1-800-998-0700), or the Department of Agriculture, Trade and Consumer Protection ("DATCP" 1-800-422-7128).
To combat settlement-related scams and other white collar crime, the Wisconsin Department of Justice is conducting a White Collar Crimes Investigation School in early March. Funding for this training is being provided through Wisconsin's share of the national mortgage foreclosure settlement. The purpose of the training is to train investigators and prosecutors from around the state to handle specific forms of white collar crime, from mortgage fraud to Internet-based crime to elder financial abuse.  Staff from our Division of Criminal Investigation (DCI), joined by local and federal investigators and prosecutors, will conduct the training.
Mentioned in This Press Release
Recent Press Releases by J.B. Van Hollen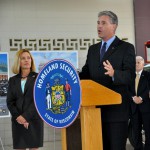 Dec 4th, 2014 by J.B. Van Hollen
Attorney General J.B. Van Hollen Announces Multistate Settlement with Sirius XM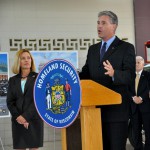 Apr 10th, 2014 by J.B. Van Hollen
Three Honorees Were Recognized During Today's Crime Victims' Rights Week Ceremony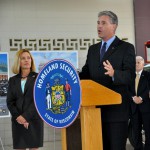 Dec 12th, 2013 by J.B. Van Hollen
Attorney General J.B. Van Hollen today issued a formal opinion to Milwaukee County Deputy Corporation Counsel Mark Grady.