Press Release
Attorney General J.B. Van Hollen and the Wisconsin Crime Victims Council Honor "Champions of Victims' Rights" During Ceremony at the State Capitol
Three Honorees Were Recognized During Today's Crime Victims' Rights Week Ceremony
MADISON — Attorney General J.B. Van Hollen and the Wisconsin Crime Victims Council today honored three people, who go above and beyond in their support of victims' rights in Wisconsin, with the 2014 Champions of Victims' Rights Awards during the annual Crime Victims' Rights Week Ceremony in the State Capitol Rotunda.
"The theme of this year's Crime Victims' Rights Week is 30 Years: Restoring the Balance of Justice. We're celebrating the anniversary of the Victims of Crime Act but also, more specifically here in Wisconsin, the contributions of those who ensure that historic legislation lives up to its mission," Attorney General Van Hollen said.  "Kristi, Janis and Ann are three people, among many unsung heroes, who exhibit an extraordinary commitment to serving crime victims while also working to improve the current system through new ideas."
Below is more information about each of this year's award recipients:
Kristi Mueller, Waukesha County Victim/Witness Assistance Program
As a victim specialist in the juvenile and the sensitive crimes areas, Ms. Mueller is an active participant in the case reviews at the Child Advocacy Center. She is nominated for her work to help families who have been victims of abusive head trauma and shaken baby.  Ms. Mueller started a monthly support group for these victims, found the therapist for the group and has continued to line up speakers for the meetings.  She also pulled files, on her own time, from the last decade to ensure that anyone interested in the group was aware of its creation.  Photo
Janis Elder, Gundersen Health System
Ms. Elder is a therapist and the Coordinator of the Gundersen Health System Sexual Abuse Counseling and Support Program (SACS). She is nominated for dedicating her life's work to helping end sexual violence and providing services to help victims heal.  She has sustained the SACS Program for more than 25 years by locating funding to ensure services are provided to survivors free of charge.  Photo
Ann Weber, Victim/Witness Specialist — Milwaukee County District Attorney's Office
Ms. Weber is nominated by several members of the Milwaukee County District Attorney's Office for her pioneering work with victims that began prior to the establishment of statutory and constitutional rights for victims. She helped establish protocol and processes for victim-witness work in the district attorney's office in 1974, charting the course for Milwaukee County and counties throughout the state. In 2013, she handled more than 400 felony cases, of which 42 were homicides. Her colleagues call her a "gifted advocate."  Photo
Wisconsin's Unclaimed Property Program
Attorney General Van Hollen and the Crime Victims Council remind Wisconsin residents who were victims of crime to check the state's unclaimed property program for funds belonging to Wisconsin crime victims. Restitution as ordered by the court is paid by offenders but is sent to the unclaimed property program when victims cannot be located. If you have been a victim of a crime in which restitution was ordered but did not receive full payment, please visit the following link to check the state's unclaimed property program: www.wismissingmoney.com.
Mentioned in This Press Release
Recent Press Releases by J.B. Van Hollen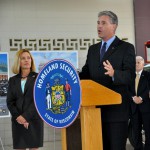 Dec 4th, 2014 by J.B. Van Hollen
Attorney General J.B. Van Hollen Announces Multistate Settlement with Sirius XM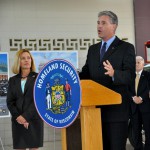 Mar 10th, 2014 by J.B. Van Hollen
Consumers who purchased computers, printers, video game consoles, or other electronic devices with DRAM memory could get money from settlements.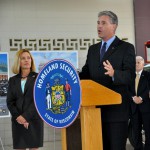 Dec 12th, 2013 by J.B. Van Hollen
Attorney General J.B. Van Hollen today issued a formal opinion to Milwaukee County Deputy Corporation Counsel Mark Grady.