Press Release
Artists Use Trump's Own Words to Call Out GOP Atrocities in Emotionally-Charged New Billboard, Street Art Campaign
RememberWhatTheyDid and #VoteThemOut Campaign Targets Young Voters, People of Color in Milwaukee and other Key Battleground Cities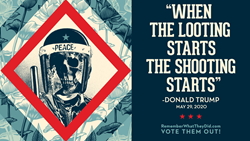 Shepard Fairey "When the looting starts, the shooting starts" -DJT
As Americans across the country have taken to the streets to protest police brutality and the shooting of Jacob Blake and so many others, several of the nation's most critically acclaimed, award-winning artists created unique works focused on Trump's failed leadership on issues like police brutality, racism, hate speech, immigration and the Coronavirus pandemic. The striking artwork is overlaid with controversial statements from Trump and his allies in a new billboard and street art campaign which aims to connect the energy in the streets in recent protests to the importance of voting, by starkly portraying the worst atrocities perpetrated by President Trump and his allies.
Viewers are urged to go to RememberWhatTheyDid.com, where they can pledge to vote, register to vote, learn about early voting or crowdfund more billboards in battleground communities across the country. The RemememberWhatTheyDid.com and #VoteThemOut Campaign is part of a get out the vote and voter registration drive focused on often overlooked and underrepresented communities, including African American, Latinx and young people who are frequently underrepresented at the polls and not reached with traditional political advertising.
See the art and learn more here: https://rememberwhattheydid.com/
The RemememberWhatTheyDid campaign is launching in four battleground cities: Detroit, Michigan; Milwaukee, Wisconsin; Pittsburgh, Pennsylvania; and Phoenix, Arizona. The jarring and emotionally-charged images will be featured on five billboards in each city as well as in a poster street art and GOTV campaign led by local partners in neighborhoods and businesses, including Latinx organizing group Presente.org.
The first four digital billboards are up in Milwaukee. The first went up at Bleecher St and I-94., east side facing south. The billboard features the work of artist Nate Lewis focused on the Covid-19 pandemic, appropriate in the Lincoln Village neighborhood which was hit hard by the Coronavirus. Additional billboards feature the art of Shepard Fairey (of the Obama "Hope" poster fame) taking on how President Trump incited police brutality. Finally, in Saveland Park the art of Rafael Lopez provides a stark reminder that the Trump administration put kids in cages.
The campaign is organized by Robin Bell, known for his video projections on the Trump Hotel in DC, and Scott Goodstein, a veteran of the Obama 2008 and Sanders 2016 campaigns and brings together some of the most critically acclaimed social justice artists of our time, including Shepard Fairey (creator of the iconic Obama poster), Nekisha Durrett, Nate Lewis, Rafael Lopez, Robert Russell, Rob Sheridan, and Swoon (Caledonia Curry). A partner on the effort is Collective Super PAC, the SuperPAC affiliate of The Collective PAC which is dedicated to building Black political power with candidate support and nationwide voter registration and education campaigns. The Collective is working to create an America where Black people are equally represented at every level of government.
"The Covid pandemic coupled with continued police brutality brought to the surface inequities across race and gender in every facet of American life. This reckoning with America's racist legacy has been led by young activists who have taken the movement for Black Lives to the streets. The artwork embodies the energy of these young activists in an effort to connect to communities on a visceral level and to move everyone to the voting booth in November," said artist Nekisha Durrett.
"These images are a stark reminder of the atrocities perpetrated by this President and his allies. We are connecting what has been said and done with the importance of voting. Our message is simple: Remember what they did and vote them out," said co-founder Robin Bell.
"Some forty percent of voters aren't reached by the usual voter-file matched political advertising and many of these voters are in communities that are underrepresented at the polls. In an election year this important, we cannot allow any of our communities to be overlooked," said Goodstein.
"Life imitates art, and the images we see have a direct impact on our democracy. The Collective is proud to work with the Artists United for Change community as they depict what we are all feeling – the need for change and realizing that change come November 3rd," said Quentin James, Founder and President of The Collective.
[inarticlead ad="UM-In-Article-2″[In his piece, artist Shepard Fairey takes on police brutality in a shocking way.
"My art piece is a reminder that while the American public was protesting in the streets, in record numbers, against racism and police brutality, Donald Trump was encouraging police brutality against the protesters, reinforcing the very same problems within law enforcement and the criminal justice systems the protesters were demanding to be reformed. This image implies that the police are supposed to be peacekeepers, not warriors, and that Donald Trump is on the wrong side of social justice and the wrong side of history!" -Shepard Fairey
The RemememberWhatTheyDid campaign is a project of Artists United for Change.
Follow us on twitter at: @rememberin2020
On Instagram at: @rememberwhattheydid
https://www.facebook.com/RememberWhatTheyDid/
KEY VOTING FACTS:
Black voter turnout fell in 2016 and latino turnout was flat, even as a record number of Americans cast ballots (Pew Research)
Black voter turnout fell from 66.6% to 59.6%
Latino voter turnout remained about the same at 47.6 percent, compared with 48 percent in 2012.
Millennials (those ages 18 to 35 in 2016) had a 49.4 percent voter turnout rate, up from 46.4 percent in 2012 (when they were ages 18 to 31), however turnout among Black millennials decreased in 2016.
Young voter turnout remained about 20 points below older voter turnout in 2016. (Pew Research)
Under 50 percent of young voters voted in 2016 compared to a 70 percent turnout rate among older voters ("Baby boomers" and the "Greatest Generation").
The percentage of Blacks who said the outcome of the election matters a great deal to them jumped by 11 points, to 71 percent, from January to June. (NBC)
Mentioned in This Press Release