Press Release
2013 Business, Leisure Travel Sees Continued Growth
Milwaukee County Leads the State in Tourism Expenditures
MILWAUKEE — (May 2, 2014) — In a kick-off to National Tourism Week (May 3-11), Governor Scott Walker made a stop at Miller Park today to announce the 2013 tourism economic impact statistics for the state of Wisconsin and Milwaukee County.
Joined by Secretary of Tourism Stephanie Klett, executives from the Milwaukee Brewers and President & CEO of VISIT Milwaukee, Paul Upchurch, Governor Walker reported that total business sales related to tourism in the state were $17.5 billion in 2013, up 4.36 percent from 2012.
Total business sales related to tourism in Milwaukee County, the largest tourism economy in the state, were estimated at over $3 billion in 2013, representing an increase of 4 percent over the $2.9 billion in 2012. Tourism-supported full-time jobs within Milwaukee County increased to 30,375, up 1.28 percent from 2012. Total labor income was $1billion, up 3.13 percent from 2012, and state and local taxes resulting from tourism business amounted to $210.68 million, up 3.65 percent from 2012.
The numbers are estimates from The Economic Impact of Tourism in Wisconsin, an annual tourism economic impact study commissioned by the state and conducted by Tourism Economics.
Total business sales related to tourism in the Greater Milwaukee Area (Milwaukee, Ozaukee, Washington and Waukesha counties) came to an estimated $4.62 billion for the year, representing an increase of 4.6 percent over $4.4 billion in 2012. In addition, the tourism industry supported 48,588 full-time equivalent jobs, up from 47,998 in 2012. Tourism was responsible for contributing $1.48 billion in wages (up from the $1.43 billion the previous year) and contributing $319.49 million in local and state taxes (up from $308 million the previous year).
"After a very strong year in 2012, the tourism economy in the Greater Milwaukee Area saw continued strong growth in 2013," said Paul Upchurch, president & CEO of VISIT Milwaukee.
VISIT Milwaukee hosted 288 conventions in 2013, an increase of 9.9 percent over the 262 conventions in 2012. These conventions brought in more than 582,701 attendees, an 8.6 percent increase over last year's 420,618. More than $121 million in estimated economic impact resulted from these conventions,
VISIT Milwaukee markets Greater Milwaukee to tourists, and convention and meeting planners, both nationally and internationally. VISIT Milwaukee has approximately 600 members, including hotels/motels, restaurants, attractions, services and area businesses. Total business sales related to tourism amounted to $4.62 billion in Greater Milwaukee in 2013 and supported more than 48,500 local jobs. The City of Wauwatosa, Potawatomi Bingo Casino and the Wisconsin Center District are strategic partners with VISIT Milwaukee, providing funding support for conventions and tourism programs.  For more information call 1-800-554-1448 or visit www.visitmilwaukee.org.
Mentioned in This Press Release
Recent Press Releases by Visit Milwaukee
Mar 29th, 2021 by Visit Milwaukee
New partnership sales manager will be a key representative in the southeastern Wisconsin business and nonprofit community

Jan 11th, 2021 by Visit Milwaukee
50+ exciting virtual events benefit local hospitality companies Jan. 15 - Feb. 28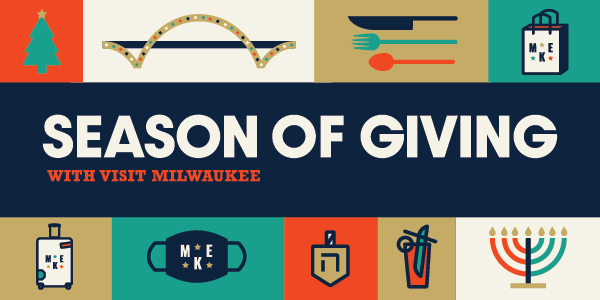 Nov 13th, 2020 by Visit Milwaukee
Timed with the International Day of Kindness, VISIT Milwaukee implores community to be kind to local businesses and shop local this holiday season