Content referencing Paresh Patel
In Public
The Bay View "art stop" is neither art nor a good bus stop. For one-tenth the price, the city could have done far better.
Jan 14th, 2015 by Tom Bamberger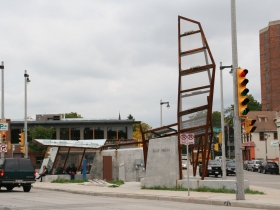 Friday Photos
It's a bus stop, art work, and urban island. Grand opening is tonight, but we've already got photos of the new amenity.
Oct 3rd, 2014 by Jeramey Jannene