Former Milwaukee Public Schools' Hamilton High School honor student and basketball standout Kevon Looney.
He was a McDonald's All American, the 2nd MPS student and the 6th Wisconsin student to ever achieve the honor.
He was drafted 30th overall in first round of the 2015 NBA Draft by the Golden State Warriors.
Photos
Content referencing Kevon Looney
Eyes on Milwaukee
New computer science hall will keep MSOE at cutting edge of education and tech.
Sep 13th, 2019 by Jeramey Jannene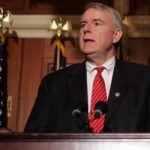 Press Release
Milwaukee February 24, 2014 As Prepared for Delivery
Feb 24th, 2014 by Mayor Tom Barrett
Press Release
Honor student, basketball standout is 2nd player to win the honor in MPS history; 6th ever in Wisconsin
Jan 31st, 2014 by Milwaukee Public Schools