Born Manitowoc, October 26, 1946; married; 4 children, 5 grandchildren. Graduate Lincoln H.S., Manitowoc; Associate Degree Northeastern Technical College 1982. Full-time legislator. Former chief deputy sheriff, deputy sheriff, Door County Sheriff's Dept. 30 years, and project director for Door/Kewaunee Drug Task Force, 1990-2000. Navy veteran, 1964-69. Member: American Legion Post 527, 1970-present; Knights of Columbus, 1970-present; Northern Door Child Care (bd. dir.); St. Rosalia Catholic Church (former trustee and council member); Sturgeon Bay Rotary; volunteer guardian for disabled adults. Former member: Boy Scouts of America (cubmaster, scout master); Door/Kewaunee Selective Service Bd. (chp., vice chp.); Door Co. Highway Safety Com.; Door Co. Local Emergency Planning Com.; Help of Door County (bd. dir.).
Elected to Assembly since 2000. Biennial committee assignments: 2011 — Criminal Justice and Corrections (chp.); Public Health and Public Safety (chp.); Tourism, Recreation and State Properties (since 2007); Veterans and Military Affairs (also 2007, 2003). 2009 — Public Safety; Transportation (vice chp. 2007). 2007 — Corrections and the Courts (chp. since 2003); Natural Resources (since 2003); Legis. Coun. Spec. Com. on Placement of Sex Offenders (co-chp.); Gov.'s Comn. on Reducing Racial Disparities. 2005 — Highway Safety (vice chp. since 2001); Veterans Affairs; Gov.'s Coun. on Highway Safety (since 2001); Wis. Sentencing Comn. (since 2003); Legis. Coun. Com. on State and Tribal Relations. 2003 — Speaker's Task Force on Technical College System (co-chp.).
Source: State of Wisconsin Blue Book 2011-12.
Photos
Content referencing Garey Bies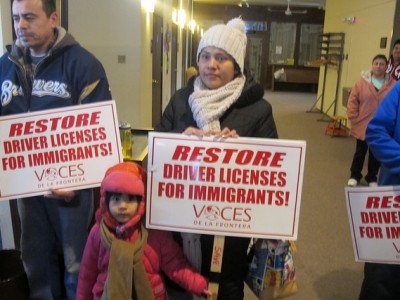 Milwaukee legislator's bill would allow them to get drivers licenses, attend state colleges.
Feb 12th, 2014 by Edgar Mendez