Building Info
Architectural Style

:

Federal

Status

:

Year Built

:
The Cross Keys Hotel is a demolished hotel in downtown Milwaukee. The site today is occupied by the Milwaukee Public Market. The hotel was built by Barney Stimson.
The hotel was destroyed by fire in November of 1979, but hadn't been used as a hotel in quite some time. At the time of the three alarm fire it housed the Waterfront Cafe and General Screen Printing.
Built in 18523, the hotel was later known as Stimson's Hotel (1860), American House, Juneau House and Russell House. In 1879 it was converted away from being a hotel.
Abraham Lincoln reportedly ate breakfast at the hotel in 1859, and may have made a speech from the hotel's iron balcony.
It was damaged by a fire in 1865 and 1923. It did escape the massive fire in the Historic Third Ward in 1923.
The building housed the River Queen gay bar in the early 1970's until September 1975. The tavern was closed because the registered agent was not a Milwaukee resident, which was required at the time.
From Guides to Historic Milwaukee: Juneautown Walking Tour by Mary Ellen Pagel and Virginia Palmer (1965)…
High on the rounded corner of this old building is inscribed the name "B. Stimson." Known to his friends as Uncle Bailey Stimson, he comes to Milwaukee determined to recreate an old English chophouse for the comfort of travelers. Painting the cream-colored brick walls bright red to attract the attention of newcomers was a gesture typical of the jovial innkeeper. Had one stopped there on December 18, 1853, one could have celebrated the Cross Keys' housewarming with hot raisin punch and home-baked corn bread. In the intervening years, Stimson's hotel has changed hands many times and acquired many different names. At present it houses the Crystal Palace.
Learn More
Content referencing Cross Keys Hotel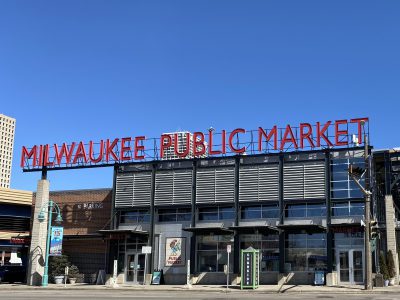 Milwaukee Walks
20 blocks of shopping, dining, arts galleries and theaters in a one-time swamp.
Jul 1st, 2021 by Cari Taylor-Carlson