The former Paint Shop for the Pabst Brewing Company. Now part of No Studios.
Photos
Content referencing Building 15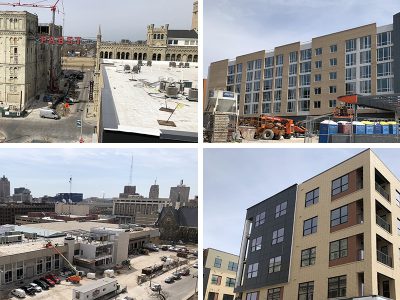 Friday Photos
Abandoned brewery now a vibrant, urban neighborhood.
Apr 27th, 2018 by Jeramey Jannene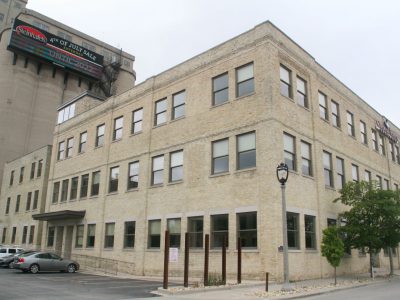 Eyes on Milwaukee
Oscar-winning, Milwaukee-born movie maker aims to transform city's film scene.
Feb 27th, 2018 by Jeramey Jannene

Milwaukee's newest trendy neighborhood is likely to become one of its best, and almost certainly its greenest.
Sep 30th, 2011 by Kaid Benfield

Over the past couple of years I have followed the redevelopment of the former Pabst Brewery intently.
May 16th, 2008 by Jeramey Jannene

Pabst Brewery Originally uploaded by compujeramey Former Green Bay Packer Mark Chmura, his brother and real estate broker Matt Chmura, and, developer and son of former Milwaukee Brewer Sal Bando, Sonny Bando through their development firm BC Pabst Holdings have purchased a three-story, 28,000 square foot building at the former Pabst Brewery on the edge of the Park East neighborhood. The building previously known as Building 14 was used for Pabst research and development. Chmura and company are already lining up tenants for the office building and may open a conference center in the 1,200 square foot penthouse that has skyline views. The tenants are apparently interested in the access the building provides to traffic from Interstate 43. We at Urban Milwaukee hope someday it'll be able to leased based on the vibrancy of the neighborhood it's in. I was surprised to learn that not only does the sports-supported triumvirate own this building, but they also together own the Germania Building at 135 W. Wells St. and the Iron Block Building at 200 E. Wisconsin Ave in downtown Milwaukee. So much for jock stereotypes, these three appear dedicated to urban redevelopment of historic developments. I'm happy to see their on-board with the Pabst Brewery redevelopment, which is undoubtedly going to serve as a catalyst for redevelopment of the rest of the Park East neighborhood. The Small Business Times and the Journal Sentinel each have stories on the purchase. NOTE: The building purchased is pictured in the attached image. It is the short building partially cut off on the left-hand side. If you have a better image, let us know.
Nov 19th, 2007 by Jeramey Jannene