Friday Photos
BMO Tower Takes Shape
More than 20 floors from its peak, new building already has dramatic effect on downtown corner.
//end headline wrapper ?>
Get a daily rundown of the top stories on Urban Milwaukee
Approximately a year after demolition on the parking garage of the BMO Harris Bank building began, a new parking garage has risen in its place.
Replacing one garage with another isn't usually cause for celebration, but in this case its part of a dramatic reimagining of one Downtown's key intersections. Yes, the new building, dubbed BMO Tower, will include an eight-level, 647-stall parking garage, but it will also include a host of active uses at ground level and a glass-clad office tower rising above it.
Irgens Partners, through contractor J.H. Findorff & Son, is moving full speed ahead on the redevelopment of what will become a glass-clad, 25-story office tower.
The new building will include a flagship, two-story bank branch at the southeast corner of the intersection of N. Water St. and E. Wells St. A large commercial space is planned for the east side of the building along N. Broadway.
A two-story lobby will be constructed off of N. Water St and clad in granite and wood. The large space is planned to include a two-story tall video board. Separate elevator banks will service the parking garage and office tower.
The $132 million, 359,920-square-foot tower will replace the 417-stall parking garage at 790 N. Water St. 
BMO Harris Bank
, which acquired M&I Bank in 2011, will occupy 123,000 square-feet in the tower, spread over floors 11 through 15 as part of a long-term lease with Irgens. Law firm 
Michael Best & Friedrich
 will lease 59,000 square-feet of space spread across two-and-a-half floors at the top of the tower.
Findorff led a 25-hour concrete pour in June to build the foundation for the structure. Crews poured 13,980 tons (6,700 yards) of concrete into a hole the size of a half block, and actually finished well ahead of schedule despite the 670 trips required. The foundation has an estimated cost of $2 million.
BMO has approximately 700 employees in its current tower, and another 200 in the nearby Milwaukee Center. Both groups will relocate to the new building.
The new tower will feature a number of amenities, including a shared multi-media conference center, common tenant lounge and terrace on the 12th floor. BMO will have a private outdoor terrace on the 11th floor and Michael Best will have one on the 25th floor. A tenant fitness center will be constructed underground with lots of light, private showers and locker rooms.
As part of the big redevelopment plan, Irgens will also redevelop the existing tower. That part of the project won't start until 2020 at the earliest. Developer Mark Irgens has suggested a mix of uses could be included in the overhauled tower, including "workforce housing," a hotel or office space. He recently tweeted a rendering that included the building redeveloped in part as a hotel, with an homage to the site's prior occupant – the St. Charles Hotel.
At 328 feet, the tower will rival the height of nearby Milwaukee City Hall (353 feet), rendering it visible from much of downtown. Irgens, who is looking to lease space in the building, also recently shared a rendering of the tower, and its large BMO sign, as it will be seen from Cathedral Square Park (see below). The rendering also depicts an optimistic future where the fountain in the park functions again.
The tower is scheduled to open in December 2019. Design work is being led by Kahler Slater.
Cut the Fat
A question of public infrastructure and priorities looms just outside of the construction site. How soon can the city eliminate the slip turn lane in front of the new tower? Originally built in an era when Wells St. was one way and cars were king, the "pork chop" lane and island (so named for its shape) seems dramatically out-of-step for a city that recently adopted a Complete Streets policy.
Located at one of the busiest pedestrian intersections in the city, the extra turn lane seems even further out of place given that earlier this year the city accepted and installed an anonymously donated, sizable sculpture at the northeast corner of the intersection.
Photos
Renderings
Plans
Cathedral Square Rendering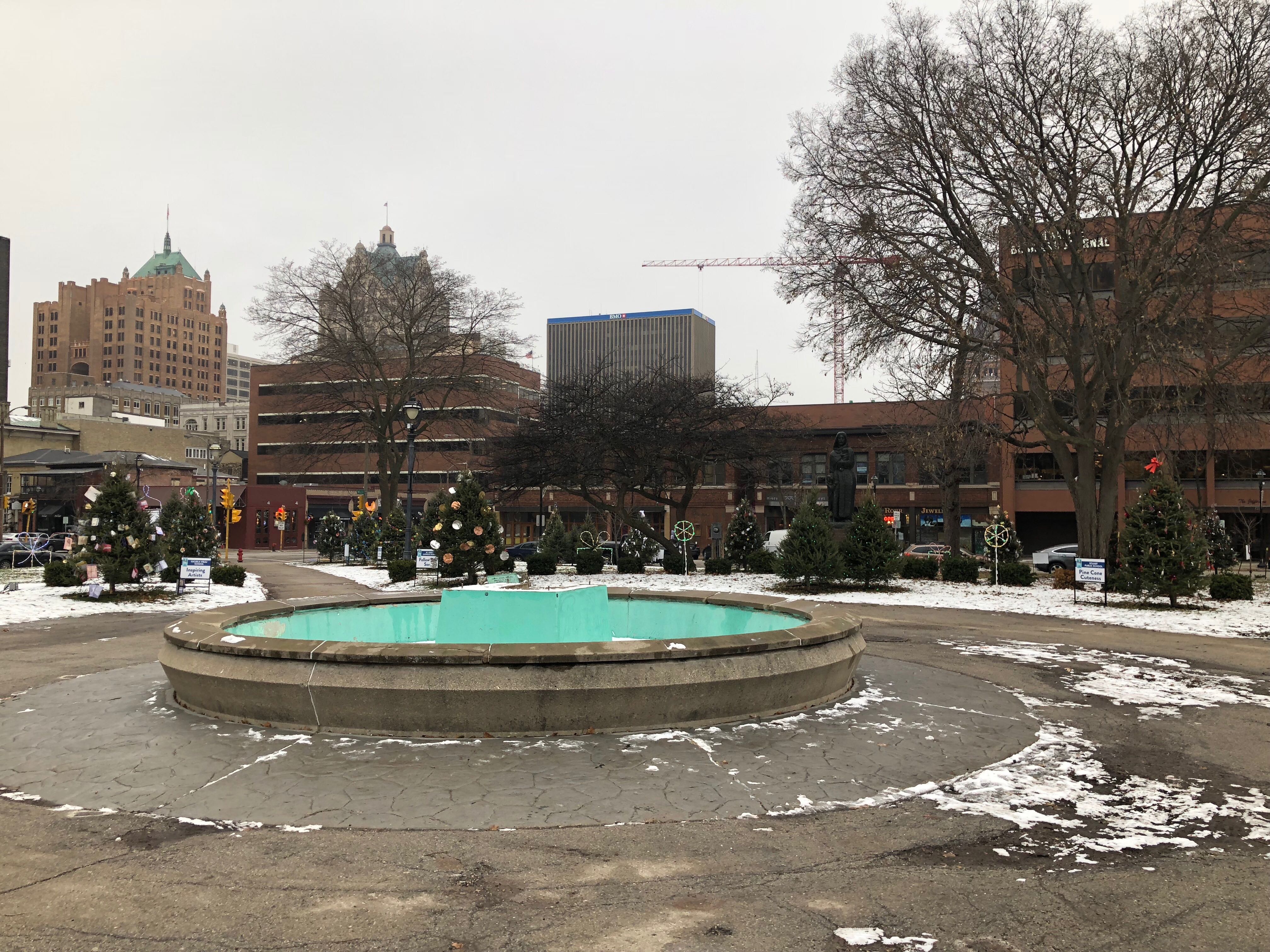 If you think stories like this are important, become a member of Urban Milwaukee and help support real independent journalism. Plus you get some cool added benefits, all detailed here.