Bike Czar
Is Bicycling the New Golf?
Business leaders are dropping the clubs and pedaling for charity.
//end headline wrapper ?>
Get a daily rundown of the top stories on Urban Milwaukee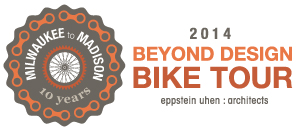 I don't golf, but after riding with more than 350 area business leaders last Friday on the Eppstein Uhen Architects Beyond Design Tour, I think I'm going to start printing business cards on waterproof paper so they don't get soggy when you put them in your jersey pocket!
This was the tenth year that Rich Tennessen and the team from Eppstein Uhen Architects put on their fundraising ride, which raised almost $100,000 to split between the seven charities (including the Bike Federation of Wisconsin) that have benefited from the ride since it began. All of the charities have already benefited from the Eppstein Uhen Foundation, so it was incredibly generous of them to use the 10th anniversary to give back to all previous charity recipients this year:
VARIETY – The Children's Charity of Wisconsin
Boys and Girls Club of Greater Milwaukee
Goodman Community Center
Wisconsin Bike Federation
YMCA
Feeding America Eastern Wisconsin
4 Kids – UW-Milwaukee
Safe & Sound
This year the Bike Fed staff took an active role to help organize the ride, but most of the heavy lifting was done by Rich, Jodi Ventura and the rest of the great team at EUA. Of course the ride would not be possible without generous donations from all the sponsoring businesses. Next time you have a building or construction project, I encourage you to check this list for companies that support cycling.
I helped the first year the ride started when they rode from the EAU office in Milwaukee's Third Ward, to their Madison office near the Capitol. Because of the construction around the Zoo Interchange, this year the riders started at the Waukesha Expo Center and had the 
option to do an extra loop around Pewaukee Lake
 to in order to get 80 miles in. With all the stops I made to take photos, I only had time to ride the 65 mile route. Maybe I need to train more so I can pedal faster next year!
The ride ended with a great meal and auction at Monona Terrace. After the dinner, Greg Uhen got up to thank the EUA team and all their business connections for helping them do so much good for so many worthy non-profits over the last 10 years. His talk reminded me of other business leaders I have heard speak recently at cycling events as well as Jason Kayzar's Midwest Cycling Networking Rides. I can't say if joining the Bike Fed and getting a bicycle is a better business investment than a set of clubs and a country club membership, but it can't hurt to buy a set of waterproof business cards either way!