Deep-Fried Romantic
$3 Wine Test-Drive
//end headline wrapper ?>
Get a daily rundown of the top stories on Urban Milwaukee
TCD introduces: An examination of modern 'low culture' without scorn or adulation. Articles will reflect traditions of the late 18th century intellectual movement known as Romanticism which emphasizes the aesthetics of feeling rather than high-class or categorical importance deemed by aristocratic types. This will be done by consuming the societal Twinkies that have been dunked in hot oil and powdered. It's a search for meaning in 21st century America.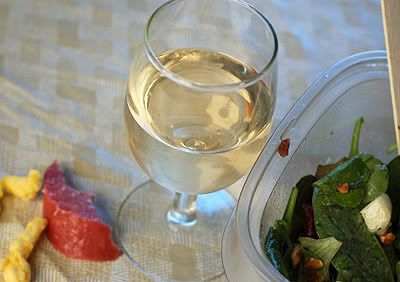 There is no better placebo for depression and anxiety than to wander the aisles of a Wal-Mart or Target superstore. It is comforting on many levels: to know that in case of Armageddonic survival there is one place that has it all. To know that there is a product out there which should salve some need in your life. To know that someone is inventing new ways to contain or dispense a beloved product. To know that you can afford something beyond your means – even if it will only last a year before breaking.
It was on such a trip over the weekend that I spotted a display near the liquor section featuring a set of California wines from Oak Leaf Vineyards. They looked from appearance to be like any of the other wines with silver- and gold-trimmed art, artsy typography, new synthetic wine corks, and so on.
They were also $2.97 a bottle, unless you bought the box-sized equivalent of four 750ml bottles for $9.97 – around $2.50 a bottle – making it cheaper than a bottle of spiked-Kool-Aid Boone's Farms pseudo-wine (it's labeled a malt beverage).
I gingerly placed bottles of Shiraz and Pinot Grigio in my basket and hurried home to try it out. The anticipation was that it would be vinegary, flat, or even hyper-acidic. I laid out a fine lunch spread of genoa salame, spring green salad (sprinkled with dried apricots, aged white cheddar and granny smith apples), and one new bag of 'Crunchy Mozzarella' Cheetos for balance. I opened the white wine and even let it breathe a little. I was disappointed.
I was disappointed because it wasn't bad. With subtle oaky undertones and a fruit mixture flavor equivalent to the contents of Juicy Juice (Apple Juice, Grape Juice, and Pear Juice, Ascorbic Acid (Vitamin C), Citric Acid) but fermented, it was a good table wine that would fool many swillers to a spit bucket into believing it was something more.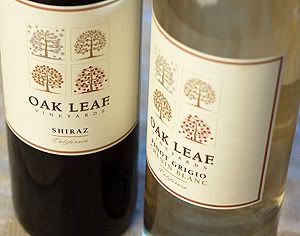 Some investigation into the background of this product was warranted. The internet is chocked full of user reviews and websites for wine, and Oak Leaf has been examined there and especially on niche sites devoted to cheap wine. It turns out that Oak Leaf is specially made and sold for Wal-Mart the same way that Charles Shaw (Two-Buck Chuck) wines are sold specifically for trendy Trader Joe's.
The similarity and back story doesn't end there. While Trader Joe's explains the low price due to "oversupply of wine and a great relationship with a valued supplier", they fail to mention the troubles California wine and its owners faced in the early 1990s.
Charles Shaw and his wife sold their winery in 1991 during a divorce. It was picked up by the Bronco Wine Company, whose CEO was Fred Franzia (nephew of Ernest Gallo). Bronco got in trouble a few years later when cheaper grapes were misrepresented as being more premium ones used in production of Zinfandel and Cabernet Sauvignon wines. Franzia ended up stepping down. A glut of labels on the market ended up leveling the price market on wines even up to today.
As for Oak Leaf, there is no one vineyard to which it belongs. There is not even a region to speak of as the grapes come from all over California and then bottled in a facility. It is owned and produced by Wine Group, a company founded in 1981 after a buyout of assets from the Coca-Cola company in New York and one of the largest winemaking groups in the world. Naturally.
Wine Group bought the Franzia name from the brothers many years ago and now produces the wine-in-a-box bearing their name. As mentioned, the Franzias moved on to Bronco. That company went on to make Charles Shaw, and Wine Group decided to compete by making Oak Leaf. It is a common ploy among big box retailers to steal the idea of an inventive independent and cause such a widespread blanket that the item becomes disparaged for being cheap. But steal from another conglomerate? Interesting.
Oak Leaf wines stand among Corbett Canyon, Fish Eye, and Glen Ellen as sister wines in the company. More recently, they are adopted siblings to Inglenook and others. There is a
1993 episode of the Simpsons
in which Homer and his pals take a tour of the Duff Brewery. The tour guide shows them the different labeled varieties (regular, lite, dry) of the product being made in giant holding tanks. Above the ceiling, it is one big tube with three holes gushing the same beer out into the different tanks.
It's that imagery that is evoked when thinking about the enigmatic and shrouded world of wine made by conglomerates. The wine brand has no definitive website to speak of and a label name with as much effete as the modern suburban street one would imagine the consumer living on.
It's the fooling of the consumer into thinking they can live with distinction while on the budget of ditch digger that is the most confusing. With a product like Boone's Farms or even a comparable cheap wine like Beringer's, Shouldn't everyone have the opportunity to enjoy a night of being a satyr? Yes. But the price, ironically, seems too high.
The selling of class to the common mass is as precarious as leaning on a vinyl porch railing. It looks fine, but crack! Even with a relatively low alcohol content (12 to 13%, compared to gin at 40%), it is a drug which means that it is prone to abuse. Then again, so are cookies and marathon running.
So who is at fault for something here? Fancier but smaller labels charging $18 a bottle for wine most could not distinguish from Oak Leaf? Giant conglomerate bottlers (whether faux-fashionable like Trader Joe's or straight-up wholesome in appearance like Wal-Mart) who show up the other labels by making better-than-average non-vintage table wine in boatloads for a fraction of the cost and thereby driving down the market? It's hard to say.