Press Release
Wisconsin Senior Citizens Mistakenly Cut from FoodShare
Many local seniors are eligible to have their FoodShare benefits restored to previous levels
MILWAUKEE (October 6, 2014) – Hunger Task Force has learned that seniors, people with disabilities and families living in subsidized housing with recent cuts to FoodShare, are eligible to restore those benefits. State and federal officials revisited their interpretation of the FoodShare utility credit and have determined that recent cuts were mistakenly applied to subsidized housing residents.
Citizens who live in subsidized housing and have had their FoodShare benefits reduced since April 28 are urged to call the Department of Health Services at 1-888-947-6583 or visit a State office in person to get help.
"We want everyone living in subsidized housing who has had their FoodShare cut to know that they may be able to get their benefits restored and backdated by calling the DHS or visiting a state office for help." Said Hunger Task Force Executive Director Sherrie Tussler.
Hunger Task Force outreach staff and volunteer advocates are working to identify those affected and eligible to be reinstated to previous levels.
Hunger Task Force is an anti-hunger organization which believes that every person has a right to adequate food obtained with dignity. Hunger Task Force works to prevent hunger and malnutrition by providing food to people in need today and by promoting social policies to achieve food security tomorrow. For more information visit HungerTaskForce.org
Mentioned in This Press Release
Recent Press Releases by Hunger Task Force
Jul 18th, 2017 by Hunger Task Force
Traveling brew pub hits Milwaukee Saturday; proceeds benefit Hunger Task Force
Jul 19th, 2016 by Hunger Task Force
Co-op's in-store voucher program provides nutritious milk for Hunger Task Force pantry network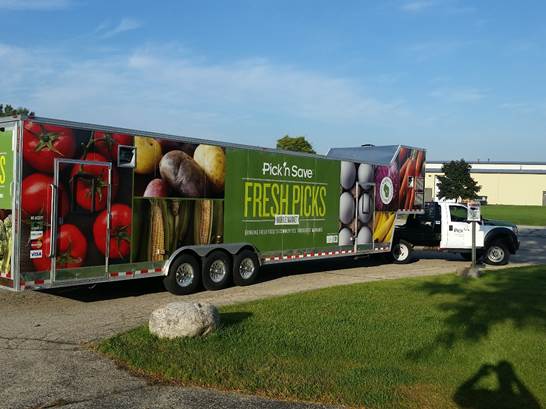 Jun 9th, 2016 by Hunger Task Force
The Mobile Market is stocked with only healthy foods and includes 40+ varieties of fresh fruits and vegetables, and 10+ high-grade meat and dairy items.