Press Release
What's Happening This Week At Black Husky
March 31st - April 7th
Sunday, March 31st marks our first musical act in the taproom. Robert Schmidt and the Black Husky Band will be performing all original songs – one of which was written about Black Husky! They describe their style as being folk rock/alt-country, and dogs seem to enjoy their music – so bring your canine companion along! This event runs from 3 – 6pm
On Tuesday, April 2nd from 6 – 9pm, come in for a sensory training about off-flavors in beer. This training will teach attendees how to recognize when something is off with a beer, and what may have caused it. Tickets are limited, so get yours today!
We will be having our weekly Quizmaster trivia on Wednesday, April 3rd from 7 – 9pm.
It's starting to warm up outside, but it's still flannel season at Black Husky! Stop by in your flannel on Friday between 3 and 5:55pm and get pints for $4.
Calling all Game of Thrones Fans! On Sunday, April 7th at 5pm, test your GoT knowledge at Game of Thrones Trivia hosted by Quizmaster! If you need more convincing, Tots on the Street will be on site selling their amazing tater tots.
Mentioned in This Press Release
Recent Press Releases by Black Husky Brewing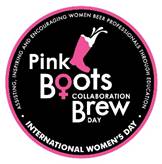 Feb 24th, 2020 by Black Husky Brewing
International Women's Day – Sunday March 8, 2020 8:00 AM – 8:00 PM