Press Release
VISIT Milwaukee Launches New Tourism Website for Wauwatosa
New website to increase awareness and tourism dollars in neighboring city
MILWAUKEE– (Feb. 10, 2015) – VISIT Milwaukee launched a new tourism website, VISITWauwatosa.org, for its strategic partner Wauwatosa. Wauwatosa is an integral part of Milwaukee's tourism scene, and the new website helps to centralize visitor information for travelers looking to discover the charm and unique attributes of Milwaukee's neighbor to the west.
The content and backend functionality of VISITWauwatosa.org leverages VISIT Milwaukee's own website and business listings to provide information regarding all of the fun things to see and do in the Wauwatosa area, including shopping, culinary experiences, sports and recreation, exploring the charming historic Village district and more.
"Leveraging VISIT Milwaukee's expertise in destination marketing, the new website is a great resource for out-of-town visitors, as it features information about accommodations, including an on-site booking widget, plus custom articles, photos and videos, event and business listings to encourage travel to Tosa," said Megan Gaus, senior director of marketing and communications at VISIT Milwaukee.
The website also contains year-round activities, including festivals and art fairs, as well as insider tips on restaurants, nightlife and summer hot spots, such as the TOSA Pool and attached beer garden, The Landing.
"I'm excited about this new tool that helps visitors discover all Wauwatosa has to offer," said Kathy Ehley, Mayor of Wauwatosa. "As a VISIT Milwaukee partner, we worked closely with them to develop a fun, creative site to promote tourism in our City and generate a greater economic impact for us. We look forward to seeing the site evolve."
For those tourists who wish to learn more about Wauwatosa, the website provides several special interest pieces regarding the history of the city, nearby medical centers and colleges and universities.
For more information about Wauwatosa, please visit www.VISITWauwatosa.org.
Wauwatosa has its own brand new tourism website! Check it out for all of the great things Wauwatosa has to offer – in one place! http://bit.ly/1wa7LQs
Check out all that Wauwatosa has to offer in the brand new tourism website at: http://bit.ly/1wa7LQs
About VISIT Milwaukee
VISIT Milwaukee markets Greater Milwaukee to tourists, and convention and meeting planners, both nationally and internationally. VISIT Milwaukee has approximately 600 members, including hotels/motels, restaurants, attractions, services and area businesses. Total business sales related to tourism amounted to $4.62 billion in Greater Milwaukee in 2013 and supported more than 48,500 local jobs. The City of Wauwatosa, Potawatomi Hotel & Casino and the Wisconsin Center District are strategic partners with VISIT Milwaukee, providing funding support for conventions and tourism programs.  For more information call 1-800-554-1448 or visit www.visitmilwaukee.org.
Mentioned in This Press Release
Recent Press Releases by Visit Milwaukee
Mar 29th, 2021 by Visit Milwaukee
New partnership sales manager will be a key representative in the southeastern Wisconsin business and nonprofit community

Jan 11th, 2021 by Visit Milwaukee
50+ exciting virtual events benefit local hospitality companies Jan. 15 - Feb. 28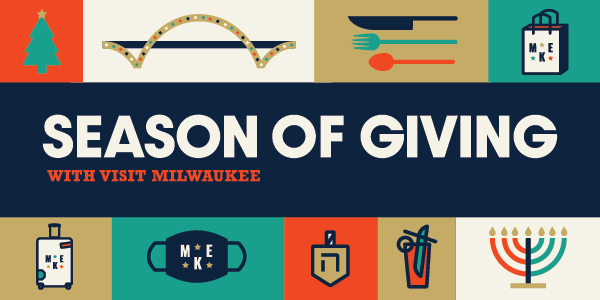 Nov 13th, 2020 by Visit Milwaukee
Timed with the International Day of Kindness, VISIT Milwaukee implores community to be kind to local businesses and shop local this holiday season