Press Release
Third Annual Guiter Festival & Competition Welcomes Young Classical Guitarists
Student musicians compete at Intermediate and Advanced levels to perform in the evening concert with Iván Resendiz (Mexico) and Marina Tomei (Italy)
MILWAUKEE – February 10, 2016 – The Latino Arts Strings Program is inviting classical guitarists of all ages to participate in the Third Annual Guitar Festival and Youth Competition on Saturday, February 20 in the Latino Arts Auditorium. The Youth Competition will take place on the morning of February 20, in which a panel of local and international classical guitarists will select one winner from each level, Intermediate and Advanced. In the afternoon, special guest artists Iván Resendiz and Marina Tomei will host master classes for the young musicians. The Guitar Festival will culminate in a concert in the Latino Arts Auditorium at 7:30 p.m. featuring Resendiz, Tomei, and the competition winners.
General admission to the concert $10 per person, and tickets can be purchased online at http://2016guitarfestconcert.mivoz.com/.
Participation in the competition is $25 per guitarist, which includes the competition, master class, and a concert ticket. Interested participants can register online through February 12 at http://2016youthguitarcompetition.mivoz.com/.
More information about the competition, including guidelines and judging procedure, are available at http://www.latinoartsinc.org/Strings/GuitarFestival.htm.
Originally from Mexico City, Iván Resendiz began his study of classical guitar at age 16 in La Escuela Superior de Musica del Instituto Nacional de Bellas Artes in Mexico with teacher Alejandro Mendez.
In 2006, Iván immigrated to the United States to continue his study of music, taking private lessons with Norman Ruiz and Denis Azabagic, professors of distinguished universities in Chicago: Columbia College and Roosevelt University.
From 2009 to the present, Iván has participated in numerous national and international guitar competitions, receiving top prizes in more than thirteen competitions such as: Sierra Nevada Guitar Competition (USA), South Carolina Guitar Competition (USA), Joaquin Rodrigo's Guitar Competition in Illinois (USA), Colorado University International Guitar Competition (USA), Society of American Musicians Guitar Competition in Chicago (USA), Boston Guitar Fest (USA), and the International Guitar Festival "Guitarromania" in Colima (Mexico).
Iván has performed in Mexico, France, Spain, Eastern Europe and the United States during his career in international festivals such as: Festival del Museo Nacional del Virreinato in Mexico; World Guitar Competition in Novi Sad, Serbia; Lac du Saint Crois Fet de la Musique in Nice, France; Musica en Compostela in Santiago de Compostela, Spain; and more.
Iván has taken master classes with Oscar Ghiglia & Lorenzo Michelli (Italy), Zoran Dukic (Croatia), Martha Masters (USA), Adam Holzman (USA), Berta Rojas (Paraguay), Jorge Caballero (Perú), Sergio Assad (Brasil), Gonzalo Salazar (México). Iván has been invited to participate in various radio and television programs in Chicago such as Vocalo Radio, Chicago Public Radio, CAN TV y Hoy Univision.
In December of 2011, Iván Resendiz founded the First Latin American Guitar Festival in Chicago. The Festival offers concerts, workshops and conferences to the Latin American community in Chicago, as well as for the students of such universities as Columbia College and Northeastern University. The Latin American Guitar Festival just completed its third year in 2013 under the direction of founders Iván Resendiz and Rafael Cervantes. The Festival continues to achieve its goal of bringing classical music to the immigrant community in Chicago that often has limited access to cultural events, using the guitar as an instrument which unites the whole of Latin America.
Iván currently lives in Chicago and is part of the artistic immigrant community, which aims to promote the cultural movement as a struggle against inequality, and motivating the community to defend their rights through art.
Marina Tomei is a guitarist from Rome. Along with her classical-literary studies she began to study guitar with Bruno Battisti D' Amario, the historical guitarist of legendary composer Ennio Morricone.
She continued her academic studies in Florence, as a fellow at the Conservatorio di Musica Luigi Cherubini, where she studied with Maestro Francesco Cuoghi. She received her degree in guitar under the guidance of Maestro Arturo Tallini at the Conservatorio di Musica Santa Cecilia in Rome. She participated in international courses of musical refinement with Dusan Bogdanovich, Magnus Andersson, and Ricardo Gallen among others. She was selected to attend the Aspen Music Festival and School, under the instrumental direction of Sharon Isbin.
Tomei has performed as a soloist in various concert halls in Italy (including Castel Sant'Angelo, Canonica Museum, Napoleonico Museum in Rome, Teatro Verdi in Pisa, and Paolo Graziosi Florencia Museum in Florence), and several international festivals of guitar and chamber music in Europe and America, playing in several important concert halls like Palacio de Bellas Artes and Auditorio Nacional. She also performed in numerous Italian cities with different chamber ensembles and guitar quartets, with which she participated in the GuitFest 2012, in a premiere concert of contemporary works by important Italian composers in Rome. She also collaborated with the Department of MNT (Musica e Nuove Tecnologie) of Florence for the premiere of multimedia works.
In 2013 she started a collaboration with the famous soprano Lourdes Ambriz, with whom she performed in important forums such as the Palacio of Bellas Artes (México D.F.) and the Instituto Cervantes of Rome. During the same year she appeared as a soloist in a multimedia concert at the Fonoteca Nacional and in Florence, in the context of the Youth Program LDMAC Festival Orchestra. In 2014 she was invited as a soloist with the Chamber Orchestra of the State of Zacatecas to play at the opening concert of Festival Opening of Manuel Maria Ponce in Fresnillo, birthplace of the composer, where she performed the Concierto del Sur. She regularly has presentations in national channels (CNN, Canal 11, Televisa, Rai) and radio programs (IMER, Radio UNAM).
Currently she is professor of guitar at the faculty of music of the Universidad Nacional Autónoma de México (UNAM), where she studied as fellow the Master in Music Performance under the instrumental direction of the Maestros Pablo Garibay and Juan Carlos Laguna.
The Latino Arts Auditorium & Gallery are located in the United Community Center at 1028 South 9th Street, Milwaukee, Wisconsin 53204.
To see or hear a preview of an upcoming exhibition or performance in the Gallery or Auditorium, visit www.latinoartsinc.org. Connect with Latino Arts on Facebook at www.facebook.com/latinoartsinc and follow @latinoartsinc on Twitter.
About Latino Arts, Inc.
With roots going back more than 25 years, Latino Arts, Inc. was formally established in 1997. Since then, the organization has brought cultural awareness, artistic and educational experiences, and a diversity of Hispanic artists from throughout the Spanish-speaking world to share their talents with the greater Milwaukee community. More information is available at www.latinoartsinc.org.
Mentioned in This Press Release
Recent Press Releases by Latino Arts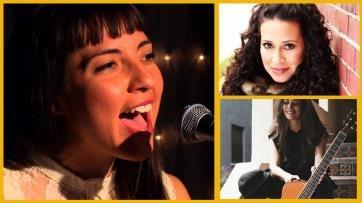 Jan 24th, 2019 by Latino Arts
Arts Organization Welcomes Well-Rounded Group of Classical Guitarists, Visual Artists and Afro-Latino Musicians

Sep 20th, 2018 by Latino Arts
The award will be used for outreach to raise awareness of available grants and scholarships that promote the arts throughout the Greater Milwaukee area.