Press Release
South Milwaukee Performing Arts Center Announces 2018-2019 Performing Arts Series
Season subscriptions for the Performing Arts Series are on sale now.
(South Milwaukee, WI) – South Milwaukee Performing Arts Center (SMPAC) announced its 2018-2019 Performing Arts Series on Wednesday, May 23, during a Preview & Tasting Party that was hosted by the South Milwaukee Performing Arts Council and SMPAC sponsors Skyline Catering & Express Deli, Azteca Restaurant, Barbiere's Italian Restaurant and Scrappy's BBQ.
"We're excited to present an eclectic and diverse series that will include performers from across the globe and from our own richly-talented Milwaukee community," said Rachel Sorce, Executive Director. "The season will include illuminating performances that honor or feature individuals who've motivated and inspired others in positive ways."
The 2018-2019 Performing Arts Series will feature the Soweto Gospel Choir's Songs of the Free: The Centennial of Nelson Mandela's Birth, paying tribute to the anti-apartheid revolutionary featuring 20 incredible voices direct from South Africa. John Pinero's The Life and Times of Vince Lombardi will portray the man considered to be one of the best coaches of all time.Unboxed will feature the Davis Boys and Girls Club Dancers in a media and dance stage play about the power of individuality created and directed by Cedric Gardner, an unrelenting source of inspiration for Milwaukee youth.
Female artists dominate the stage in Femmes of Rock featuring the stunning Bella Electric Strings™ performing music from AC/DC, Queen, Led Zeppelin and more. An all-female cast performs in LUMA: Art in Darkness, a "techno circus" of light, color and motion for all-ages. Seasonal programs include It's a Wonderful Life: Live from WVL Radio Theatre and Celtic Nights: Oceans of Hope. Just in time for St. Patrick's Day, Oceans of Hope is an epic story of the Irish diaspora featuring top dance and musical talent from Ireland. And, we'll showcase the delightful Milwaukee Mandolin Orchestra with special guests Misha Litvin, Stas Venglevski & Robin Pluer in Music that Made Milwaukee Famous.
2017-2018 PERFORMING ARTS SERIES
Thursday, September 13, 7:30 pm (Season Premiere Kick-off & "Tailgate Party" at 6 pm)
THE LIFE AND TIMES OF VINCE LOMBARDI
John Pinero's inspirational one-man play portraying football's greatest coach
Even though the legendary coach has passed on, you don't have to miss his spirit. Some would say he never left at all and that John Pinero is Vince Lombardi! John Pinero's one-man play on his portrayal of the greatest professional coach in football history is a force to be reckoned with. John has won praise and recognition from the professional football community and fans.
John's list of testimonials is extensive and includes praise from the Pro Football Hall of Fame, the Green Bay Packer Hall of Fame, and former Lombardi players, Bart Starr, Willie Davis, Fuzzy Thurston, and Jerry Kramer. He has impressed and inspired communities with his highly appraised play. Critics have reviewed John's performance and have written five star reviews. ABC television hired him to star as Vince Lombardi in the 2006 pre-game Super bowl show.
Among the reviews, Mike Downey of the Los Angeles Times told readers it's "riveting" and to "Go, go, go see Vince!" The Milwaukee Journal wrote, "This is the stage incarnation of Vince Lombardi, brought to you with impeccable care by actor John Pinero", and the Green Bay Press Gazette declared, "Vince packs a lot into less than two hours. Pinero did his homework, and then some."
John Pinero will also meet with and provide a motivational presentation for the students of South Milwaukee High School at an outreach event during the school day.
Join SMPAC for our Season Premiere Kick-off & "Tailgate Party" at 6 pm in the PAC lobby before the show for a celebration of the arts. Bring a few bucks for a brat or soft drink before the show, then enjoy The Life and Times of Vince Lombardi.
Links:
http://www.vincelombardi.net
http://southmilwaukeepac.org/event/vincelombardi/
https://www.youtube.com/watch?v=_eZz8MPd-bs
https://www.youtube.com/watch?v=I34qrQeEEG8
Friday, October 12, 7:30 pm
FEMMES OF ROCK Starring Bella Electric StringsTM
Blistering violin solos & unique arrangements along with beauty and charm
The FEMMES OF ROCK, led by rock violinist and arranger Nina DiGregorio, has electrified audiences worldwide featuring the music of AC/DC, Queen, Led Zeppelin, The Eagles, Jimi Hendrix, Prince, Metallica, David Bowie, Pink Floyd, and more. New arrangements, original material, a live rock band, video, lights, choreography, comedy, and more can be expected in this high-energy show. The Bella Girls have performed with stars such as Beyoncé, Rod Stewart, Richard Marx, Shakira, Cheap Trick, Stevie Wonder and more. This show is currently the only one of its kind, with no other similar string acts operating at this level of production. They keep a busy touring schedule and are one of the most sought-after "hard rock" violin acts in the world.
"This is one of the most musically inventive and visually impressive lineups of artists I've seen in my time covering entertainment in Las Vegas. FEMMES OF ROCK is a highly coveted live act throughout Las Vegas and across the country, and after watching them perform it is easy to see why." -John Katsilometes, Las Vegas Weekly
Links:
http://southmilwaukeepac.org/event/femmesofrock/
https://www.youtube.com/watch?time_continue=7&v=hntJx4ujIVA
https://www.youtube.com/watch?v=eRrBDkp3iuA
https://drive.google.com/drive/folders/0B8RUD5uXHhBpc18wY3BnRkV4OUk.
https://www.youtube.com/watch?v=HkhfMEGLzXk
Thursday, November 15, 7:30 pm
SOWETO GOSPEL CHOIR
Songs of the Free: Celebrating the Centennial of Nelson Mandela's Birth
South Africa's GRAMMY© Award-Winning heavenly voices

Direct from South Africa, Soweto Gospel Choir is an awe-inspiring 20 member ensemble that thrills audiences worldwide with their stunning blend of African gospel music, spirituals and American popular music. Songs of the Free is a program celebrating the centenary of the birth of Nelson Mandela. The performance will include South African classics as well as freedom songs and gospel music much loved by Mandela. Soweto Gospel Choir had the privilege of performing for Mandela on multiple occasions during his life as well as at his memorial services. Prepare to be moved through earthy rhythms and rich harmonies sung in 6 of South Africa's 11 official languages. This program will uplift your soul through the music and dance of South Africa.
As part of this special presentation, SMPAC will host Milwaukee artist and SMPAC Performing Arts Series alumnus Christopher McIntyre Perceptions and feature a photo exhibition from his recent visit to Liv Village, a long-term foster care community for youth in Durban, South Africa.
The Soweto Gospel Choir will also meet and work with the students of South Milwaukee High School for an outreach event during the school day.
"The singing was all gorgeous. The dancing was mesmerising in the way that African dancing can be. " –Stage Whispers, Australia
Links:
http://www.sowetogospelchoir.com/
http://southmilwaukeepac.org/event/sowetogospelchoir/
https://www.youtube.com/watch?v=wBqHWjGWN6U
https://www.youtube.com/watch?time_continue=3&v=MHHjP7XrBq0https://www.youtube.com/watch?v=wBqHWjGWN6U
https://www.youtube.com/watch?v=-mP-AQkPvfo
Thursday, December 6, 7:30 pm
IT'S A WONDERFUL LIFE: Live From WVL Radio Theatre
A clever stage adaptation to a classic story

This 1940s "live broadcast" of Frank Capra's beloved film takes us back to the Golden Age of Radio set in the fictional studio of WVL Radio Theatre on a snowy night. Due to the blizzard, the professional voice actors are unable to get through, but the show must go on. So a small but intrepid band of employees manage to create the dozens of movie characters and scenes using just their voices and a sound effects table. The four-member company masterfully conquers multiple characters and sound effects while saving their radio station from a winter blizzard's doom. This clever stage adaptation breathes new life into the poignant story of George Bailey
and Bedford Falls—heartwarming, uplifting gift for audiences.
"As engaging, if not more so, than multimillion dollar Hollywood extravaganzas." –Mountain Xpress

Links:
http://immediatetheatre.org/#wonderful-life
http://southmilwaukeepac.org/event/wonderfullife/
Saturday, January 26, 7:30 pm
MUSIC THAT MADE MILWAUKEE FAMOUS
Milwaukee Mandolin Orchestra & Guests Misha Litvin, Stas Venglevski & Robin Pluer

The Milwaukee Mandolin Orchestra (MMO) has been a Milwaukee fixture since 1900. Known for its performance of music from America's golden age of mandolin orchestras (the late 1800s to early 1900s), the MMO is considered one of the best mandolin orchestras to perform rags, waltzes, and marches. Now with world renowned classical guitarists Rene Izquierdo and Elina Chekan as directors, the MMO captivates audiences with inspirational performances of preeminent works of the baroque and classical periods, too. Music that Made Milwaukee Famous will feature this unique combination of historic music. Join the MMO plus the fast-fingered domra and bayan duo Misha Litvin and Stas Venglevski, and the lovely and charming chanteuse Robin Pluer.
"The Milwaukee Mandolin Orchestra has given us a rare thing: heartfelt and stirring performances of music that, without the efforts of these performers, could easily vanish into the mists of time."  -Jack El-Hai, Mandolin Quarterly

Links:
http://southmilwaukeepac.org/event/mandolin
https://www.youtube.com/watch?v=IZUH4MMhsrU
https://www.youtube.com/watch?v=wtMbS3aJCCI
https://www.youtube.com/watch?v=3KxxdPBvupY
https://www.youtube.com/watch?v=Eko8Cg8fU1s
https://www.youtube.com/watch?v=6XSNFVSKjgU
Friday, February 15, 7:30 pm
LUMA: ART IN DARKNESS
A surreal world of light, color and motion.

LUMA is an exhilarating light spectacle that captures imagination by using the dark as a canvas and light as a brush. LUMA creates a "TechnoCircus" by blending physical disciplines such as rhythmic gymnastics and dance with magic, puppetry and hi-tech luminous objects. The viewer experiences artistic depictions of natural, artificial and metaphysical light that create mesmerizing illusions.
Standing on a lava flow on the 'edge of the earth', Marlin, the show's founder, had an epiphany that all life is drawn to light. Like deer to headlights, a moth to a flame, a seed to the sun, we humans are inextricably pulled to the light. We all have a memory of playing with a flashlight under the covers, waving a sparkler, gazing at the lights on our birthday cakes, and this fascination never ends even after we have grown up.
Seen in 15 countries, the show taps into the universal draw that all living things have towards light. Fireflies dance, shooting stars flash across a darkened stage, carnival rides spin and more. As the first all-female cast in LUMA's history, Art in Darkness features Melissa Staroszik, Canada's rhythmic gymnastics champion, plus seven talented performers. Appropriate for ages 6 and older.
"LUMA: The science of art." Washington Post
"A rare show, bedazzling, truly magical….turns an audience of adults into a bedlam of kids." San Francisco Gate
Links:
http://southmilwaukeepac.org/event/luma/
Saturday, March 2, 7:30 pm
CELTIC NIGHTS: OCEANS OF HOPE
An epic journey of a universal dream
Featuring some of Ireland's most talented performers, Celtic Nights: Oceans of Hope is the story of the Irish—who they are, where they came from, and how their dreams of liberty, freedom and above all, family transformed the world. Oceans of Hope uses song, music, dance and narration to present its story of people crossing oceans in hopes of trading famine and persecution in their homeland for freedom and prosperity. There will be moments of joy, sadness, happiness and laughter as you embark on a memorable journey of past, present and future. Although the emphasis is on Ireland, the program's impact connects inspiring stories of immigration across cultures.
"Six of Ireland's most accomplished dancers mirror six of its finest voices to present a spell-binding and exhilarating picture of a proud people and their passion." -The Valentine Theater, New York
"Powerful songs would build your confidence, and then a ballad would come along and steal your breath. The lighting was dramatic and matched the power of the voices, dancers, music and story." –Iowa State Daily

Links:
http://southmilwaukeepac.org/event/celticnights/
https://www.youtube.com/watch?time_continue=38&v=QAbhgj1IP2Q
https://www.youtube.com/watch?v=WIzBAJBopjA
https://imgartists.com/roster/celtic-nights/
https://www.youtube.com/watch?time_continue=5&v=QAbhgj1IP2Q
Friday, April 26, 7:30 pm
UNBOXED
Featuring the Davis Boys & Girls Club Dancers
An original media/dance stage play about the power of individuality written and directed by Cedric Gardner & James Gavins

In a world where standardization and conformity are often valued as the norm, there's an underlying and powerful individuality within each child. Unboxed looks at how this individuality can be released, expressed and embraced. This immersive, multi-media performance uses dance, music and narration to depict how different things might be "unboxed." Performed by Milwaukee's award-winning Don & Sallie Davis Boys & Girls Club dancers led by Cedric Gardner. Written and directed by Gardner and James Gavins, Unboxed is a fresh interpretation of In General, performed at the Milwaukee Repertory Theatre in 2017. Joey Hernandez, an Associate Lecturer of Hip-hop at both UW-Madison and UW-Milwaukee, will collaborate with Gardner and Gavins for this production.
Cedric Gardner was a finalist on So You Think You Can Dance, an assistant choreographer on FOX's Empire and NBC's The Voice; one of eight teachers across the nation featured in Old Navy's ONWard! campaign; and a co-writer, choreographer and performer on a collaboration with Pharrell Williams and I Am OTHER.
Links:
https://www.milwaukeemag.com/cedric-gardner-boys-girls-club-milwaukee-dance/
http://www.boysgirlsclubs.org/helping-club-members-find-their-footing/
http://southmilwaukeepac.org/event/unboxed
https://www.youtube.com/watch?time_continue=4&v=FbjADtLveW4
https://www.facebook.com/jdgavins/videos/vb.1295182889/10207859711592776/?type=2&theater
ADDITIONAL EVENTS
In addition to the 2018-2019 Performing Arts Series, the season includes two youth theatre musical productions, performances by area performing arts groups, shows presented by renters, and more. Following are some of the featured performances at SMPAC scheduled for the 2018-19 season.
SUMMER YOUTH THEATRE
SMPAC manages the South Milwaukee Youth Theatre (SMYT) program and produces two musical theatre shows for students during the summer. The SMYT Junior Cast will present School House Rock Live! Jr. on July 14 at 1:00 and 6:00 pm, and the SMYT Senior Cast will present Happy Days-a New Musical on July 27 and 28 at 7:00 pm and July 29 at 2:00 pm.
SUMMER SENIOR OUTREACH & COMMUNITY EVENTS
SMPAC brings performing arts experiences to senior living centers and events in the community. Here are the performances set for the 2018-2019 season:
June 26 – Miltown Treblemakers at Oak Creek Place
July 12 – Milwaukee Ballet II at Willowcrest Care Center
July 25 – The Radio Rosies at Heritage Days Spaghetti Dinner at the South Milw. Firehouse
Aug 13 – Carlos Adames & Steve Peplin at Howard Village
SUMMER CONCERTS AT THE SOUTH MILWAUKEE DOWNTOWN MARKET
SMPAC will present three of the weekly Thursday night summer concerts at the South Milwaukee Downtown Market located at the corner of 11th and Milwaukee Avenues. All concerts are from 5-7 p.m. and are sponsored in part by Classic Cargo International.
Thursday, June 21
Mt. Zion Roots (Reggae Dub)
Mt. Zion Roots is a group founded by Saskia Mt. Zion. Made up of a group of artists who love reggae music, they will bring the listener to new heights as they expand consciousness.  Their energetic show consists of clever originals and sultry covers. The lyrical poetry and authentic roots reggae feel is one of a kind. Their goal and passion has been to reach people with uplifting music and powerful messages of unity.
Thursday, July 26
The Ivy Ford Band (Chicago Blues)
During South Milwaukee's family-friendly block party, "Evening on the Avenue"
Ivy Ford, singer, musician, entertainer. Waukegan born and raised, at 24 she is quite the up and coming artist of the Chicago blues scene.She can serenade a phrase sweeter than sugar in ways that make anyone and everyone tune in to what she has to say. Ivy Ford, always respects the history and tradition of roots and blues music, while presenting it in a fresh, young and trendy way. She fronts her very own band and besides obtaining the title of "Chicago's Blues Kitten," performs song selections from not just the blues genres but RnB and soul.

Thursday, August 23
Sweet Sheiks (Bayou Jazz)
Grab your partner, or someone else's, and dance to the sultry sounds of the Sweet Sheiks. This Milwaukee-based quintet will send you straight to the Big Easy with antique pop tunes inspired by jazz of the 1910s, 1920s and 1930s. They may be relatively new to the scene, but their style and musicianship won't give them away. These cats are red hot!
Thursday, September 20
Hot & Dirty Brass Band (New Orleans Style Jazz)
A 2018 WAMI Nominee Artist of the Year Award winner, the Hot & Dirty Brass Band is not your traditional brass band. Influenced by trombone shorty and orleans ave, bonerama, and modern day brass bands, the hot & dirty players bring the party wherever they go.
FEATURED RENTAL EVENTS
Saturday, September 29, 7:00 pm
Piano Concert featuring ŞAHAN ARZRUNI
Presented by Milwaukee Armenian Community Center
Şahan Arzruni played the straight man alongside Victor Borge in concert for several years. The Istanbul-born, New York-based musician has enjoyed an accomplished career as concert pianist, recording artist and musicologist. He has performed at the Metropolitan Museum of Art and the White House as well as on The Tonight Show and the BBC. His discography of over a dozen albums includes recordings of Chopin and Bartok. For this concert, Arzruni will focus on music by fellow Armenian composers such as Aram Khachaturian, Alan Hovhannes, Komitas Vartabed and others.
Friday, October 26, 7:30 pm
Peter Yarrow and Noel Paul Stookey of Peter, Paul and Mary
Presented by ACG
The iconic folk trio Peter, Paul and Mary made music together for nearly 50 years. In this intimate evening of song and reflection, Peter and Paul remember their enduring anthems of social change including "If I had a Hammer" and "Puff the Magic Dragon,"the historic impact they had upon the world of civil liberties by marching on Washington and Selma with Dr. Martin Luther King, Jr, and the woman who completed their tri-force of positivity, Mary Travers.
Saturday, October 27, 8:00 pm
Presented by ACG
Few recording artists are as creative and prolific as Bruce Cockburn. Since his self-titled debut in 1970, the Canadian singer-songwriter has issued a steady stream of acclaimed albums every couple of years. Bone on Bone amounts to the deepest expression of the 12-time Juno winner and Canadian Music Hall of Fame inductee's spiritual concerns to date.
Knightwind Ensemble, Milwaukee's premier adult wind band, will perform three concerts on October 24, February 10 and April 7. Concerts are at 3:00 p.m.
Milwaukapella on January 19 is an annual fundraiser for the Rotary Club of Mitchell Field and will feature a day-long workshop for students followed by a performance onstage with a nationally-touring a cappella ensemble yet to be announced. The event is sponsored by Landass & Company Investments and the Rotary Club of Mitchell Field.
TICKETS
Season subscriptions for the Performing Arts Series are on sale now. Purchasing tickets to four or more performances qualifies as a season subscription. Subscriptions may be purchased through the Box Office at 414-766-5049 or in person at 901 15th Avenue. Box Office hours are M-Th, from 10-1 (Ring bell at door #9. ID required), and one hour before performances. Individual tickets go on sale July 9 and may be purchased online at www.southmilwaukeepac.org.
ABOUT SMPAC
South Milwaukee Performing Arts Center (SMPAC) provides the greater Milwaukee and southeastern Wisconsin communities with creative, innovative and diverse performing arts.  Located inside of the South Milwaukee 6-12 campus, it serves the students of South Milwaukee and provides professional services for more than 500 shows, performances, rehearsals, classes and other events annually.
Past performances on the SMPAC stage include Big Bad Voodoo Daddy, The Vienna Boys Choir, Flamenco Vivo Carlotta Santana, The Violent Femmes, Tommy Emmanuel, Legends Roundtable to Honor Da Crusher, Ex Fabula, Cirque Alfonse, The Official Blues Brothers Revue, John McGivern, George Watsky, Donny McCaslin, Robert Glasper, The Zombies, Jean Luc Ponty, Jon Anderson and many, many more.
SMPAC was voted as a top five Best Theatre in City Voter's Milwaukee A-List Best Of contest in 2016 and 2017, receiving customer reviews such as "Great venue with fabulous events for all ages!" "Excellent and diverse touring artist performances showcased in a comfortable, friendly theatre away from the downtown crowds." "There is not a bad seat in the house." SMPAC was named the tri-city South Shore Chamber of Commerce Outstanding Business Award for 2017.
The SMPAC Performing Arts Series is sponsored in part by the Avalon Theatre, Classic Cargo International Inc., Courtyard Marriott Milwaukee Airport, Sheridan House & Café, Skyline Catering & Express Deli, TASC Services LLC., and Ken Cook Co. Performances are supported in part by a grant from the Wisconsin Arts Board with funds from the State of WI and the National Endowment for the Arts.
SMPAC is located inside of the South Milwaukee School District 6-12 campus, at 901 15th Avenue in South Milwaukee between College and Rawson Avenues. It is easily accessible from I-94 and 794. Free parking is available in the northwest parking lot. For events, patrons should enter door #9. For tickets or more information, visit southmilwaukeepac.org or call (414) 766-5049.
Mentioned in This Press Release
People
:
Bart Starr
,
Carlos Adames
,
Cedric Gardner
,
Christopher McIntyre
,
James Gavins
,
Jerry Kramer
,
John McGivern
,
Rachel Sorce
,
Rene Izquierdo
,
Robin Pluer
,
Stas Venglevski
,
Steve Peplin
,
Willie Davis
Recent Press Releases by South Milwaukee Performing Arts Center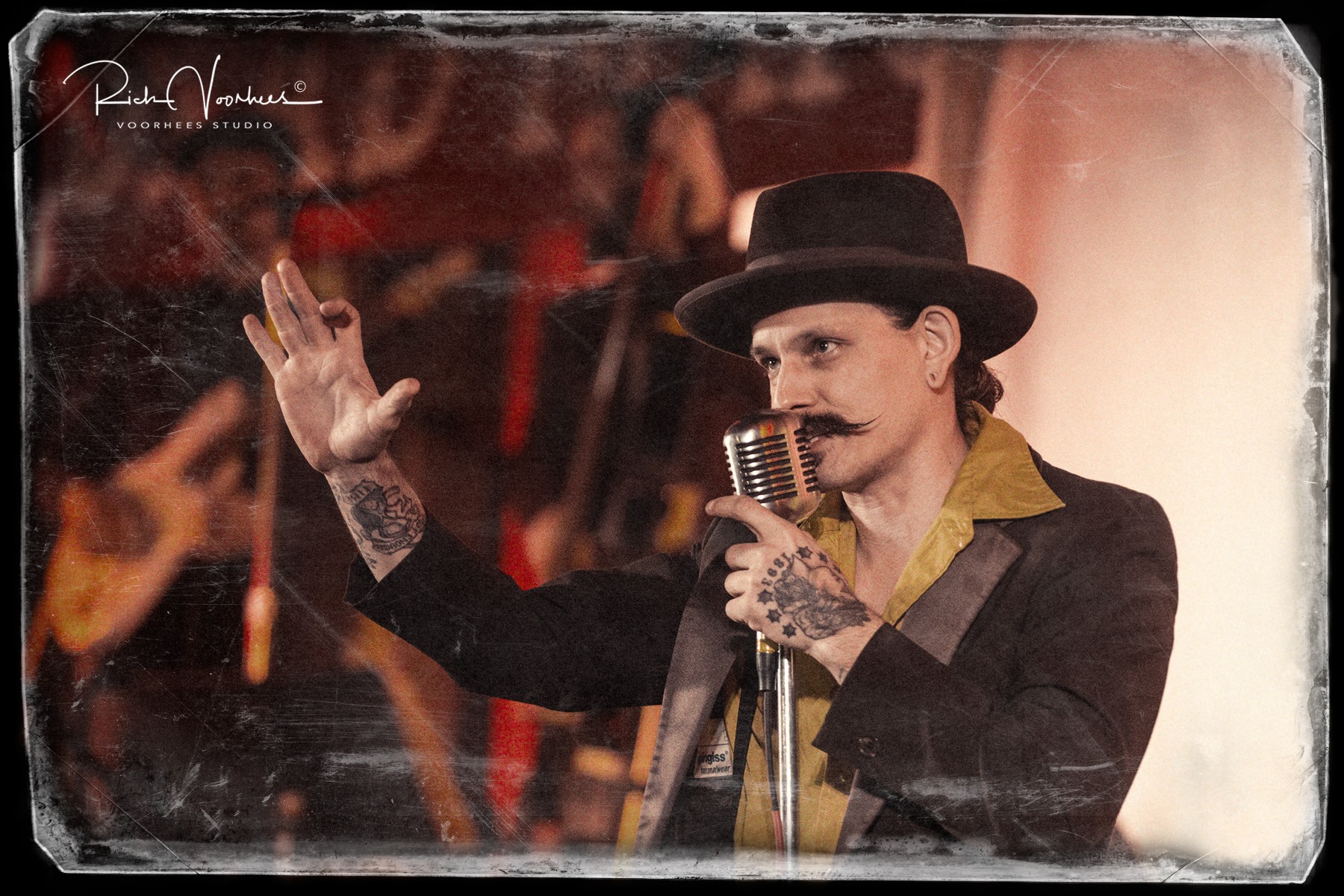 Mar 9th, 2020 by South Milwaukee Performing Arts Center
Featuring more than 100 performers! With Prof. Pinkerton Xyloma as Master of Ceremonies - Friday, May 15 • 6:00 pm Pre-Show Fundraiser/Social/Raffle • 7:30 pm Performance