Press Release
Six Ways to Celebrate Dad this Weekend in The Parks
Milwaukee County Parks are offering a variety of relaxing activities with Dad in mind,
MILWAUKEE – From beer gardening to a Whitnall Park pig roast, the Milwaukee County Parks are offering a variety of relaxing activities with Dad in mind, Father's Day Weekend, June 15–17.
1. Golfing with Dad or Gifting a Golf Package
Golfing with Dad on Father's Day is a tradition in many families, and tee times are filling up quickly. If the available tee times don't work with a family's schedule, there is another option. For Father's Day, families can give Dad a golf package that includes a golf shirt, sleeve of balls, and a round of golf (with a golf car) on the day of Dad's choosing. He can play and ride for 18 holes, any day, any tee time available this year. Families can stop at any Milwaukee County Parks pro shop to purchase the package and select Dad's shirt.
Packages are available for $99 at Currie (3535 N. Mayfair Road), Dretzka (12020 W. Bradley Road), Grant (100 E. Hawthorne Ave.), Greenfield (12035 W. Greenfield Ave.), Oakwood (3600 W. Oakwood Road), and Whitnall (6751 S. 92 St.). The package at Brown Deer (7625 N. Range Line Road) is $115.
For course details and tee-time reservations, visit mke.golf.
2. Listening to live music. . .and enjoying a brew
Dads can listen to live music and enjoy time with family while they have a brew or two. All performances are from 5–8 p.m.
On Friday, Ryan McIntyre's storytelling style will please fans of pop, rock, and country, at Ferch's Beachside Grille in Grant Park (100 E Hawthorne Ave); Derek Sallmann will perform family-friendly folk with pop hooks, covers from the '60s to today, and originals at the Traveling Beer Garden in Bender Park (4503 E Ryan Road); Gabby of Faux Fiction will bring alternative and power pop to the Traveling Beer Garden at Froemming Park (8801 S. 51st St.); and Lenny Szwiec will croon the popular music of the '50s through the '70s, at the Whitnall Park Beer Garden (8831 N. Root River Parkway, in Greendale).
On Saturday, Nickel and Rose, a guitar and bass duo, will offer a world-music influence to folk, blues, jazz, and country tunes at the Traveling Beer Garden in Bender Park; Nathan Kalish will perform country-Americana with a tip of the hat to psychedelic, folk, and rock 'n roll at the Traveling Beer Garden at Froemming Park; and The Doofi will bring Rock & Soul to the Whitnall Park Beer Garden.
For details, visit mkebeergardens.com.
3. Celebrating Dad's Inner Guru at the Farmers Market
Dads have always been a source of sage advice. . . .  Could yoga be their secret? Families can connect—and share a laugh—at Yoga in The Park, Saturday at 9 a.m. at the Cathedral Square Market. Beginner to expert yogis are invited to the free, outdoor yoga sessions led by the Wisconsin Athletic Club. Participants are reminded to bring a mat. After the class, families can search for fresh herbs and produce while listening to live music. The market is open until 12:30 p.m. Cathedral Square is located at 520 E. Wells St. For details, visit easttown.com.
4. Picnicing with Dad and the Midtown Community
The Midtown Community offers a fun time with Dad and neighborhood friends. The Father Figure and Sons Midtown Block Party & Community Picnic invites the public to come together in peace and fun, Saturday from 11 a.m.–4 p.m. at Tiefenthaler Park. The event features free food, basketball games, court art, net-weaving with Wes Tank of Community Courtship, arts and crafts, fun for the kids, music, and community resources. The park is located at 2501 W. Galena St. For details, visit MidtownPartnersMKE on facebook.
5. Visiting a Military Vehicle Display 
Dads who are former Servicemembers may recognize the restored, and unrestored, former military-transportation vehicles—from a Vietnam-Era ambulance to large-tracked, armored military vehicles, on display at the
Boerner Botanical Gardens
.
Members of the Midwest Military Vehicle Association will have about a dozen military vehicles on exhibit on Father's Day, from 10 a.m.–3 p.m. Families may want to arrive early or stay late to discover flowering trees, daylilies, and roses in the Botanical Gardens, open from 8 a.m.–dusk.
Regular admission to the Botanical Gardens is $6.50 for adults age 18 and up; $5 for students of any age with IDs, Milwaukee County seniors age 60 and up with IDs, and people with disabilities; and $4.50 for youths age 6–17. The Botanical Gardens are located in Whitnall Park at 9400 Boerner Drive. For more information, call the Botanical Gardens at (414) 525-5601 or visit countyparks.com.
6. Going the Whole Hog to Celebrate Dad
Barbeque hot off the spit, a great selection of craft beers, live music, and time to recall family stories—all at one stop. The Gift of Wings Grill will present a special Father's Day Pig Roast, Sunday from 3–6 p.m., at the Whitnall Park Beer Garden. The Ozaukee County Jam Band will add their brand of rocking blues to the occasion. The Whitnall Park Beer Garden is located at 8831 N. Root River Parkway, in Greendale. For details, visit mkebeergardens.com/whitnall.
Mentioned in This Press Release
Recent Press Releases by Milwaukee County Parks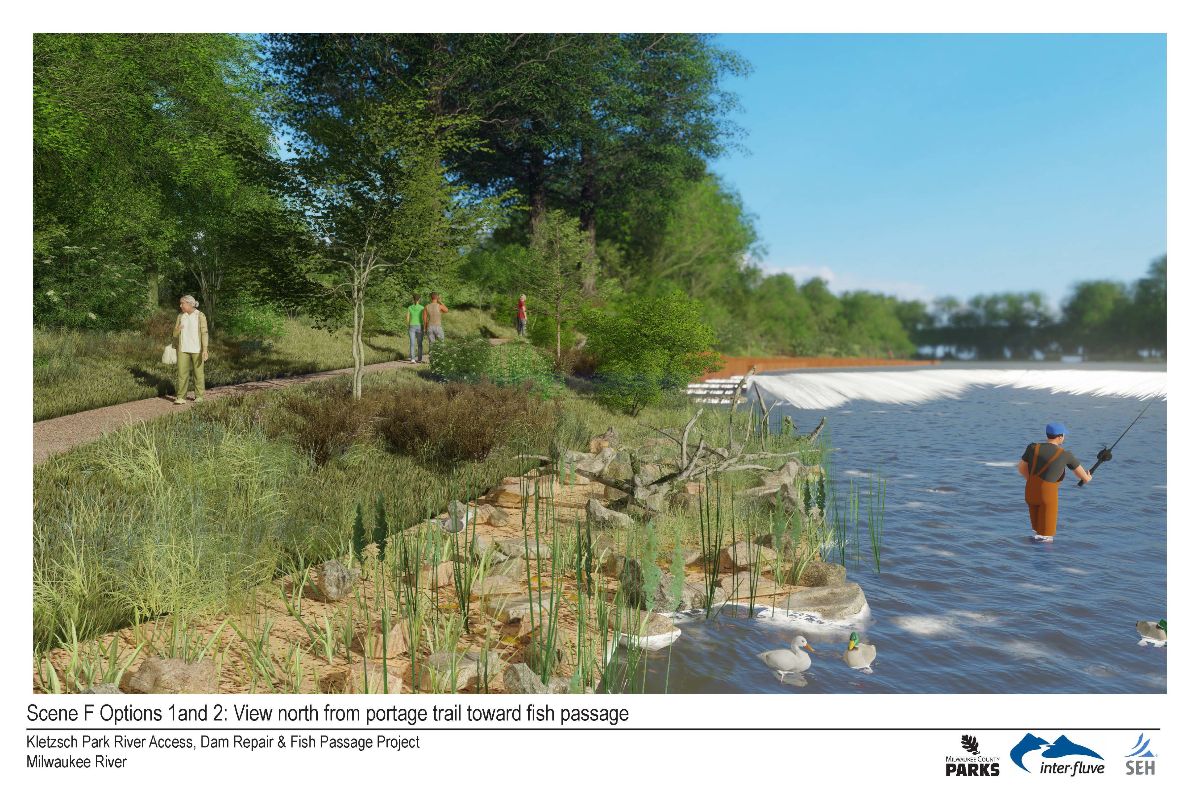 Sep 17th, 2019 by Milwaukee County Parks
The $2 million project in Kletzsch Park is part of an extensive plan to tackle environmental issues in the Milwaukee Estuary Area of Concern.
Jul 25th, 2019 by Milwaukee County Parks
With its Important Bird Area designation, the park system joins 92 sites in Wisconsin, 2,832 sites in the U.S. and 12,000 other sites worldwide as Important Bird Areas.
Jul 11th, 2019 by Milwaukee County Parks
The Camp Out costs $25 for adults per night and $15 for children per night.