Press Release
Rep. Spreitzer Supports Gov. Evers's Redistricting Reform
"Gerrymandering has undermined our state's democracy for too long."
MADISON – Today, State Representative Mark Spreitzer (D – Beloit) threw his support behind Governor Tony Evers's plan to move Wisconsin to fair, nonpartisan redistricting.
"Gerrymandering has undermined our state's democracy for too long. It has allowed a group of legislators – supported only by a rigged map and a minority of voters – to execute a radical agenda that has hurt families, wasted taxpayer dollars, and taken our state backward. Voters rejected that agenda last November when they elected Governor Evers, but their will was thwarted by unconstitutional rigged maps that allowed this 'minority majority' to cling to power."
In 2015, Rep. Spreitzer was the lead author of AB 328, which would have removed redistricting authority from politicians and assigned it to a non-partisan commission. Legislative Republicans refused to hold even a single hearing on the bill and did not allow it to come to the floor of the State Assembly for debate. Similar legislation has been re-introduced by newly elected Democratic State Representatives in each successive session.
"The people of Wisconsin have had their voices stolen from the Wisconsin State Legislature, where they are intended to guide us the most. I have fought back against this blatant partisan gerrymandering for years, and I am heartened to see Governor Evers championing our struggle for fair, nonpartisan redistricting in our state. Enough is enough – we need fair maps in Wisconsin."
More about the Gerrymandering of Legislative Districts
Mentioned in This Press Release
Recent Press Releases by State Rep. Mark Spreitzer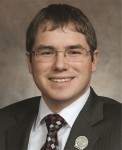 Jun 4th, 2019 by State Rep. Mark Spreitzer
"As an out gay man, I am proud to stand by my fellow LGBT legislators today to present the Equality Agenda in honor of Pride Month."