Press Release
REMAPPING BOUNDARIES… in 2015 – 2016
Soulstice Theatre Announces 2015-2016 Season!
The Explorers Club by Nell Benjamin (Regional premiere) November 6-21, 2015
This hilarious comedy from the writer of Legally Blonde takes you inside one of the last bastions of Victorian-era manhood, The Explorers Club, whose members are as dedicated to science in its many (questionable) forms as they are to their evening cigars and brandy. When one of the gentlemen attempts to present a woman as a candidate for membership, will it take nothing less than the annihilation of an entire primitive culture to save the Club, the country, and the Crown? Pass the brandy!
Upon A Midnight Clear by Liz Shipe (local playwright) December 4-21, 2015
From the author of TheaterRED's A Lady In Waiting and the popular Sherlock series, The Baker Street Trilogy, comes this Holiday adventure, steeped in early European traditions and mythology. After a year of living as a human, Jack Frost must decide by midnight on Christmas Eve if he wants to remain human with the woman he loves. Pulling Jack away from mortal bliss are the immortal superheroes of the season – the whimsical Father Christmas, The Sandman, Wodan, and the dreaded Krampus. What will Jack choose? Fun for the whole family awaits at Soulstice this holiday season.
Starlings by Ben Parman (local playwright) January 14-30, 2016
An insightful and incisive comedy that's "too Christian for the gay demographic and too gay for the Christian demographic," Starlings perches four estranged youth group friends with different orientations and beliefs at a gay Christian conference. Can you be right and be friends, or do you have to choose? Fast, funny and profound, Starlings will make you question how we flock together. Join us for this WORLD PREMIERE event!
Sea Marks by Gardner McKay March 4-20, 2016
A fisherman living on a remote Irish island has fallen in love with a woman he's seen only once, at a local wedding. She lives in Liverpool, and after an 18-month "courtship" by mail, he ventures to the city for a visit. She convinces him to stay and romance blooms, but the bliss is fleeting as our fisherman, on this voyage to find a new life with his new love, loses all that he knows best.
The Secret Garden by Marsha Norman & Lucy Simon June 10-25, 2016
This lush musical is an updated look at Frances Hodgson Burnett's story of little Mary Lennox, orphaned overseas and shipped off to live with distant and unknown relatives. When Mary arrives in her strange new "home," what she finds is a family in need of even more healing than she. In time, Mary rekindles the life in her late aunt's hidden garden and, with it, rekindles the love this family lost so many years ago.
About Soulstice Theatre… Founded in 2002, Soulstice Theatre provides the greater Milwaukee area with meaningful theatre that challenges, inspires, and entertains. Conveniently located just south of Bay View in Saint Francis, Soulstice uniquely meets a need for accessible, high-quality theatre at an affordable price. From the latest Broadway smash hits to centuries-old classics to original pieces by local playwrights and performers, Soulstice delivers professional-quality productions of works rarely seen in southeastern Wisconsin.
Soulstice proudly features local talent, both on stage and off, and is deeply committed to developing the next generation of theatre patrons and participants through our youth training program, STArS (Soulstice Theatre Arts School), and our new adaptive dance program for children with mobility and neuromuscular issues – SuperSTArS! Soulstice remains passionate about giving back to the community in which it performs, and has become a local pioneer in donating part of each show's profits to another local charitable organization whose mission matches the meaning of that show. Soulstice is delighted to bring you this powerful fourteenth season!
Mentioned in This Press Release
Recent Press Releases by Soulstice Theatre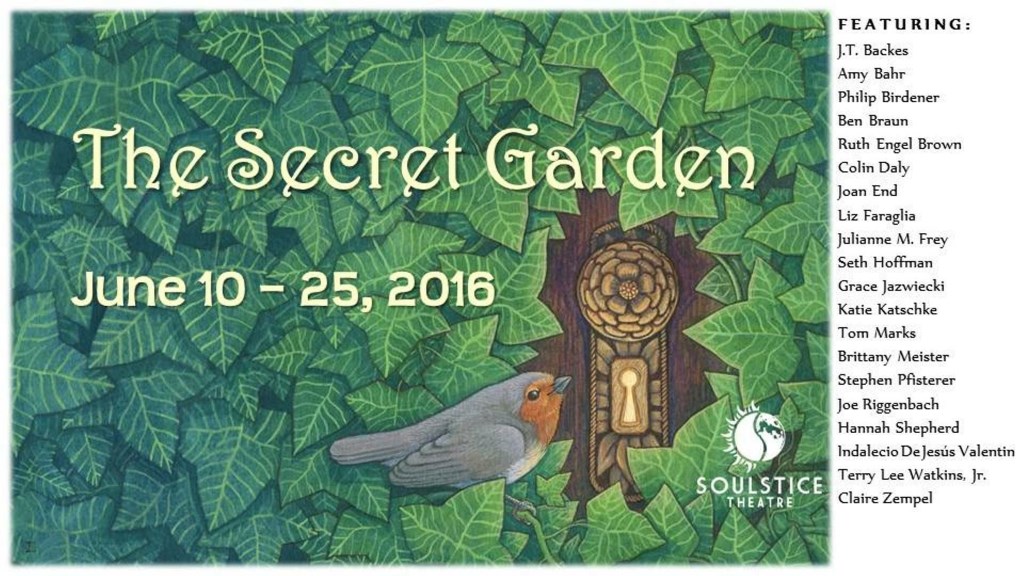 Jun 7th, 2016 by Soulstice Theatre
A brilliant cast awaits audiences for this new interpretation of the Broadway spectacle.