Press Release
President and CEO of Catholic Relief Services to keynote Marquette Mission Week
Week to focus on charity, justice and the quest for the common good
MILWAUKEE – Dr. Carolyn Woo, president and CEO of Catholic Relief Services, will be the keynote speaker for Marquette University's annual Mission Week, Feb. 1-6. Her address, along with other selected Mission Week events, is open to the public.
Woo's keynote, "Who Cares? Charity, Justice and the quest for the Common Good," will be at 4 p.m. Monday, Feb. 2, in the Weasler Auditorium, 1442 W. Wisconsin Ave. Her address will touch on how charity and justice are viewed in today's world and explore ways the Marquette community can engage those who are underserved. Woo joined CRS in January 2012 after a distinguished academic career, serving from 1997–2011 as dean of the University of Notre Dame's Mendoza College of Business and, previously, as associate executive vice president for academic affairs at Purdue University.
Tickets are currently available to Marquette students, faculty, staff and the general public; limit two tickets per person. Tickets are distributed in the Alumni Memorial Union Brooks Lounge Monday through Friday from noon to 11:30 p.m., and Saturday and Sunday from 2 p.m. to 11:30 p.m.
Other selected Mission Week events open to the public include:
Monday; Madeleine Philbin, regional director, CRS Midwest, will share the effectiveness of using storytelling across multiple platforms to advocate for humanitarian and social justice issues to help Catholics put their faith into action.
Tuesday; Bonnie Blair, Olympic gold medal winner, will discuss how she works to advance the common good of others as a CRS spokesperson.
Thursday; Vanessa Tobin, senior technical adviser for water supply, sanitation and water resources development for CRS, will go "On the Issues" with Mike Gousha, distinguished fellow in law and public policy, to discuss water sanitation and sustainability issues.
Thursday; Tobin and Dr. Mwayabo Jean Claude Kazadi, senior technical advisor for HIV Care and Treatment with CRS, will co-lead the closing keynote address, "Bringing it Home: Connecting the Work of CRS to Marquette."
A full schedule of speakers and events, along with ticket and registration information, is available online.
About Mission Week:
Each February, the Marquette community pauses to reflect on the university's Catholic, Jesuit mission. Mission Week is the time set aside to recall Marquette's larger purpose and the Ignatian heritage and spirituality that guide the community throughout the year.
This year's theme, "Who Cares? Charity, Justice and the Quest for the Common Good," invites the Marquette community to reflect on compassion and responding to the needs of our sisters and brothers locally and internationally. For Mission Week 2015, Marquette has partnered with Catholic Relief Services, an international powerhouse that serves in countries around the globe to meet human needs and uphold the dignity of every person.
The week will begin Sunday, Feb. 1, at noon with a volunteer event where Marquette students, faculty and staff will package 25,000 meals for CRS sites in Burkina Faso. Mass at 4 p.m. will follow in the Church of the Gesu celebrated by Rev. Lúcás (Yiu Sing Luke) Chan, S.J., and Rev. Nicky Santos, S.J.
Mentioned in This Press Release
Recent Press Releases by Marquette University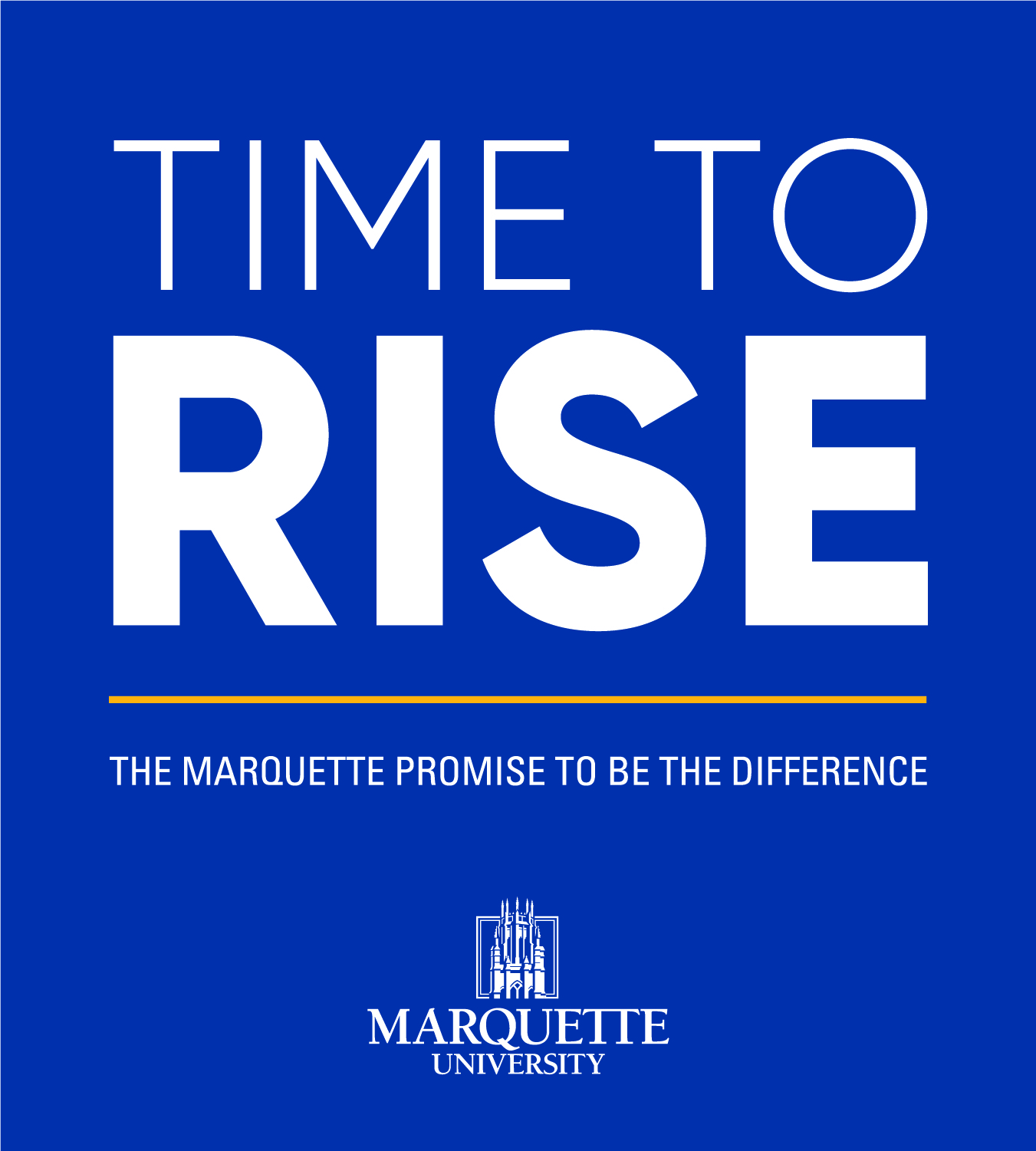 Apr 8th, 2021 by Marquette University
Time to Rise is largest comprehensive fundraising campaign in university history