Press Release
North Point Lighthouse to Host the Occasional Artists Art Show and Sale, Friday, June 8.
The Occasional Artists are a group of working professionals who find the time to pursue their passion for art and photography in their free time.
Milwaukee, WI, May 16, 2018 – The North Point Lighthouse is pleased to present a group art exhibition and sale featuring the works of Julia Taylor and five local artists. The Occasional Artists are a group of working professionals who find the time to pursue their passion for art and photography in their free time. The "Occasional Artists" Art Show and Sale will be held on Friday, June 8 from 5-8:00 p.m. at the Lighthouse and will show over 100 original pieces of art and photographs for sale. Benefits from the show will support the North Point Lighthouse & Museum.
The six artists in the show include: • Julia Taylor • Jennifer Hellermann • Michele Nelson • Robert Zondag • Gail Towers Nolan • Mark P. Kuehn
These talented artists have come together in this collaborative fundraiser to support the mission of the lighthouse, which is near and dear to Julia's heart. A longtime East Side resident, Julia often walks her dog around the lighthouse and Lake Park, photographing the area as inspiration for her art.
"I am thrilled to have my work included among these wonderful artists," said Taylor, president of the Greater Milwaukee Committee. "Art makes a wonderful gift. The show will offer a variety of art forms from talented artists who turn their unique perspectives into something special."
It's a great opportunity to shop for unique and original artwork. The artists will be present at the art show and their biographies are included below.
Admission is $10. Hors d'oeuvres will be served and we'll have a cash bar.
We thank our generous sponsors: Nehring's Sendik's on Downer, Associated Bank, Nelson Schmidt and MillerCoors. A portion of original art sales from The "Occasional Artists" Art Show and Sale will benefit the North Point Lighthouse.
For more information about the artists and their work visit: www.northpointlighthouse.org/artists
Light Keeper's Art Show: Artist Biographies
Julia Taylor 
Growing up in a small farming community in Indiana, I learned to draw early in life. I earned spending money by sketching portraits at county fairs and illustrations in weekly papers. Art teachers in high school and college taught me ways to master drawing fluidly from life.
In college, my small stained glass business, The Vitreous Works, paid the rent every month. Graduating from Ball State University with an art minor in the middle of an economic crisis, I left my art behind for many years. I always doodled and took a few art classes now and then. Photography became a real passion. I worked with many mediums over the years from soldering stained glass, welding, pastels and always pencil sketching. It's funny how I stayed away from watercolor over the years because I thought it too difficult. In October 2014, taking an afternoon watercolor class with a friend while on vacation created an affinity for the flow, the color and the glorious accidents of the water, the paint and the paper. The ongoing impact of that amazing afternoon is in my paintings daily.
Jennifer Hellermann
My love of textiles, pattern and construction began when I was a young girl. My mother signed me up for Saturday morning sewing lessons with Mrs. Winnekins. We called her "Winnie". Thank you, Mom! Another influential seamstress in my life was my Aunt Eleanor. I remember making a fully lined, two-piece suit at her house one weekend as a teenager. I can still see that apricot colored fabric in my mind's eye to this day. I was married in her yard, wearing a vintage dress.
My love of all things vintage and textile related continues today in my work. I mine thrift stores and discover unfinished projects and kitschy items that inspire me. In some way, I feel I am paying homage to women who didn't see themselves as artists.
In addition to vintage patterns, I am currently exploring ways to incorporate silhouette reverse painting on plexi-glass and patterns derived from Japanese textiles.
Michele Nelson
Michele has been a photography addict since the days when she loaded 35 mm film in her camera and processed the rolls in her bathroom. "I have the greatest memories of those days, but am basking in the new technology and endless opportunities to make my photos to be the best they can be", Michele said. "Everything I see is a picture waiting to be taken. Especially food and bursts of color."
Robert Zondag
Robert Zondag is a Wisconsin-based artist with a current focus on hand-colored prints (relief printing), mixed-media collage, watercolor and acrylic. Having studied both the Chinese and Japanese art forms of printmaking and watercolor brush-technique, Zondag is on a quest to convey meaning through simplicity of form and use of color.
Robert works are found in both private and corporate collections both locally and internationally. He has exhibited in numerous shows and was selected for the Milwaukee Institute of Art and Design's Open Canvas numerous years. Robert is on the board of the Milwaukee Artist Resource Network.
Gail Towers Nolan
Gail Towers Nolan is a Wisconsin watercolor artist specializing in close-scale nature paintings, drawing inspiration from Georgia O'Keefe and Gustav Klimt. Her work blends bold color and lines with soft fluid edges to create a style akin to abstracted realism. She has three paintings in print production, including one for the American Cancer Society Relay for Life, and her work has appeared in numerous publications.  In addition to her art, Gail uses the left side of her brain as an economic strategy consultant for aerospace and IT industry development.
Mark P. Kuehn
Mark's love of anything maritime started when he was a child, watching his great uncle draw and paint boats and landscapes. When he was 11, his aunt sent him to a drawing class in the summer to get him out of her hair. The rest is history. Mark attended the Layton School of Art and Design from 1972-74. He graduated from the Portland School of Art in Portland Maine in 1976. While living in Maine, Mark worked as a lobster fisherman and would paint watercolors of the fisherman's boats. Today Mark is a Creative Director of an advertising & marketing agency in Milwaukee's Third Ward. His love of maritime history led him to the North Point Lighthouse Museum, where today he is the Curator and has picked up his brush and pencil following in his great-uncle's footsteps. Mark also serves on the Board of Directors of the All Hands Boatworks. He can't seem to get enough time around boats.
About North Point Lighthouse
The North Point Lighthouse and Museum, located at 2650 N. Wahl Avenue within historic Lake Park, is a Milwaukee maritime treasure. Each year, thousands of visitors from the surrounding community, region and around the world experience its beauty, history and charm. Built in 1888, the lighthouse tower and keepers quarters are open to the public every Saturday and Sunday from 1-4 p.m. throughout the year, plus Thursdays and Fridays from 10 a.m. to 2 p.m. during the summer. Visitors can experience a maritime museum featuring exhibits, artifacts and stories, and climb the 74-ft. tower. The lighthouse is also available for private events. The lighthouse has been preserved and restored as a maritime museum through the efforts of the North Point Lighthouse Friends, Inc. and has been open for public tours, visits and events since 2007. The mission of the North Point Lighthouse Friends, Inc. is to preserve the North Point Light Station, inspire appreciation of its importance in Wisconsin maritime history and promote its use consistent with the character of Lake Park and the surrounding neighborhood.
For admission fees and public hours, visit northpointlighthouse.org
For information about lectures, tours and events, contact Sue Grzeca, 414-332-6754 or keeper@northpointlighthouse.org.
Mentioned in This Press Release
Recent Press Releases by North Point Lighthouse Friends, Inc.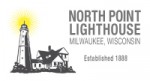 Aug 6th, 2019 by North Point Lighthouse Friends, Inc.
The North Point Lighthouse and Museum, located at 2650 N. Wahl Avenue within historic Lake Park, is a Milwaukee maritime treasure.