Press Release
Native American Awareness Project Art Exhibit At Milwaukee City Hall
November 7 – 19
An art exhibit featuring the work of national Native American artists will be on display at Milwaukee City Hall, 9 am to 4:30 pm weekdays, from November 7 through Wednesday, November 19.
One of the pieces included in the exhibit is a mural created by youth in workshops sponsored by Milwaukee Public Theatre (MPT) at Urban Ecology Center-Menomonee Valley (UEC-MV) this summer. The residency resulting in the four-part mural depicting the seasons was led by Oneida artist Kristelle Ulrich. MPT also sponsored Ayla Boyle's Dreamcatcher workshops as part of the residency.
Through the process of creating the four mural panels, the youth artists learned how the Native people in the Menomonee Valley lived on the land. The panels feature Winter Animal Tracking, Spring Maple Sugaring, the Summer Three Sisters' Garden (corn, beans and squash) and Fall Wild Rice Gathering.
The mural will travel with MPT's new production, Stories from the Medicine Wheel in spring, 2015, supported by a grant from the National Endowment for the Artswith nationally-recognized artist Ty Defoe and local Native American artists.
The Native American Awareness Project, with Executive Director John Cook and Lead Artist Ayla Boyle, assembled the art for the exhibit. In addition, special entertainment is planned from 12 to 1 pm daily:
Friday, November 7, Medicine Drum Shell Shakers
Monday, November 10: Steven Boyd, flute
Tuesday, November 11: NAAP Choir
Wednesday, November 12: Jim Kelley, flute
Thursday, November 13: TBA
Friday, November 14, James Floreze, traditional dance
Monday, November 17: Steven Boyd, flute
Tuesday, November 18: NAAP Choir
Wednesday, November 19: Steven Boyd, flute
For more information, contact Milwaukee Public Theatre at 414-347-1685 or mpt@milwaukeepublictheatre.org
The mural art project at UEC-MV was partially funded by the MPS Partnership for the Arts and Humanities. MPT's educational arts programming is supported by the Helen Bader Foundation, Greater Milwaukee Foundation Abert Fund, and the United Performing Arts Fund, CAMPAC Milwaukee County, and the City of Milwaukee Arts Board and the Wisconsin Arts Board with funds from the State of Wisconsin and the National Endowment for the Arts.
Mentioned in This Press Release
Recent Press Releases by Milwaukee Public Theatre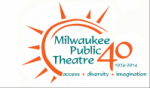 Jul 5th, 2016 by Milwaukee Public Theatre
Previously, Carolina served as the Executive Director of The Southside Community Justice Center.