Press Release
National Artists to Develop Native American Play for Milwaukee Public Theatre
Ty Defoe, Ibex Puppetry's Heather Henson and Mark Ruffin
Milwaukee Pubic Theatre (MPT) is excited to announce that Guest Artists Heather Henson and Mark Ruffin of Ibex Puppetry, and Native American performer Ty Defoe will be in Milwaukee in late January and early February to create puppets and develop MPT's original play, Stories from the Medicine Wheel, for touring this spring.
Heather Henson is Artistic Director of Ibex Puppetry, as well as being Muppet-creator Jim Henson's daughter. She is a contemporary puppet artist whose work promotes harmony and healing for the planet through artistic spectacle and discussion, with a recent emphasis on with the endangered species of the world, particularly Whooping Cranes. Heather will be doing research on Wisconsin tribal traditions, be involved in workshops with teachers and elders in the community, design and create puppet elements, and oversee the development of the play during her two weeks in Milwaukee.
Mark Ruffin has created memorable costumes for television, film and Broadway. He won a Daytime Emmy Award for Outstanding Achievement in Costume Design for his work on Sesame Street and has been nominated several times. His MRCO Studio is based in Philadelphia. Mark will be designing and building puppets and sets for the play while mentoring local artists in intensive work over the next two weeks.
Ty Defoe
 is a multi-disciplinary and 
Grammy-award
 winning artist, originally from the Oneida and Ojibwe tribes of northern Wisconsin. As a fellowship recipient, he recently graduated from NYU's Graduate Musical Theatre Writing Program at Tisch School of the Arts. Ty is well-known locally as a spectacular hoop dancer, singer and theatre artist. Ty has assisted in developing the script and, for one week, will act as music, dance and movement coach to ensure the production reflects Native American traditions, and will also return to Milwaukee when the play is ready to begin its tour.
Stories from the Medicine Wheel tells traditional tales from the Potowatomi, Oneida, Ojibwa, Menominee, and Ho-Chunk Nations which often feature animals while teaching cultural values. The entirely local cast will be directed by playwright and MPT Associate Artistic Director Ron Scot Fry.
The show will tour to select schools and other venues in Milwaukee and beyond beginning in late March. A mural created by youth in workshops at Urban Ecology Center-Menomonee Valley, sponsored by MPT in association with the Native American Awareness Project, will tour with the production.
For more information, visit Milwaukee Public Theatre at www.milwaukeepublictheatre.org.
Stories from the Medicine Wheel is supported by a Challenge America Fast-Track grant from the National Endowment for the Arts. MPT's programming is also supported by the Helen Bader Foundation, Greater Milwaukee Foundation Abert Fund, the United Performing Arts Fund, CAMPAC Milwaukee County, and the Wisconsin Arts Board with funds from the State of Wisconsin.
Mentioned in This Press Release
Recent Press Releases by Milwaukee Public Theatre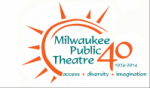 Jul 5th, 2016 by Milwaukee Public Theatre
Previously, Carolina served as the Executive Director of The Southside Community Justice Center.