Press Release
Milwaukee NARI Home & Remodeling Show to Feature Home Improvement Experts and Area Chefs
Fri., Oct. 7 – Sun., Oct. 9., at the Wisconsin Exposition Center at State Fair Park.
MILWAUKEE, WI — Home improvement and remodeling experts, along with area chefs, will share their ideas, insight, and recipes from the Home Solutions Stage at the Milwaukee NARI Home & Remodeling Show, Fri., Oct. 7 – Sun., Oct. 9., at the Wisconsin Exposition Center at State Fair Park.
Presenters at the event include Nick Kerzner, MCR, CKBR, the "Construction Guru" and owner of Kerzner Remodeling & Construction in Oconomowoc, speaking on ways for consumers to best communicate with contractors to have their project come together as they desire, as well as explaining what needs to be in a remodeling contract. Author of numerous articles on industry related subjects and host of the Construction Guru radio show that airs Sunday mornings at 9 a.m. on WISN-AM 1130, Kerzner will conduct presentations at 1 p.m. on Fri., Oct. 7, and at 3:30 p.m. on Sat., Oct. 8.
Melinda Myers, "The Plant Doctor", will conduct a presentation on Fri., Oct. 7, at 2 p.m. on "Fall Planting and Prep for a Beautiful Spring Garden." "Fall is a great time to plant and prepare your garden for the winter and spring ahead," Myers said. "There's still time to add new plants to the landscape." Myers will share ideas for adding bulbs, trees, and shrubs that all do well when planted in the fall. She will also explain how to take care of new and established plants with proper watering, winterization, and protection from wildlife to get through Wisconsin's often challenging winters and get ready for an eye-catching spring display.
Former Green Bay Packer
LeRoy Butler
will prepare game changing recipes during a cooking demo on Sat., Oct. 8, at 1 p.m. Originator of the Lambeau Leap, Butler became the most durable defensive back in the storied history of the Green Bay Packers. Playing in 181 games, more than any other defensive back, Butler was consistently productive, as he is the fourth ranked interception leader in team history with 38.
Surviving an impoverished childhood in a poor area of Jacksonville, Florida, and suffering through serious leg and foot problems that confined him to a wheelchair as a youth, Butler experienced a miraculous healing in the seventh grade. He went on to be a three-year starter at Florida State before becoming the Packers second round pick in 1990.
Butler became a starter in his second season, and remained there until he retired after the 2001 season. Selected to the Associated Press All-Pro team four years in a row in the mid 90's, Butler was part of the Packers Super Bowl winning team in 1996 and was also named to the NFL 1990's All-Decade team.
On Sat., Oct. 8, at 2:30 p.m., Cathy Kaczmarczyk, Lead Personal Color Consultant, and Kathy Caho, Healthcare Facilities Specialist, both with Sherwin Williams, will explain what adding color to a room or a home's exterior can do to enhance its look and feel. In addition, they will discuss color trends for 2017 as it relates to remodeling. Kaczmarczyk has worked with Sherwin Williams for more than two years, starting her career in the management training program. She managed a store in Chicago before moving to Milwaukee to oversee the Color Snap in home consultation program. She conducts and manages color consultations throughout the Milwaukee area. Caho has worked for Sherwin Williams for over 12 years starting as an intern. She managed a store for six years before taking her current role.
Professional organizer Liz Girsch from NEAT Method Milwaukee on Sun., Oct. 9, will provide tried and true tips that professionals use to make a space functional and beautiful. Whether it's your closet, pantry, bathroom, or kids' rooms, Girsch will offer tips that can transform your home as well as your life.
A turkey, stuffed with a duck, stuffed with a chicken? James Douglas and Matt Olsen of Bunzel's Meat Market in Milwaukee will conduct a cooking demo on Sun. Oct. 9, on how to make a "Turducken" and Turducken Rolls. Douglas, who has been working in the retail protein industry for 31 years, is Bunzel's Meat Department manager, with the company recognized by the Milwaukee Journal Sentinel in 2015 and 2016 as the Readers Choice winner for "Best Butcher." Olsen, who has been a Bunzel's employee for 13 years and has worked in the meat department for six years, has completed all the required training to become a Journeyman Meat Cutter. He is also responsible for Bunzel's chicken and pig rotisserie.
The complete presentation schedule is as follows:
Fri., Oct. 7
1 p.m.: Nick Kerzner, the "Construction Guru": "Contractor Communication…Create Your Home, Your Way"
2 p.m.: Melinda Myers, "The Plant Doctor": "Fall Planting and Prep for a Beautiful Spring Garden"
5 p.m.: Through the Seasons…Decorating Your Front Door
Sat., Oct. 8
11 a.m.: BBQ Cooking Competition
1 p.m.: LeRoy Butler, Green Bay Packers Legend, Cooking Demo
2:30 p.m.: Cathy Kaczmarczyk, Sherwin Williams: "What a Little Color Can Do"
3:30 p.m.: Nick Kerzner "The Construction Guru": "Remodeling Contract Necessities"
5 p.m.: "DIY Disasters" Panel Discussion hosted by Mike McGivern of 105.7 The Fan/WSSP-AM 1250
6:15 p.m.: Find Your Wine Style
Sun., Oct. 9
11 a.m.: Best Bloody Mary Competition
1:30 p.m.: Liz Girsch, NEAT Method Milwaukee: "Organizing to Transform Your Home and Life"
3 p.m.: James Douglas and Matt Olsen, Bunzel's Meat Market: "How Do You Make a Turducken?"
The Show will provide attendees with an opportunity to meet with more than 100 Milwaukee NARI member exhibitors, displaying the latest home improvement and remodeling products and services, including design/build, kitchens, decks, cabinets, windows, wall covering, bathrooms, lighting, landscaping, roofing, painting, fireplaces, siding, and more.
Special attractions at the Show include the Interactive Smart Home Gallery, a "Create and Take" area, live music, the Milwaukee NARI Show Information area, a 50/50 cash raffle presented by the Milwaukee NARI Foundation. Inc., and much more.
Hours on Fri., Oct. 7 are 12 p.m. – 8 p.m., 10:00 a.m. – 8:00 p.m. on Sat., Oct. 8, and on Sun., Oct. 9, from 10 a.m. – 5 p.m. Admission is $8 in advance, and $10 at the door. Tickets for seniors, 60 and older, are $8, while children 17 and younger and active and retired military personnel with military identification are admitted at no charge.
Milwaukee NARI is an elite association of the best home improvement and remodeling professionals in the area and a trusted resource for consumers. Since 1961, Milwaukee NARI has promoted ethical conduct, professionalism, and sound business practices in the remodeling industry and education for the consumer. Consumers should have confidence when selecting a Milwaukee NARI contractor for their home improvement project.
For more information on the Home & Remodeling Show, visit http://www.milwaukeenari.org or call Milwaukee NARI at 414-771-4071.
Mentioned in This Press Release
Recent Press Releases by NARI Milwaukee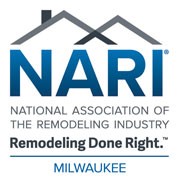 Feb 10th, 2021 by NARI Milwaukee
Front-Line Workers to Receive Free Admission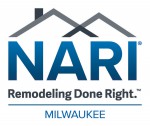 Jun 27th, 2019 by NARI Milwaukee
The NARI Milwaukee Best of Tour Award recognizes the participating remodeling contractor whose project was deemed by event judges to have the best workmanship, attention to detail, design quality, and who presented the best overall tour experience.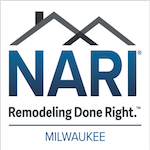 Feb 9th, 2018 by NARI Milwaukee
With a theme of "Remodeling Done Right," the Show will provide attendees with an opportunity to meet with more than 250 Milwaukee NARI member exhibitors.