Press Release
Milwaukee County Distributed Nearly 200,000 N95 Masks to Community Agencies and General Public in First Week of February
Public Mask Distribution at Marcia P. Coggs Center to Continue Next Week, Mon-Fri 8 AM – 3:30 PM
MILWAUKEE, WI – Through the efforts of Milwaukee County Department of Health and Human Services staff, Office of Emergency Management staff, and community volunteers, Milwaukee County successfully distributed nearly 200,000 N95 masks this week.
"Milwaukee County has been on the forefront of information and resource sharing since the beginning of the pandemic and we're continuing to serve in that role as we navigate an ever-changing pandemic landscape," said Milwaukee County Executive David Crowley. "We know how important high-quality masks are in keeping people healthy and safe from the spread of COVID-19 and the much more transmissible Omicron variant. We also know that after more than a year of purchasing cloth masks, upgrading to a high-quality mask can be costly and prohibit equitable access to personal protective equipment. We're glad to help increase access to N-95 masks by getting them into the community right away and into the hands of some of our most vulnerable residents."
Last month, Milwaukee County received a shipment of 575,000 N95 masks from the
State of Wisconsin
and distributed 175,000 masks to 10 local municipalities who requested supplies from the County. In addition, the Milwaukee County Department of Health and Human Services (DHHS) sent a survey to over 100 partnered or contracted community agencies to assess the person protective equipment (PPE) needs for their staff and to distribute to the communities they serve.
This week, DHHS began work with the Office of Emergency Management (OEM) to fulfill for Personal Protective Equipment, including mask orders totaling 169,000 masks to partnered or contracted community organizations like Journey House, Project Access, Inc., United Community Center, Running Rebels and more. In addition, DHHS made available 50,0000 masks to the general public for pick up at the Marcia P. Coggs Center located in the 53205 zip code indicated as an area of high vulnerability by the EVE model on the Milwaukee County COVID-19 Dashboard.
DHHS will continue walk-in mask distribution at the Marcia P. Coggs center next week Monday -Friday during regular business hours of 8 AM – 3:30 PM. Masks will be available for pick-up as long as supplies last.
"Distributing close to 200,000 masks in five days wouldn't be possible if the County hadn't established itself as a leader in information and resource sharing at early on in the pandemic. The latest work builds on the support we've been able to provide to community agencies since the start of the emergency. Our partnerships with community pillars like Hayat Pharmacy allowed us to help get 20,000 masks out quickly to some of the most vulnerable members of the community. The partnership was so successful that Hayat requested an additional 20,000 masks this week to continue store distribution and to include in their medicine deliveries in the coming days." said Department of Health and Human Services Director Shakita LaGrant-McClain. "We've worked with the Office of Emergency Management to acquire an order of approximately 235,000 masks. We anticipate distributing 58,000 masks suburban municipalities that requested them today. The remaining masks will enter the County stockpile for use by employees and service users."
NOTE: This press release was submitted to Urban Milwaukee and was not written by an Urban Milwaukee writer. It has not been verified for its accuracy or completeness.
Mentioned in This Press Release
Recent Press Releases by County Executive David Crowley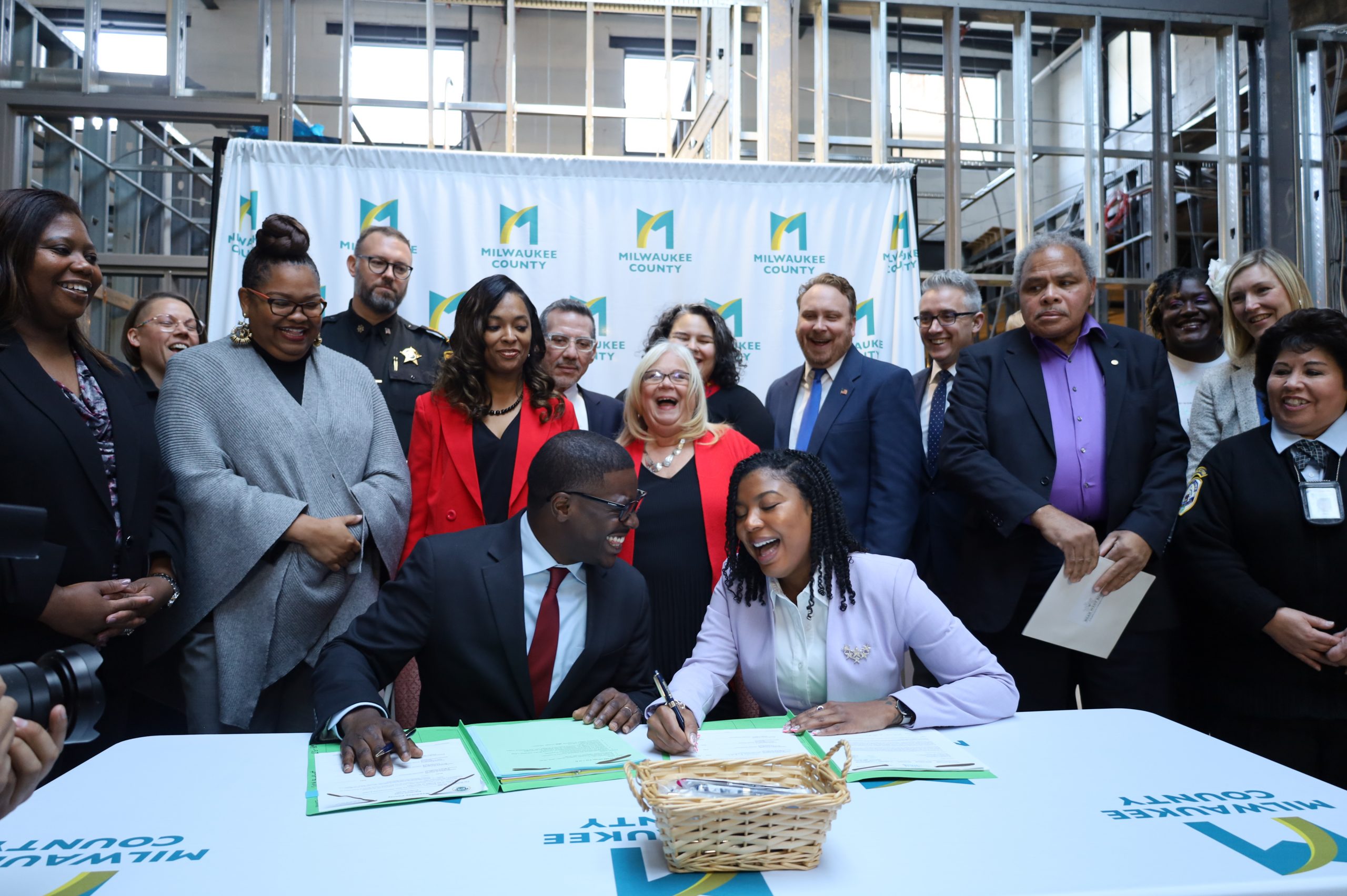 Nov 15th, 2023 by County Executive David Crowley
Crowley signs the budget as passed by the County Board of Supervisors to enhance services and invest in Milwaukee County