Press Release
Labor Day Weekend Summer Fun in Milwaukee County Parks, Sept. 1–4
There's something for everyone.
MILWAUKEE – As vacations come to an end, area residents and visitors are encouraged to squeeze in some summer fun in the Milwaukee County Parks. Activities offered over the Labor Day Weekend range from jumping on giant-sized inflatable obstacles to strolling amid the flowers—there's something for everyone.
Friday Fish Fries – Friday only
Grant Clubhouse, 100 E. Hawthorne Ave.
Whitnall Clubhouse, 6751 S. 92 St.
The popular Friday Fish Fry in the Parks golf clubhouses will close its season Friday of Labor Day Weekend. The Traditional fish fry includes baked or fried cod, French fries or roasted potatoes, coleslaw, rye bread, and a cookie. The fish fry is served from 4–8 p.m. Reservations are available only at Grant at 414-762-4817. The Traditional fish fry is $9.95 per person. For details, visit countyparks.com search: fish fry.
Friday Fish Fry at South Shore Terrace Kitchen & Beer Garden, 2900 S. Shore Drive
The new Friday Fish Fry will continue on Fridays through September. The fish fry includes beer-battered cod, sidewinder fries, coleslaw, thick rye bread, tartar sauce, and lemon wedges. The Friday Fish Fry is $11 per person and is served from 4–9 p.m. Reservations for groups of 10 or more can be made by calling 414-257-5622. For more information, visit southshoreterrace.com.
The Great Inflatable Race – Saturday only (Sept. 2)
Veterans Park, 1010 N. Lincoln Memorial Drive
With giant-sized inflatable obstacles spread throughout the running course, this race has a focus on fun. Participants of all ages will jump, dive, and bounce on custom-designed inflatables—for adults, it's like being a kid again. Six wave times are available from 9–11:30 a.m. In addition, the Inflatable Village offers other inflatables to experience until about 12:30 p.m. While getting fit and having fun, participants will be supporting the charity partner, Relay For Life, the signature fundraiser for the American Cancer Society. Tickets, discounted at more than 50 percent, are available online at $29.99 for Regular tickets and $44.99 for VIP tickets. (Both include event swag.) Admission to the Inflatable Village is $15 on-site for the general public and Regular ticketholders; free for VIP ticketholders. For more information or to register, visit thegreatinflatablerace.com/milwaukee.
Waterparks – throughout the Holiday Weekend
Cool Waters, 2028 S. 124 St., 10 a.m.–6 p.m.; Holiday, 10 a.m.–4 p.m.
David F. Schulz Aquatic Center, 1301 E. Hampton Ave., noon–6 p.m.; Holiday, noon–6 p.m.
Families can end the summer with a splash. Both parks feature giant waterslides, beach entry, and interactive water toys. Admission at either location is $7.25 for age 12–59 or $5.50 for age 3–11 or 60+. For details, call the Aquatics Hotline at 414-257-8098 or visit countyparks.com search: water parks.
Traveling Beer Gardens – Final Days of the Season – throughout the Holiday Weekend
Doctors Park, 1870 E. Fox Lane
Bender Park, 4503 E. Ryan Road 
The Parks Traveling Beer Gardens will be serving up Gemütlichkeit—good friends, good beer, and good times for the final days of the season. Beers are served in souvenir glass pints and steins, which can be refilled at a discount—or guests can bring their own pint-sized mug for a discounted brew. Food and beverages may be purchased with cash only. Beer Gardens open Friday at 4 p.m., and the weekend and holiday at 11 a.m. Live music will be offered Friday, Saturday, and Sunday from 5–8 p.m. Last call is at 9 p.m. For details on any of the Milwaukee County beer gardens, visit mkebeergardens.com.
Botanical Gardens – throughout the Holiday Weekend
Boerner Botanical Gardens, 9400 Boerner Drive
Every day from 8 a.m. until dusk, visitors are invited to explore the renowned Botanical Gardens and view the progress on construction of the Porcelain Tower, in front of the Education & Visitor Center.
Favorite garden spaces in full bloom will be the Annual, Perennial, Herb, and Trial gardens. Phlox, hardy asters, chrysanthemums, and tuberous begonias will be thriving in early September.
Not to be missed is the construction of the Porcelain Tower display, sure to be a showstopper in the
China Lights
exhibition. The display is being made of more than 60,000 porcelain cups, plates, bowls, bottles and spoons. In China, three artisans spent about 30 days hand-tying these components with string. For another 30 days, the artisans are being joined on-site by six structural artists who weld the frames for the pre-tied components. The components are wired to the frame to create the pagoda structure. By the holiday weekend, if the weather cooperates, the Porcelain Tower is expected to be about 50 percent complete.
Admission to the Botanical Gardens, which includes admission to the Garden House art exhibit, is $5.50 for adults age 18 and up; $4.50 for students of any age with ID, Milwaukee County seniors age 60 and up with ID, and people with disabilities; and $3.50 for youths age 6–17. Admission to the Botanical Gardens requires wearing the official daily wristband. Visitors are welcome to view the progress on the Porcelain Tower free of charge during regular hours.
For more information, call Boerner Botanical Gardens at 414-525-5601.
Lake Michigan Marathon – Sunday only (Sept. 3) 
All races will start at Sheridan Park, near the intersection of Sheridan Drive & Layton Avenue
Besides the marathon, runners can choose the Half Marathon, 50K, or the 20-Mile "Training Run," but only the marathon course is USA Track & Field-certified and a Boston Marathon qualifier. All events will take runners on a journey along the scenic South Shore of Lake Michigan. The course starts and ends in Sheridan Park but also goes through Warnimont, Grant, Bay View, and South Shore parks. The majority of the course is on the relatively flat, paved Oak Leaf Trail. Portions on the Seven Bridges and Forked Aster hiking trails will prove to be more challenging. The entire course will be open to the public. Event organizers are calling this  "the perfect race for beginning or inexperienced trail runners." For more information, visit lakemichiganmarathon.com.
Free Lakefront Movies – Sunday Only (Sept.3) 
Veterans Park, 1300 N. Lincoln Memorial Drive (Gift of Wings kite store)
Presented by Guardian Credit Union, Gift of Wings, and Milwaukee County Parks, the popular free movie series will come to a close with a double feature. Beginning at dusk, families can enjoy Groundhog Day (PG) and Top Gun (PG). Popcorn (at only $1), ice cream, and other snacks will be available for purchase For more information call 414-425-9993.
The Domes: Summer Floral Show – throughout the Holiday Weekend 
Mitchell Park Domes, 524 S. Layton Blvd.
The Domes will be open for the final days of the summer floral show, Ultra Violet, Friday from 9 a.m.–5 p.m., and the weekend and holiday, from 9 a.m.–4 p.m. Awash in purples, the show features a full range of violet-hued plants interspersed with abstract sculptures, inspired by plant forms and The Domes themselves.
Admission is $7 for adults age 18 and up; $5 for Milwaukee County Seniors with ID, persons with disabilities, students of any age with ID, and youth age 6–17; and free for children age 5 and under. Because Monday is a federal holiday, the free day for Milwaukee County residents is suspended. For more information, call the Mitchell Park Domes at 414-257-5600.
Golf Specials – Labor Day Only, for tee times after noon
Regardless of residency, all golfers will enjoy special Labor Day pricing after noon by mentioning this offer to the golf starter at any of the seven participating Milwaukee County Parks golf courses.
The PGA-tested golf course at Brown Deer Park, 7625 N. Range Line Road, and the Dretzka Park Golf Course, 12020 W. Bradley Road, are offering Monday-only specials. Golfers play 18 holes and receive an $8 merchandise gift card for $39 ($49 with golf car) at Brown Deer and $29 ($37 with golf car) at Dretzka.
Other Labor Day specials are available at the Oakwood Park Golf Course, 3600 W. Oakwood Road, and Whitnall Park Golf Course, 6751 S. 92nd St., where golfers can play 18 holes for $27 ($37 with golf car). In addition, golfers at Currie, Grant, and Greenfield golf courses can play 18 holes with a golf car for $27.
For reservations, call 414-475-6222 or visit milwaukeecountygolfcourses.com.
Doggie Dip at Cool Waters – Labor Day only
After Cool Waters closes for the "human swimming season," but before it is drained for the year, it will reopen from 4:30-6 p.m. for the 13th Annual Labor Day Doggie Dip.
Whether fearless about diving for tennis balls or wearing a personal floatation device, dogs of all abilities, breeds, and sizes are welcome to come for a swim in the pool. All dogs must be licensed and current with their vaccinations. Admission is $5 per dog.
At the event, patrons may purchase 2017 Dog Exercise Area permits at a special price. The permit is good through Dec. 31. For one dog, regardless of the patron's residency, the price will be $10. License and rabies-tag numbers are required for each of the dogs to be permitted.
For more information, visit countyparks.com search: doggie dip.
And shortly after the holiday. . .
Kite Festival – Saturday & Sunday After the Holiday
Veterans Park, 1300 N. Lincoln Memorial Drive
The 39th annual Wilde Subaru Frank Mots International Kite Festival, presented by Prairie Farms Certified Angus Beef and Gift of Wings, will be held Sept. 9, from 10 a.m.–6 p.m., and Sept. 10, from 10 a.m.–5 p.m. The Fast Track Grand Launch of more than 600 kites will take place at noon, and performances by professional kite-flying teams will occur throughout the day, including Yves Laforest and the Canadian Dream Team with their giant kites. At about 2 p.m., the first 100 kids participating in the Kaplin University Kids Mad Dash will receive free kites. The festival and parking are free. For details, call 414-273-5483 or visit giftofwings.com.
For other activities in the Milwaukee County Parks, call 414-257-PARK (7275) or visit countyparks.com.
Mentioned in This Press Release
Recent Press Releases by Milwaukee County Parks
Nov 25th, 2019 by Milwaukee County Parks
More than $350,000 in initial gifts will support programming, infrastructure projects and long-term multi-park improvement campaigns that focus on racial equity across Milwaukee County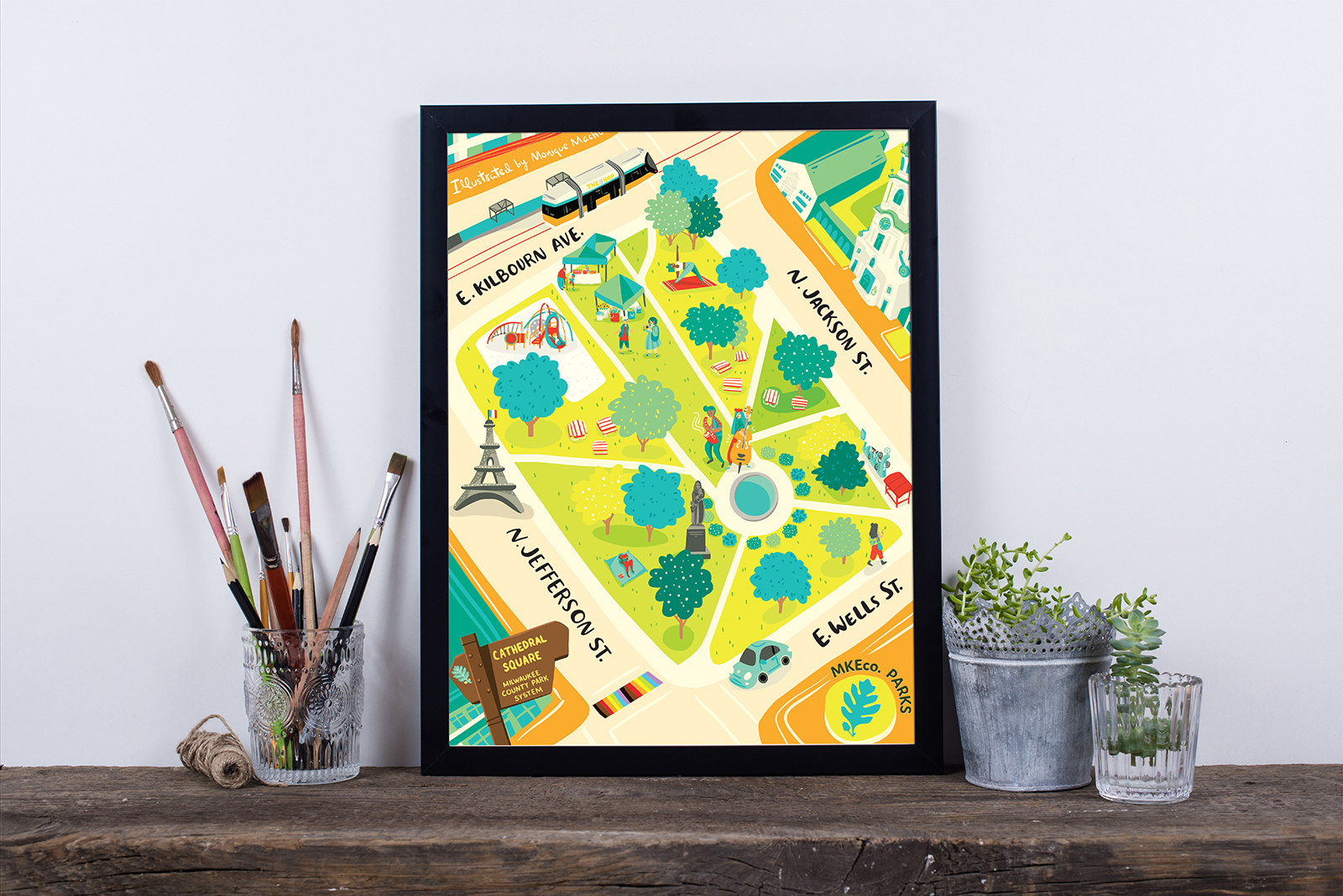 Sep 26th, 2019 by Milwaukee County Parks
This year's unique maps, which were revealed at a gallery night at the Mitchell Park Domes on Thursday night.