Press Release
Historic Brewery Bike Tour on Tap this Weekend
Hop Head Beer Tours build interest in Milwaukee
MILWAUKEE — August 17, 2015— Madison's Hop Head Beer Tours invites you to grab your bike and a buddy and hit the road on its second Historic Brewery Bike Tour in Milwaukee on Saturday, August 22 from 10:00 a.m. – 2:00 p.m.
Tours are led by passionate advocates of craft beer, with an emphasis on education and discussion about beer brewing in Milwaukee. The tour visits the sites of the Beer Titans – Schlitz, Blatz, Pabst and Miller – and includes a stop at Milwaukee Ale House for a small sampling. Last stop is Lakefront Brewery for its famous brewery tour.
The price is $55/person and includes two tour guides, history at each location, a sampling at Milwaukee Ale House, and the tour and beer at Lakefront Brewery.
For more information:
http://www.hopheadbeertours.com/bike_tours.php#mhbbt822
Twitter:@HopHeadBeerTour
Facebook: https://www.facebook.com/hopheadbeertours
Hop Head Tours: "On a Mission to Provide Safe, Fun, Educational Tours of Craft Beer Breweries and Beer-Related Attractions."
About VISIT Milwaukee
VISIT Milwaukee markets Greater Milwaukee to tourists, convention organizers and meeting planners, both nationally and internationally. VISIT Milwaukee has approximately 650 members, including hotels/motels, restaurants, attractions, services and area businesses. In 2014, tourism amounted to $4.9 billion in total business sales in Greater Milwaukee and supported more than 49,000 local jobs. The City of Wauwatosa, Potawatomi Hotel & Casino and the Wisconsin Center District are strategic partners with VISIT Milwaukee, providing funding support for conventions and tourism programs.  For more information call 1-800-554-1448 or visit www.visitmilwaukee.org.
Mentioned in This Press Release
Recent Press Releases by Visit Milwaukee
Mar 29th, 2021 by Visit Milwaukee
New partnership sales manager will be a key representative in the southeastern Wisconsin business and nonprofit community

Jan 11th, 2021 by Visit Milwaukee
50+ exciting virtual events benefit local hospitality companies Jan. 15 - Feb. 28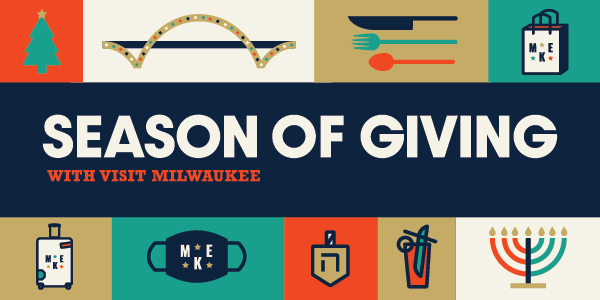 Nov 13th, 2020 by Visit Milwaukee
Timed with the International Day of Kindness, VISIT Milwaukee implores community to be kind to local businesses and shop local this holiday season