Press Release
Escuela Verde's Science Strikes Back! Returns February 8
Community event celebrates science with experiments from students and community members
Escuela Verde and Cedar Block invite all members of the community to the 2nd Annual Science Strikes Back! event. This all-ages science fair takes place at the non-profit public charter school, 3628 W. Pierce Street, on Thursday, February 8, 2018, from 5-8PM. Full details and applications are at https://www.sciencestrikesback.com.
"Cedar Block has hosted science fairs with one-of-a-kind projects and experiments since 2005," says director Brent Gohde. "After a years-long hiatus since the last event at Turner Hall, the concept was reimagined and reborn as a partnership with Escuela Verde. Our 2017 event was inspiring and humbling, with lifelong learners setting an example, and students going all out in our STEAM! categories."
Experiments on display from students and citizen scientists seek to solve problems they see in the community, find healthy ways of living, promote activism, and explore ways science can make a difference in everyday activities. Science Strikes Back! Is free, and is appropriate for all ages.
With senior Isabel Castro taking home top honors last year for her project, which explored the effects of murals on activism in Latinx neighborhoods, earning her a trophy created by sculptor Mark Winter, the barre has been set. Now a graduate of Escuela Verde, Isabel composed this poem upon winning her prize:
Science Strikes Back
We are the movement.
We should embrace our individuality.
To collaborate amongst others,
To unite and use the power of creativity and curiosity
As a form of liberation.
And use our talents as a foundation,
To grow, learn, teach
and speak upon what is not spoken.
Together, we can create motion.
"We were blown away by the projects adults and students alike undertook in the name of science," says Escuela Verde advisor Joey Zocher. "Science is more critical than ever in solving some global problems. But it can help on a local level, too. We're excited for the community to see our students and their neighbors making sense of the world around them through science!"
Mentioned in This Press Release
Recent Press Releases by Escuela Verde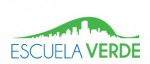 Jul 12th, 2017 by Escuela Verde
The deadline for receipt of electronic nominations for any of the three award categories is August 21, 2017.