Press Release
Don't Forget Fans of the King When You Shop this Holiday Season
Potawatomi Bingo Casino's Tribute to the King Tickets Go on Sale Black Friday
MILWAUKEE (November 22, 2013) – Tickets to A Tribute to the King, the hottest hip-shaking show to heat up the Northern Lights Theater this January, will go on sale on the biggest shopping day of the year – Friday, Nov. 29.
Some of the world's best tribute artists, decked out in rhinestone-studded jumpsuits and slicked-back hair, will take over the theater from Jan. 6 – 9 to help celebrate the King's 79th birthday, which falls on Jan. 8.
The four-day event includes four headlining performances. Three shows will feature a live orchestra and video show broken into three eras: "The King," "Vegas Experience" and "Aloha," and the Finale show by Matt Joyce and Joseph Hall will highlight music from the King's entire career.
"The King" – A high energy showcase of the King's musical career from the 1950's through the 1968 Comeback Special.
"Vegas Experience" – The Vegas Experience will take you on a journey from 1969 throughout the 1970's, as though you were sitting at the Las Vegas Hilton watching the King himself.
"Aloha" – The King's greatest concert accomplishment throughout his career was "Aloha from Hawaii" in 1973. "Aloha" is happening all over again in this great musical production.
"The Finale" – Put on by headlining acts Matt Joyce and Joseph Hall, two well-known tribute artists and former Tribute to the King Grand Champions, will bring the King's most popular hits alive.
Tickets for all four headlining performances cost $27, $35 and $43.
Daytime competition performances are set for noon and 3 p.m. Jan. 6 – 8, and 2 p.m. Jan. 9. The winners of each daily competition round will compete that night at 7:30 p.m. for their opportunity to advance to the Grand Championship at 7:30 p.m. Jan. 9. The Grand Championship winner is awarded a $25,014 cash prize. Tickets for competition performances cost $5 and $7.
Tickets are available for purchase on Nov. 29 at the Expo Center Box Office from noon – 4 p.m. only. The Expo Center Box Office is located on the third floor of the Casino, next to the Poker Room. Signage will direct guests to the Expo Center. Call the Northern Lights Theater Box Office at (414) 847-7922 or www.paysbig.com for ticket availability. Tickets are also available atTicketmaster.com, or by calling (800) 745-3000. After Nov. 29, tickets will be available for purchase in the Northern Lights Theater Box Office. Must be 21 and over.
Potawatomi Bingo Casino is one of two casinos owned and operated by the Forest County Potawatomi Community. It is located at 1721 W. Canal Street, Milwaukee, Wis. The casino is a showcase for high stakes bingo, offering some of the nation's highest daily payouts. A popular attraction for local guests, tourists and tour groups, the casino features blackjack, craps, poker, and roulette table games, video and reel slot machines, and a variety of live entertainment. Potawatomi Bingo Casino is committed to maintaining a level of first-class customer service, while investing in its most valuable asset – more than 2,600 multicultural employees. Through the Forest County Potawatomi Community Foundation, the casino supports numerous local charities and community organizations. Driving directions and more information about Potawatomi Bingo Casino can be obtained by calling toll-free, 1-800-PAYS-BIG or by visiting the website at www.paysbig.com
Mentioned in This Press Release
Recent Press Releases by Potawatomi Bingo Casino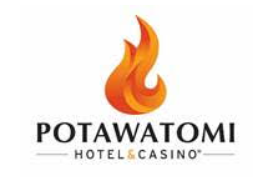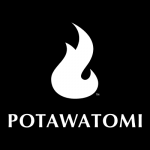 Apr 13th, 2015 by Potawatomi Bingo Casino
Potawatomi Hotel & Casino Celebrates 141st Kentucky Derby with Milwaukee's hottest party, much more