Press Release
Daryl Stuermer of Genesis and Phil Collins to Play Music of Genesis, Talk About Playing With Superstars for 40 Years
Intimate Performance To Benefit 88Nine Radio Milwaukee
Milwaukee (Feb. 6, 2020) – Virtuoso lead guitarist Daryl Stuermer, who has been has been touring the world to sold-out crowds since 1978 with supergroup Genesis and Phil Collins, will share his guitar talents and career stories Feb. 21 in a special performance to benefit 88Nine Radio Milwaukee.
The Daryl Stuermer Duo, featuring keyboardist Kostia Efimov, will offer a behind-the-music journey, performing a variety of Daryl's favorite Genesis songs as well as his own instrumental compositions.
The show features Stuermer offering an intimate, personal commentary that encompasses over 40 years of performing with some of the biggest names in music. He's taken part in some of the most iconic moments in music history, including writing of some of the world's most renowned Top 10 hits and creating the signature guitar sound of the Phil Collins mega hits "In the Air Tonight" and "Easy Lover."
"As a fan of Radio Milwaukee, I look forward to meeting fellow listeners, musicians and young artists at my performance at 88Nine," said Stuermer, a St. Francis native still living in the Milwaukee area. "Radio Milwaukee is an important community asset, and I encourage people to support the station by attending this benefit show."
The concert and talk takes place 7:30 p.m. – 9 p.m. Friday Feb. 21 at Radio Milwaukee, 220 E. Pittsburgh Ave. Tickets are $55 general admission, $75 VIP (limited quantity, includes parking and reserved seat) and available at https://darylstuermer.funraise.org/.
Stuermer discussed his career and work with Genesis and Collins at length in a Rolling Stone interview last year.
Discovered while playing with his Milwaukee band, Sweetbottom, guitarist Daryl Stuermer made a fan out of Frank Zappa's then-keyboardist, George Duke, who set up an audition for Stuermer to try out for acclaimed jazz violinist Jean-Luc Ponty. Stuermer burst into the international music scene, joining Ponty on a European tour and then recording on his four innovative albums.
In late 1977, Stuermer was recommended as a replacement for longtime member Steve Hackett for the British progressive rock super-group Genesis, beginning his 30-year "permanent part-time stint" as lead guitarist with Genesis, touring the world to sold-out crowds and performing on seven Genesis albums.
When Genesis drummer/singer Phil Collins launched a solo career during the early '80s, Stuermer became an integral member of the Collins' solo band. Stuermer was co-writer of Collins' 1989 GRAMMY® Award-winning and Billboard No. 4 single "Something Happened on the Way to Heaven."
Radio Milwaukee Executive Director Glenn Kleiman said that Stuemer's career "has been incredible, taking him around the world with some of the biggest artists of all time. We're excited and grateful that he has agreed to perform and share his stories."
About Radio Milwaukee
88Nine Radio Milwaukee (WYMS-FM 88.9) has been a positive force for Milwaukee on air, online and in the community since its 2007 launch. Through its creative programming and content, Radio Milwaukee utilizes a multimedia platform for creating a better, more inclusive and engaged community. The station broadcasts and streams a unique blend of musical styles, including at least one song by a Milwaukee artist each hour, and short Community Stories that foster engagement and positive change. The award-winning station receives the great majority of its financial support from its 6,000 contributing members, more than 200 underwriters and 25 foundations. The station runs a separate 24/7 all-Milwaukee music HD2 broadcast channel and web stream available on HD2 radios and at 414Music.fm online. Learn more about 88Nine and stream the station at http://www.RadioMilwaukee.org or via the 88Nine mobile app.
Mentioned in This Press Release
Recent Press Releases by 88Nine Radio Milwaukee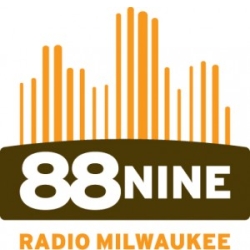 Mar 28th, 2022 by 88Nine Radio Milwaukee
Podcast episodes will center on a weekly theme and feature vignettes about experiencing life in Milwaukee
Mar 4th, 2022 by 88Nine Radio Milwaukee
New Amplifier Community Connection marks program's transition to free monthly artist-development master classes with national experts