Press Release
County Executive David Crowley Launches Community Health & Healing Series
Events will be held across the community with Leaders and & Health Advocates Addressing Mental Health Needs and Eliminating Barriers to Services
MILWAUKEE, WI – After a violent start to the year, Milwaukee County Executive David Crowley, alongside Milwaukee County's Department of Health & Human Services., will join Dr. Ramel Kweku Smith, PHD, LP tomorrow, Thursday, March 10, at 10 AM at the Wisconsin Black Historical Museum for a discussion about normalizing conversations around mental wellness.
The event is the first in the County Executive's Community Health & Healing Series that will focus on connecting residents to mental health resources and eliminating barriers to services. The series will visit communities and neighborhoods deeply affected by the pandemic and increased violence.
"This is a difficult time for our communities throughout the County. There are people in our neighborhoods with unaddressed mental health and behavioral health needs – many of which have gone ignored for generations. We need to heal our community and move forward with a plan to meet the needs of our most vulnerable residents," said Milwaukee County Executive David Crowley. "The violence in our streets, the increase in overdose deaths, and the overall impact on the quality of life for residents is a direct result of their needs not being met. I have spent my life fighting for resources, fighting for equity, and fighting for our neighborhoods most in need. The health and healing series brings the message and services right to the doorstep of the community. We are focused on engaging some of the most vulnerable residents in discussion on what they need to live full, successful lives."
According to the Milwaukee County Medical Examiner's Office, there were 637 overall drug deaths in 2021 – an increase of over 200 deaths when compared to overall drug death data from 2018. In addition, after experiencing 25 homicides during the month of January alone, the Medical Examiner's Office warned that Milwaukee County was on pace to record more than 300 homicides for the year if trends continue.
Avoiding such a scenario is a top priority for County Executive Crowley and leaders of his administration. The first Community Health & Healing event, which will take place in Milwaukee's Park West neighborhood in the 53206 zip code, will include an audience of professionals from the behavioral health community and will be livestreamed on the Milwaukee County Executive's YouTube channel and on Facebook.
"We are supporting the County's vision of achieving racial equity and becoming the healthiest county in Wisconsin by focusing on improving individual and community health. A key strategy in accomplishing this goal is to address root causes through prevention," said Shakita LaGrant-McClain, Director, Department of Health & Human Services. "We know that if we invest in upstream prevention, we can prevent downstream problems later on."
The next event in the series will be a community reception focusing on suicide prevention and connections to resources. The event will take place Wednesday, March 30th from 12:30 to 2:00 PM at Milwaukee County's Access Clinic South located at 1645 W. National Avenue, Milwaukee, in the Sixteenth Street Community Health Center building. County Executive Crowley, City of Milwaukee Office of Violence Prevention (OVP), community organizations, and those with lived experience, will discuss the critical issue facing our community, death by suicide, warning signs, and getting friends and loved ones connected to resources.
Information the Milwaukee County Health & Healing Series can be found at county.milwaukee.gov/HealthAndHealingSeries.
NOTE: This press release was submitted to Urban Milwaukee and was not written by an Urban Milwaukee writer. It has not been verified for its accuracy or completeness.
Mentioned in This Press Release
Recent Press Releases by County Executive David Crowley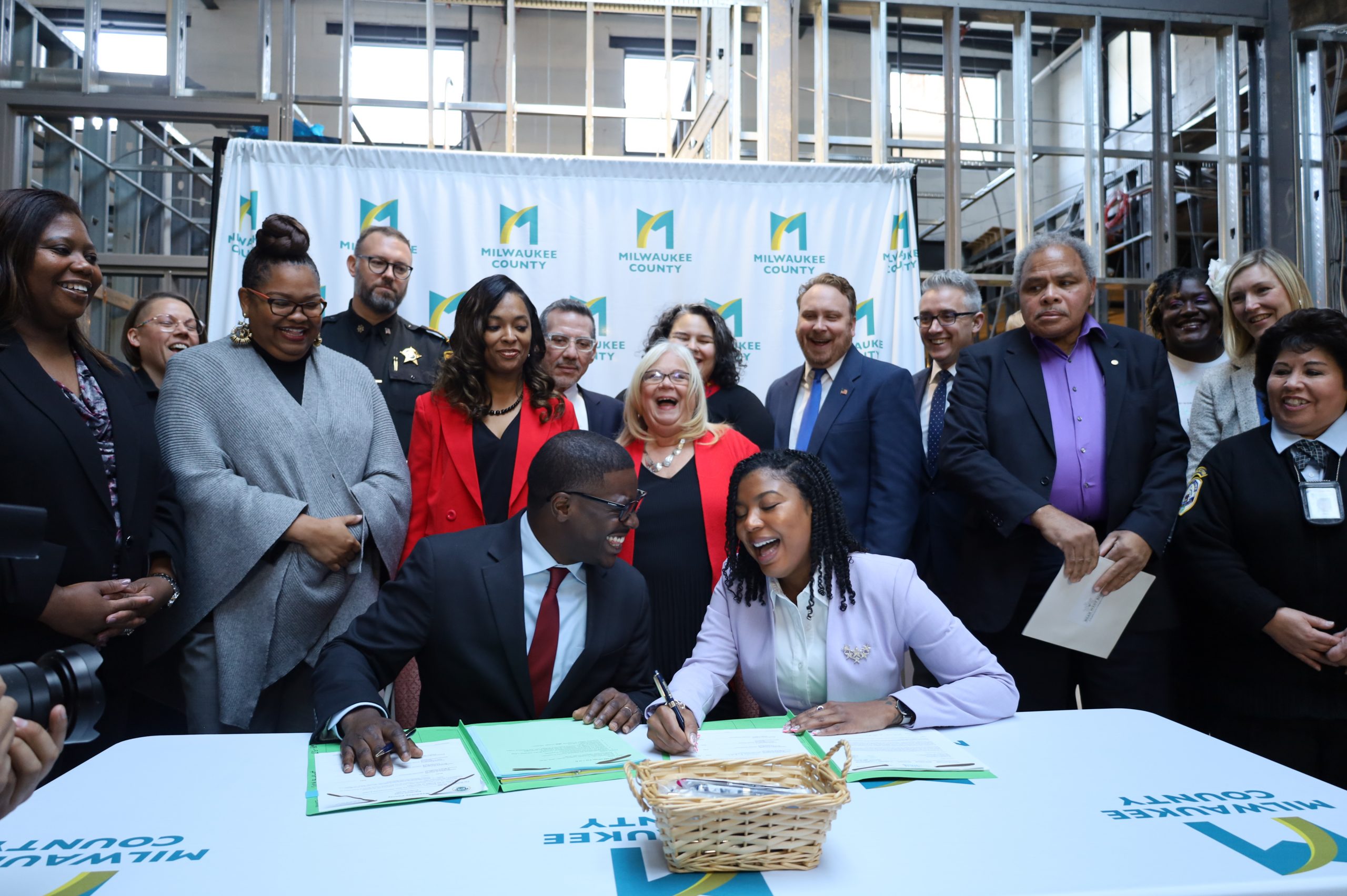 Nov 15th, 2023 by County Executive David Crowley
Crowley signs the budget as passed by the County Board of Supervisors to enhance services and invest in Milwaukee County