Press Release
Congressman Sensenbrenner Calls on Comey, FBI to Conduct a More Vigilant Review of Clinton Emails This Time Around
"I don't think your answers are satisfactory at all, Mr. Comey."
WASHINGTON, D.C. – During a House Judiciary Committee hearing on September 28, Congressman Jim Sensenbrenner questioned FBI Director James Comey on a number of issues the Agency has faced over the past year, including its role in the investigation into Secretary Clinton's private email servers.
In the course of that interaction, Mr. Sensenbrenner highlighted concerns about the handling of the investigation and questioned Mr. Comey on whether any new information suggesting potentially criminal activity conducted by Mrs. Clinton would warrant a reopening of the investigation, to which Mr. Comey replied, "I haven't seen anything that would come near to that kind of situation."
Congressman Sensenbrenner: "The details of this case and the mishandling of the investigation have been troubling since the beginning. Last month, I voiced concerns about damning new information coming to light and they were all but dismissed. As the FBI examines newly found emails linked to this case, it's my hope that Mr. Comey and his Bureau are more scrupulous than they were in their previous endeavors."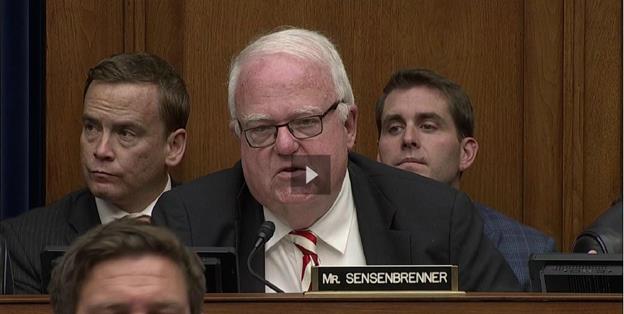 Jim Sensenbrenner. Photo from U.S Congress.
Watch the exchange here.
See full transcript below:
FJS: Thank you Mr. Chairman. Director Comey, welcome. Who authorized granting Cheryl Mills' immunity?
JC: It was a decision made by the Department of Justice; I don't know at what kind of level inside. In our investigations, anything – any kind of immunity – comes from the prosecutors, not the investigators.
FJS: Okay, did she request immunity?
JC: I don't know for sure what the negotiations involved. I believe her lawyer asked for act-of-production immunity with respect to the production of her laptop. That's my understanding, but again the FBI wasn't a part of those conversations.
FJS: Now, it's been a matter of public record that Secretary Clinton brought nine people into the room where two FBI agents were questioning her; is that normal practice?
JC: I don't know if there is a normal practice. I've done interviews with a big crowd and some with just the subject. It's unusual to have that large a number, but it's not unprecedented in my experience.
FJS: Now, Cheryl Mills, also stated that she was an attorney. I'm very concerned that when a fact witness represents a client who might be the target of an investigation, there's a conflict of interest. Rather than letting Ms. Mills make the determination, would the FBI be willing to refer the matter of a fact witness – Ms. Mills in this case – representing the target – Secretary Clinton in this case – to the appropriate bar association for investigation?
JC
: That's not a role for the FBI. We're investigators. Even though I happen to be a lawyer, we're not lawyers, we're investigators. So that's a question for the legal part of the Department of Justice.
FJS: Okay, why did Ms. Mills request immunity? Was she hiding something or was she afraid that something would incriminate her that was on her laptop?
JC: I don't know. I'm sure that's a conversation she and her lawyer had, and then her lawyer had with lawyers at the Department. I just don't know.
FJS: Well, you know there was an op-ed by Professor Johnathan Turley that appeared in the media that said there are a lot of good cases scuttled by granting immunity, and there was lots of immunity that was granted here. Doesn't it concern you as an investigator that your chiefs in the Justice Department decided to become an immunity producing machine for many people who would have been very key witnesses? Should there have been a prosecution?
JC: I don't think of it that way. It doesn't strike me there was a lot of immunity issued in this case. I know it's a complicated subject but there are all different kinds of immunity. There are probably three different kinds that's featured in this case – fairly typical in a complex, white collar case, especially as you try and work your way up towards your subject. So my overall reaction is this looks like normal investigative process to me.
FJS: Well, the target was not an ordinary target. I think we all know that. And since you announced the prosecution of Secretary Clinton in July, there have been several very material issues that are troubling, and would those not require a reopening of the investigation to solve those issues?
JC: I haven't seen anything that would come near to that kind of situation. I know there are lots of questions lots of controversy but I'm very proud of the way this was done.
FJS: Come on now, with all due respect, since you made this announcement there have been many more issues that came up that were not on the table prior to your announcement that the investigation against Secretary Clinton had been dropped, and I think the American public is entitled to answers on this – particularly since we have to know the extent of the classified information which ended up being in the private email server. All of us on this committee have got security clearances of some kind or another, and I'm kind of worried that if I got some classified information and went back to my office and used an unsecure server to send it to somebody who may also have had the classified information, I would be in big trouble. And I should be in big trouble if I did something like that. There seems to be different strokes for different folks on this and that's what Americans are concerned about, particularly when we're looking to elect someone to the highest office of the land and the leader of the free world. I don't think your answers are satisfactory at all Mr. Comey. I do have a great deal of respect for you but I think that there's a heavy hand coming from somewhere else and with that I yield back.
Mentioned in This Press Release
Recent Press Releases by U.S. Rep. Jim Sensenbrenner