Press Release
Brewery Collectibles Club "CANvention" makes history in Milwaukee Sept 2-5
Show open to public on Saturday, Sept 5
MILWAUKEE — August 26, 2015— The largest beer can and brewery advertising show in the world takes place in Milwaukee, a city world-renown for its rich brewing history, on September 2-5. More than 1,500 collectors and guests from the U. S. and at least 20 other countries are expected to attend the CANvention at the Wisconsin Center, an event which combines the 45th annual convention of the Brewery Collectibles Club of America (BCCA) with the second Brewery Collectibles World Convention (BCWC).
Originally named the CANvention for its focus on beer cans only, the show now welcomes anyone that has an interest in beer-related collectibles. Hundreds of displays and exhibits will feature beer signs, colorful beer advertising and beer cans, including obsolete items from venerable Milwaukee breweries Miller, Pabst, Schlitz, Blatz and Gettelman, as well as breweries from others states and countries. Also on display will be collectibles (glassware, signs, coasters and labels) from Wisconsin craft breweries, along with items from Argentina, Australia, Belgium, Canada, Germany and Russia.
The public is welcome to join the festivities on Saturday, September 5 from 9 a.m. to 3 p.m. at the Wisconsin Center for an admission fee of $10.
"Although education is a key element in our convention, fun is an essential ingredient during the show. At 1:00 p.m. on Saturday, September 5, all attendees will be able to dig through a mega 'dump' of thousands of old beer cans donated by the Rusty Bunch Chapter and other collectors, taking whatever cylindrical treasures they can carry, all free of charge," said Rich La Susa of the BCCA.
Educational seminars, lectures and other events during the week are open to BCCA members only and include:
"Photographs and History of Milwaukee's Iconic Breweries: Miller, Pabst and Schlitz" by Paul Bialas; 1 p.m. Friday, September 3.
"The Women that Made the Men that Made the Beer that Made Milwaukee Famous" by local beer historian Bob Giese, 1 p.m., Saturday, September 5.
For more information about the BCCA, log on to www.bcca.com.
About VISIT Milwaukee
VISIT Milwaukee markets Greater Milwaukee to tourists, convention organizers and meeting planners, both nationally and internationally. VISIT Milwaukee has approximately 650 members, including hotels/motels, restaurants, attractions, services and area businesses. In 2014, tourism amounted to $4.9 billion in total business sales in Greater Milwaukee and supported more than 49,000 local jobs. The City of Wauwatosa, Potawatomi Hotel & Casino and the Wisconsin Center District are strategic partners with VISIT Milwaukee, providing funding support for conventions and tourism programs.  For more information call 1-800-554-1448 or visit www.visitmilwaukee.org.
Mentioned in This Press Release
Recent Press Releases by Visit Milwaukee
Mar 29th, 2021 by Visit Milwaukee
New partnership sales manager will be a key representative in the southeastern Wisconsin business and nonprofit community

Jan 11th, 2021 by Visit Milwaukee
50+ exciting virtual events benefit local hospitality companies Jan. 15 - Feb. 28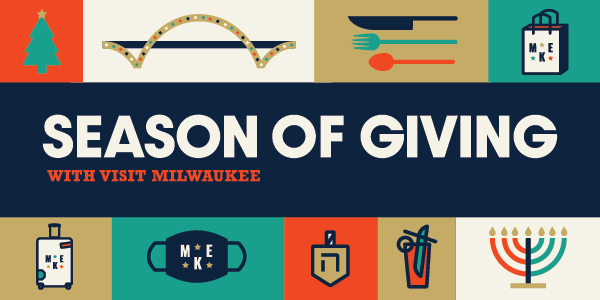 Nov 13th, 2020 by Visit Milwaukee
Timed with the International Day of Kindness, VISIT Milwaukee implores community to be kind to local businesses and shop local this holiday season