Press Release
Artist David R. Harper Transforms the Villa Terrace Decorative Arts Museum with A Mouth-Shaped Room
Opening Reception and Talk July 11
Milwaukee, WI – June 20, 2019 – A Mouth-Shaped Room, an exhibition of work by Philadelphia-based artist David R. Harper, opens June 27 at the Villa Terrace Decorative Arts Museum. Harper transforms the Villa Terrace into an illusory world of historic fiction as he activates the entire house with sculpture, transformed objects and installations. Harper has created new work for the exhibition that references the museum's history as a decorative arts museum by using images and objects influenced by various eras, such as Greco-Roman figures, plant and animal studies from the 19th century, handmade wood vitrines, and stained glass. Suggesting that traditional ways of categorizing art genres and movements are permeable and changing, Harper composes his installations in imaginative ways that combine contemporary sensibilities with a reverence for the past.
"David R. Harper's work is a great match for the Villa Terrace in so many ways," says Senior Curator Shana McCaw. "Much of his imagery is borrowed from 18th Century European culture, similar types of animal and figurative imagery is found in the architecture at the museum, and his references to the decorative arts tradition reflects the house's own history. We are very excited to share this exhibition with the community – Harper's first solo show in Milwaukee, and a brilliant blend of aesthetic sensibilities."
Added artist David R. Harper, "The home is a dream setting for this body of work. I've been pushing myself both in terms of material exploration and introspection and I feel these efforts will shine in the extraordinary rooms of the museum."
An exhibition catalogue with four essays will be available at the opening and artist talk on July 11.
Exhibition Events
Opening Party | Artist Talk | Exhibition Catalogue Release
Thursday, July 11, 2019
Members Preview 5:30 to 6:00 p.m.
Talk with David Harper at 7:00 p.m.
Museum members free | General admission $5 suggested donation
Curatorial Walk-Throughs
Walk through the exhibition with a curator!
Wednesday, July 3 and Sunday, September 4
Tours start at 1:00 p.m.
Free with general admission to the museum
July 3 is a First Free Wednesday for Milwaukee County Residents
About David Harper
David R. Harper (b. Toronto, Canada), received his BFA from the Nova Scotia College of Art and Design, and his MFA from the School of the Art Institute of Chicago in Fiber and Material Studies.
Harper's work employs both traditional and non traditional materials such as embroidery, ceramic and casting materials such as salt and charcoal in a cross disciplinary manner to create objects installations that grapple with notions of loss, love, feelings of belonging and how we use objects to inform our notions of self.
Harper has been included in group shows at museums in the US and Canada, including MASS MoCA, National Gallery of Canada and the Madison Museum of Contemporary Art and has participated in numerous solo exhibitions including My Own Personal Ghost (The John Michael Kohler Art Center), Plateau (South Bend Museum of Art) Skin and Bone (Textile Museum of Canada). A solo touring exhibition of Harper's work titled Entre Le Chien et Le Loup was organized by the University of Toronto in 2013. A Mouth Shaped Room is Harper's first solo exhibition in Milwaukee.
He has participated in several residencies including the Robert Rauschenberg Foundation Residency (2016) Bemis Center for Contemporary Art (2014), and the Kohler Arts Industry (2012/2014)
His work can be found in a number of notable collections including The Museum of Arts and Design (NYC), The John Michael Kohler Art Center, The Museum of Wisconsin Art, The National Gallery of Canada, the Frederick R. Weisman Art Foundation (Los Angeles), and the Art Gallery of Nova Scotia. For more information, go to www.davidrharper.com.
About the Catalogue
An exhibition catalogue will be available for purchase at the opening and artist talk July 11. It will document Harper's site specific installation and artwork at the Villa Terrace Decorative Arts Museum with photographs and four essays written by Rhiannon Vogl, Curator of Contemporary Art at the National Gallery of Canada, Joel Parsons, Director at Clough-Hanson Gallery and Assistant Professor in the Department of Art and Art History at Rhodes College in Memphis, Mamille Polson Lacy, Director and Chief Curator at Providence, Rhode Island, and Shana McCaw, Senior Curator Charles Allis and Villa Terrace Art Museums.
About the Villa Terrace Decorative Arts Museum
Overlooking Lake Michigan, the Villa Terrace Decorative Arts Museum is an Italian Renaissance-style villa designed and built by architect David Adler in 1923 as the residence of Lloyd Smith of the A.O. Smith Corporation, his wife Agnes and their family. The villa's courtyards, terraces, and Renaissance garden flowing down to the lake make it unique to Milwaukee. The permanent collection features fine and decorative arts from the 15th through the 18th centuries and the Cyril Colnik collection and archives, with many excellent examples of Colnik's wrought-iron masterpieces. Curated exhibitions are mounted several times each year along with a variety of arts programming.
General Museum Information
Hours: Wednesday, 10:00 a.m. to 5:00 p.m., Thursday 10:00 a.m. to 8:00 p.m., Friday, 10:00 a.m. to 5:00 p.m., Saturday, 1:00 to 5:00 p.m. and Sunday, 10:00 a.m. to 5:00 p.m.
Admission: $10/adult, $7/student & senior (62+), free for museum members, children 12 & under and active military. Group tours are available for ten or more people.
Mentioned in This Press Release
Recent Press Releases by Villa Terrace Decorative Arts Museum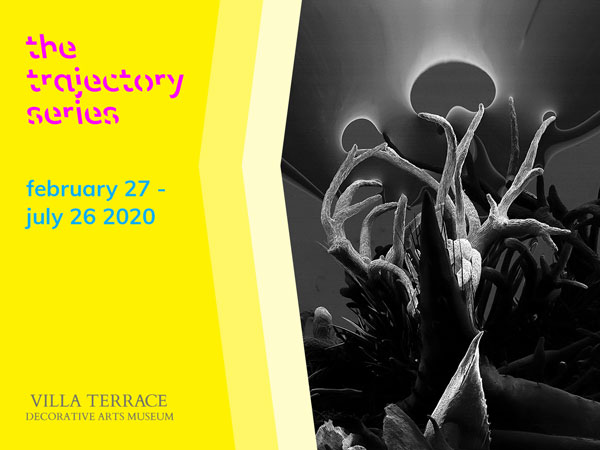 Aug 6th, 2019 by Villa Terrace Decorative Arts Museum
Enter Through the Neptune Gate For Thursday Nights in the Garden at the Villa Terrace Decorative Arts Museum August 15, 2019 through September 12, 2019 Featuring Live Music and Neptune Bar