Press Release
A Taste of Cultural Fusion
Snifters Tapas and Spirits to Host Grand Opening Weekend in Walker's Point
MILWAUKEE, August 17, 2017 – Snifters Tapas and Spirits will host their much anticipated, weekend-long grand opening August 24th through 27th. Snifters, Wisconsin's only Latin and Soul Food-fusion restaurant, will feature high-end small plates, craft cocktails, and world-class dark liquors. To celebrate opening its doors for business, Snifters will host four days of events open to the public:
THURSDAY: Official Ribbon Cutting Ceremony (5 p.m. – 7 p.m.) The ceremony will feature a champagne toast, food and drink tastings and networking. Commentary will be from Alderman José Pérez, Milwaukee's 12th District, Ossie Kendrix, CEO of the African American Chamber of Commerce of Wisconsin and Walker's Point Association President Kevin Wondra.
FRIDAY: Friday After Work (3 p.m. – 11 p.m.) and the Mixdown (9 p.m. – 2 a.m.) featuring an extended happy hour and music session in the Snifters lower-level Wine Cellar.
SATURDAY: The After Smoke (7 p.m. – 2 am). Snifters will host the official Brew City Cigar Festival 2017 Afterparty. Guests are welcome to purchase a wide selection of cigars on site and enjoy in the outdoor Barrio Bar.
SUNDAY: Sunday Funday on the Barrio Bar (1 p.m. – 7 p.m.). An afternoon party on Snifters spacious outdoor bar and lounge space featuring specialty Tattersall Distilling Cocktails.
Snifters is the endeavor of Keen Hospitality Group, a newcomer to the Milwaukee dining scene formed by partners Julio Maldonado, Gabriel Lemus and Terrell Morgan.
"We've been working hard to create a one-of-a-kind drinks and dining experience at every turn," said Julio Maldonado, Managing Partner. "We figured the best way to truly showcase the breadth of value Snifters has to offer is to host a different type of party each day of our grand opening. We created this space to be the perfect spot for after works drinks, treating clients to a round or an intimate night out with a loved one, and I think we've truly accomplished that!"
Pairing together the influence of Latin American and African American culinary traditions Snifters offers an array of small plates. House specialties include homemade fusion empanadas, Hoppin' Jonn's rice bowls and a variety of cornbread dishes.
"Both Latin and Soul Food cuisines are colorful and full of flavor," said Luis Garcia, Head Chef at Snifters. "We've focused on combining the two into something completely unique. Our cultural fusion is in part an homage to the special make-up of Walker's point, a diverse and creative part of Milwaukee that we think is the perfect home for Snifters."
Thursday through Saturday evening of Snifters' Grand Opening Weekend are sponsored by Woodford Reserve and will feature Woodford Reserve cocktail specials, the Woodford Reserve promotion girls and nightly giveaways. Sunday's patio party is sponsored by Tattersall Distilling,
Snifters hours of operation are: Wednesday 3 p.m. – midnight; Thursday & Friday 3 p.m. – bar time; Saturday 1 p.m. – bar time with plans to introduce a Sunday brunch and weekly lunch hours. Snifters is located at 606 South 5th Street in Milwaukee, Wisconsin. Visit www.sniftersmke.com to learn more or to reserve your spot to dine.
Mentioned in This Press Release
Recent Press Releases by Snifters Tapas and Spirits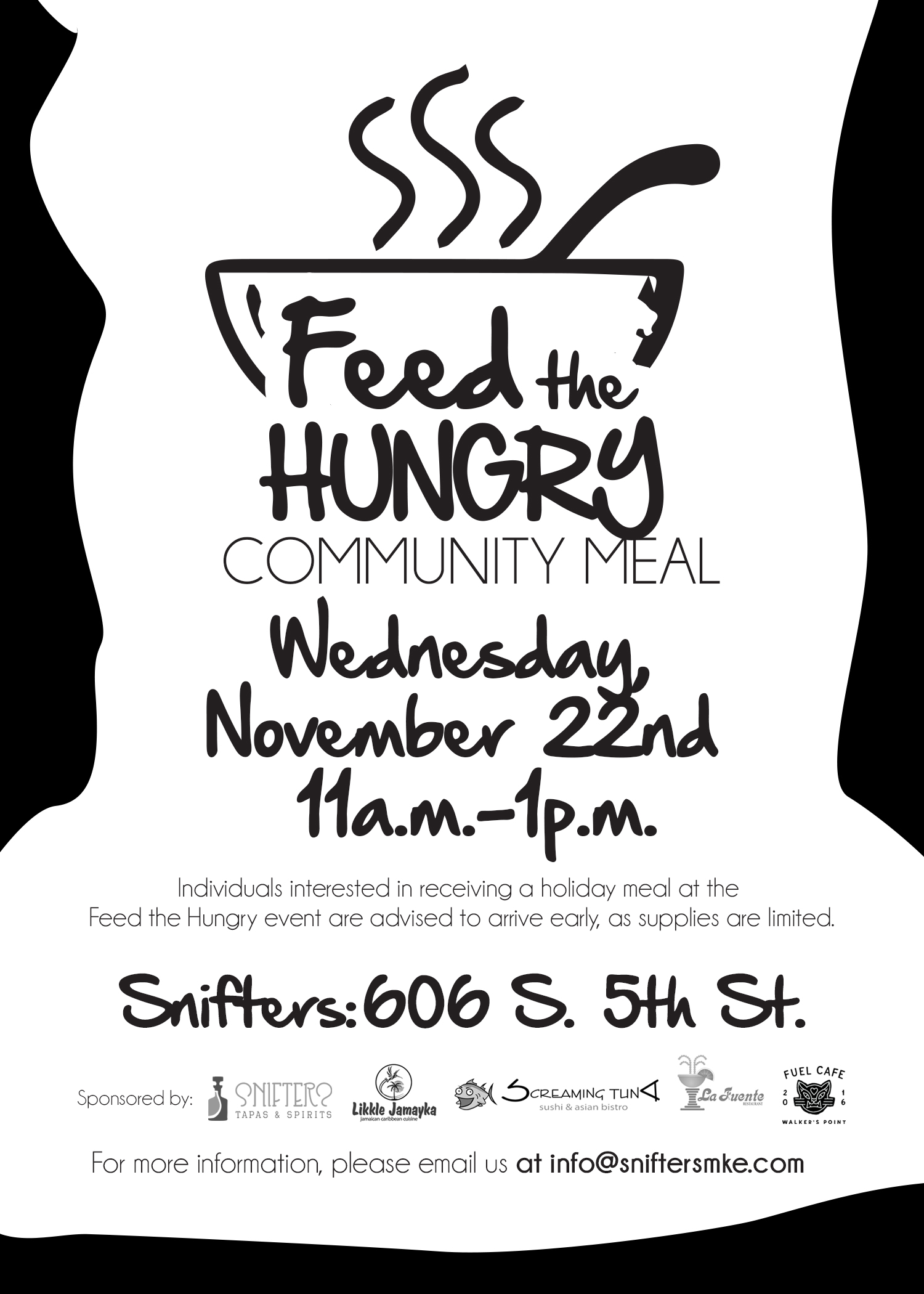 Nov 17th, 2017 by Snifters Tapas and Spirits
The event will be open to the public and anyone in need of a warm Thanksgiving meal is invited to attend.