Press Release
2015 Milwaukee Film Festival Announces Passport: Sweden Program
Passport: Sweden proves that cold weather produces cool art
MILWAUKEE – Tuesday, August 25, 2015 – The 7th Annual Milwaukee Film Festival, presented by the Milwaukee Journal Sentinel, announces Sweden as the spotlight country for its fifth annual Passport program. After successfully traversing India, China, Germany and Mexico, Milwaukee Film takes the festival audience to Sweden.
Featuring a selection of eight films set in Sweden (with seven of the eight being contemporary films made by female filmmakers), Passport: Sweden includes an eclectic, highly entertaining mix of award-winning feature films which illustrate the depth and range of the contemporary Swedish filmmaking scene.
Historically, Swedish film has found great success internationally, led by renowned filmmaker Ingmar Bergman. His iconic, 1957 black & white film The Seventh Seal will be featured in the Passport: Sweden program, providing the rare opportunity to see it in 35mm on the big screen.
Over the last ten years, the industry has seen a surge in inventive and up and coming filmmakers, led by a new wave of female filmmakers.
"This year we have a great collection of Swedish films that will take audiences on a variety of intimate, personal journeys, and one high-stakes game of chess with death itself. Interestingly, Bergman is the sole male director in the program, which seems like an apt counterpoint to the faction of modern female storytellers that we have collected here," says Jaclyn O'Grady, Programming Manager. "One of my personal favorites, My Skinny Sister, is a poignant, honest story that captures the complexity of a very personal struggle with an eating disorder and the rifts it opens within a family. Both young actresses turn in excellent performances, authentically portraying a complicated sisterly bond."
Highlighting this year's program are two audience award winners from other film festivals: Eat Sleep Die and Hallåhallå. Eat Sleep Die, winner of the Venice Film Festival's audience award, is a humorous, naturalistic drama about a woman who loses her factory job and must care for her ailing father. Hallåhallå, the audience award winner from the Hamburg Film Festival, is a comedy about a middle-aged recent divorcée who finds the strength to break free from old habits. Both films focus on relationships and family dynamics from a female perspective.
As in past years, Milwaukee Film will offer a free, public lecture from an expert in the cinema of the Passport country in order to orient the audience to their destination. This year's Passport: Sweden lecture will be delivered by Ursula Lindqvist, a professor of Scandinavian cinema and Swedish language at Gustavus Adolphus College.
Sponsored by: Milwaukee Magazine
2015 MILWAUKEE FILM FESTIVAL
PASSPORT: SWEDEN
Cold weather produces cool art. This mix of documentary and fiction films presents Sweden in new and familiar lights and showcases some of the best contemporary filmmaking in and about Scandinavia's gorgeous and sometimes dark darling.
Eat Sleep Die (Äta sova dö)
(Sweden / 2012 / Director: Gabriela Pichler)
Trailer: https://www.youtube.com/watch?v=tWoacp0nAnI
When no-nonsense, 20-something, Balkan immigrant Raša finds herself relieved of her position as a factory worker, she's thrust into the miasma of Sweden's unemployment program for immigrants, a job hunt mired in bureaucracy where numerous candidates fight over limited opportunities, all the while resolute in her attempts to find gainful employment in order to care for her ailing father. Winner of the audience award at the Venice Film Festival, Eat Sleep Die is a stunning debut from director Gabriela Pichler, a naturalistic rallying cry for low-wage workers anchored by a magnetic performance from newcomer Nermina Lukač.
Ego
(Sweden / 2013 / Director: Lisa James Larsson)
Trailer: https://vimeo.com/57213195
Superficial young Sebastian is an aspiring musician who spends his nights partying and engaging in unfulfilling one-night stands. As he is on the verge of achieving his dreams of a recording contract, a freak accident leaves him blinded and lashing out at the world. With Sebastian unable to cope with this new reality, his parents hire young caretaker Mia to save him from himself — and with her help, he begins to see the world in a new light. But when an opportunity to regain his sight through surgery is proposed, Sebastian must learn to see past appearances and look within in this winning Swedish romantic comedy.
Hallåhallå
(Sweden / 2014 / Director: Maria Blom)
Trailer: https://www.youtube.com/watch?v=6nFmv1Zfs5A
A middle-aged recent divorcée finds the impetus to break free from her old habits in this warmhearted Swedish comedy, winner of multiple film festival audience awards. Left by her husband for a younger woman and disrespected in her position as a hospital worker, Disa needs assistance to remove herself from a midlife rut. Luckily for her, the universe provides: be it a martial arts self-defense course to properly channel her anger, a divorced father of seven who awakens romantic possibilities, or a troublesome elderly patient who just might be the key to starting a new life altogether!
Hotell
(Sweden, Denmark / 2013 / Director: Lisa Langseth)
Trailer: https://vimeo.com/71813488
When traditional means aren't doing the trick for a therapy group in search of emotional breakthroughs, they check into a hotel using alternate personas in an attempt to step outside themselves for a short time in this endearing oddity. Be it Type A interior designer Erika (the amazing Alicia Vikander), unable to cope with a rough pregnancy, terminally shy Ann-Sofie, or the Oedipally inclined Rikard, they all take this opportunity to wrestle with their demons (even engaging in Mayan torture rituals!). Beautifully performed by its ensemble cast with a tone perfectly calibrated between humor and drama, the film makes sure you won't regret your stay in Hotell.
My Skinny Sister (Min lilla syster)
(Sweden, Germany / 2015 / Director: Susanna Lenken)
Trailer: https://www.youtube.com/watch?v=dh0tbzLia_8
Sisters Katja and Stella couldn't be more different, with Katja (Swedish pop star Amy Deasismont) a slender, confident figure-skating obsessive and Stella (newcomer Rebecka Josephson, a magnetic young talent you won't soon forget) self-conscious of her body and treated as something of an ugly duckling in her dysfunctional family. But when Stella discovers Katja's slim frame is the result of her battle with anorexia, their sisterly dynamic is upended. Winner of multiple festival awards, My Skinny Sister captures its coming-of-age drama with compassion and insight (no surprise, given director Susanna Lenken based this story on her own childhood).
A Separation (Att skiljas)
(Sweden / 2013 / Director: Karin Ekberg)
Trailer: https://vimeo.com/84576099
In this tragicomic documentary that captures the very moments at which a family dissolves, filmmaker Karin Ekberg films her parents as they go about the messy business of finalizing their divorce — packing up and dividing their property, a process that dredges up old memories and new emotions in both mother and father. Unsentimental, unsparing, and rigorously honest, A Separation shows the very different ways Mr. and Mrs. Ekberg are looking to move on after 38 years of marriage — her mother seeing an exciting opportunity for change and growth while her father clings desperately to a happiness that has long since passed.
The Seventh Seal
(Sweden / 1957 / Director: Ingmar Bergman)
Trailer: https://www.youtube.com/watch?v=djSbNzZGV6Y
Behold on the big screen in 35mm the most iconic work in Ingmar Bergman's career, with its breathtaking black-and-white imagery that changed movies forever and proved the pure power that cinema as a medium could possess. Max von Sydow's knight returns home from the Crusades wrestling with a crisis of faith, only to find Death itself in his plague-ravaged homeland, waiting to play the most high-stakes game of chess one can imagine. This "radical work of art reaches back to scripture, to Cervantes, and to Shakespeare to create a new dramatic idiom of its own" (The Guardian).
Stockholm Stories (Gondolen)
(Sweden / 2013 / Director: Karin Fahlén)
Trailer: https://vimeo.com/84946116
The Swedish answer to Love Actually, Stockholm Stories follows five interlocking stories (including a precocious yet untalented young writer, a friendless advertising genius, a tight-lipped workaholic, a shy upper-class boy harboring a secret, and a recently dumped young woman) as they weave in and out of each other's lives over the course of a few rainy days in November, learning lessons about love along the way. A clever screenplay and delicately wry ensemble cast help bring this story to life, a story of journeying through the dark in order to live in the light.
The 2015 Milwaukee Film Festival runs September 24 – October 8, 2015 at the Landmark Oriental Theatre, Landmark Downer Theatre, Fox-Bay Cinema Grill, Times Cinema and Avalon Theater. Passes and ticket 6-Packs for the 2015 Milwaukee Film Festival are currently available at discounted rates exclusively online at mkefilm.org/tickets.
Tickets for individual screenings will be available through the Milwaukee Film Festival Box Office starting September 9 for Milwaukee Film Members and September 10 for the General Public.
About Milwaukee Film
Film can entertain, educate, and empower. It can bring change on levels both intimate and epic. And it's at its best as a communal viewing experience, with the best possible sound and projection. As a non-profit cultural institution, Milwaukee Film's mission is to communicate all of this to the city that we love, in a way that is both true and unique to Milwaukee.
Visit mkefilm.org for information on the film festival and the organization, membership, special events, and to sign up for the weekly email newsletter (mkefilm.org/newsletter). Connect with Milwaukee Film on Facebook (facebook.com/MilwaukeeFilm), Twitter (twitter.com/mkefilm), Instagram (instagram.com/mkefilm), and the Milwaukee Film blog (mkefilm.org/news).
The 7th Annual Milwaukee Film Festival will be held September 24-October 8, 2015.
About the Milwaukee Film Board of Directors
Milwaukee Film's independent board is made up of the following members: Chris Abele (Past President); John P. Bania; Donna Baumgartner; Tina Chang; Dr. Robert M. Davis; Michael Drescher; Karen Ellenbecker; Jeff Fitzsimmons; Alexander P. Fraser; Cecelia Gore; Bill Haberman (Past President); Carmen Haberman; Susan Haise; Katie Heil; Patti Keating Kahn; Michael G. Klein; Tracey L. Klein (President); Kenneth C. Krei; Mary Ann LaBahn; Alexander Lasry; Steve Laughlin (Past President); Emilia Layden; Marianne Lubar; Sara Meaney; Steve Mech; Barry Poltermann; Bob Pothier; Joseph A. Rock; Dave Stamm; Julia Taylor; John Utz. Emeritus members: Tom Barrett, Jacqueline Strayer.
NOTE: This press release was submitted to Urban Milwaukee and was not written by an Urban Milwaukee writer. It has not been verified for its accuracy or completeness.
Mentioned in This Press Release
People
:
Alex Lasry
,
Alexander P. Fraser
,
Barry Poltermann
,
Bill Haberman
,
Bob Pothier
,
Carmen Haberman
,
Cecelia Gore
,
Chris Abele
,
Dave Stamm
,
Donna Baumgartner
,
Emilia Layden
,
Jaclyn O'Grady
,
Jacqueline Strayer
,
Jeff Fitzsimmons
,
John P. Bania
,
John Utz
,
Joseph A. Rock
,
Julia Taylor
,
Karen Ellenbecker
,
Katie Heil
,
Kenneth C. Krei
,
Marianne Lubar
,
Mary Ann LaBahn
,
Michael Drescher
,
Michael G. Klein
,
Patti Keating Kahn
,
Robert M. Davis
,
Sara Meaney
,
Steve Laughlin
,
Steve Mech
,
Susan Haise
,
Tina Chang
,
Tom Barrett
,
Tracey L. Klein
Recent Press Releases by Milwaukee Film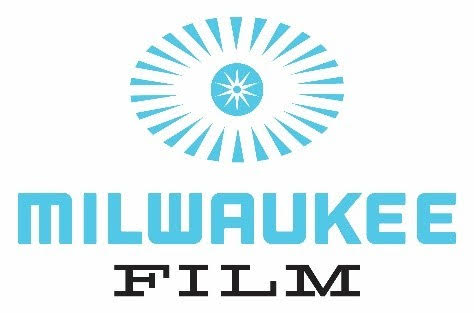 May 10th, 2023 by Milwaukee Film
Milwaukee Film is also pleased to announce the dates for the 16th annual Milwaukee Film Festival, which is set to occur April 11-25, 2024.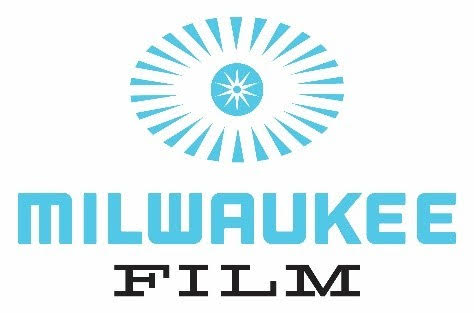 May 9th, 2023 by Milwaukee Film
Gala event to include the film's cast and crew, as well as gay rights leaders from across the state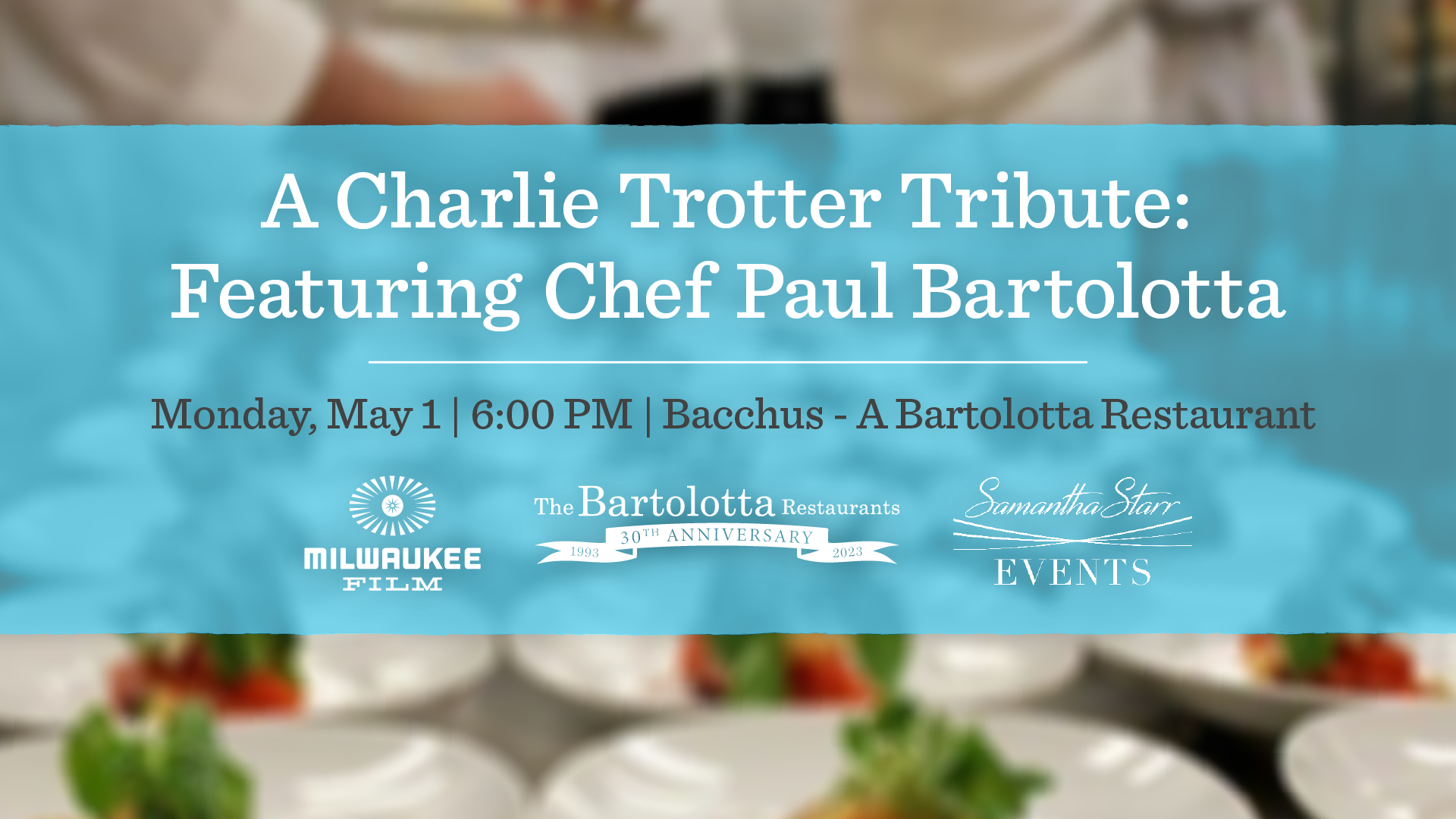 Apr 26th, 2023 by Milwaukee Film
Featuring a five-course meal with five pairings inspired by the film "Love, Charlie: The Rise and Fall of Chef Charlie Trotter," showing at The 2023 Milwaukee Film Festival