A building built for the Monarch Manufacturing Company in 1917. It is now home to Rubin's Furniture and Cramer-Krasselt. It September 2015 it was announced that Rubin's would close and Restoration Hardware would move in.
The building was designed by Martin Tullgren & Sons.
Learn More
Photos
Activity
Content referencing 224 E. Chicago St.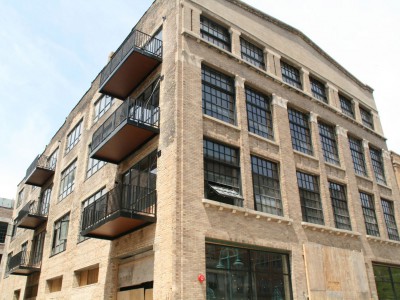 Friday Photos
Booming Third Ward adds apartment complex created from 1904 Eschweiler building.
May 13th, 2016 by Jeramey Jannene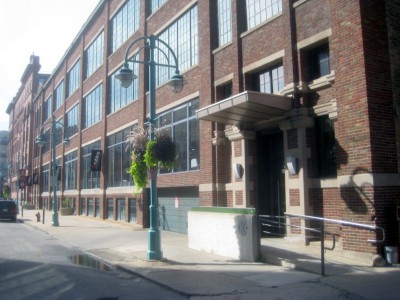 Plenty of Horne
Architectural Review Board creates confusion. Plus: New beats for Journal Sentinel reporters.
Sep 23rd, 2015 by Michael Horne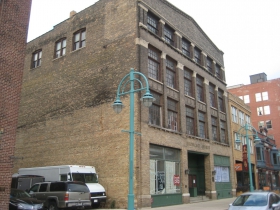 Plenty of Horne
But most of Third Ward architectural review board meeting debates handicapped access ramp for Martin Building.
Nov 29th, 2014 by Michael Horne

Milwaukee Ale House, Water Buffalo, etc, etc. Originally uploaded by compujeramey The nation's third largest independent advertising firm Cramer-Krasselt, who as you may remember was supposed to move to a Robert Ruvin-development in the Park East neighborhood, has announced that they're moving from Van Buren Street to the Third Ward. The firm will move to a 50,000 square feet location at 224 E Chicago St above Rubin's Furniture. They will barely gain any space, but will have what they think is a much more efficient layout (what exactly that means they haven't too clear about, but let's assume it's not a cubicle farm). While the move isn't a sign of improving health for urban Milwaukee, because they're simply trading one space for another, it does help cement the fact that the creative types are certainly calling the Third Ward home. The bigger question raised is what type of businesses will call the Park East neighborhood home?  Cramer-Krasselt moving into the undeveloped neighborhood certainly would have been a large boost for creative firms, but may not have been as good for the city. The concentration of similar firms seems to be a key ingredient of economic success (see Silicon Valley, Wall Street, or even all the biotech firms in Madison). While for the most part that is seen on a macro level (Silicon Valley is a huge swath of land and includes a few different cities), similar firms locating close to each other in Milwaukee is a strong recruiting tool for each firm and for new startups. It's going to be a whole lot easier to convince someone from Boston to come to Milwaukee if they know they're going to be working (and hopefully living) in an area that is filled with like-minded individuals. If they can visit the city and see all the companies in one neighborhood versus being sprinkled all over there will be a lot better first impression made. While the Third Ward continues to draw in creative firms, who will occupy the stretch from the old Pabst brewery eastward?
Dec 11th, 2007 by Jeramey Jannene
Building data on this page, including assessment information, was last updated on September 6, 2020
See something wrong? Want to report an issue? Contact us.