Milwaukee Will Enforce Citywide Curfew For Those 16 And Under
Decision comes after 21 shot, 11 arrested from three Friday shootings.
//end headline wrapper ?>
Get a daily rundown of the top stories on Urban Milwaukee
It's 11 p.m., do you know where your children are?
That's a question Mayor Cavalier Johnson and Police Chief Jeffrey Norman hope a lot of parents start asking themselves.
Following three Friday night shootings in downtown bar districts that resulted in 21 people being shot, the city will move to enforce its longstanding youth curfew.
"This behavior is not going to be tolerated, not only Downtown, but nowhere in the city. Period," said Norman at a press conference Tuesday afternoon. "We had a number of young ones or juveniles who were unfortunately harmed in this." The youngest victim was 15.
The policy requires children under the age of 17 to be off of public property or escorted by a guardian starting at 10 p.m. Sunday through Thursday and 11 p.m. on Friday and Saturday.
Following the Friday shootings, Johnson issued an emergency curfew for Saturday and Sunday nights, restricting access to an area around the Old World Third and Water Street bar districts to those over the age of 21 starting at 11 p.m. No citations for curfew violations were issued.
The youngest individual arrested Friday in connection with one of the shootings was 19. Five of the 11 people arrested were under the age of 21.
The mayor and chief said the enforcement of the long-dormant curfew ordinance would take place across the city. "It's not simply a downtown strategy," said Johnson.
Get a daily rundown of the top stories on Urban Milwaukee
Norman said despite none of the known shooters being 16 or under, the policy was important.
"Too often we're hearing our children are being shot. In fact, in 2020 more kids died by gunfire than anything else," he said. "I don't want one citation issued. I don't want one child to be taken into our possession. But if it means that we have to step up and do it because someone else is not, guarantee it. I expect it and it shall be done."
The ordinance allows parents or guardians to be cited for failing to have children comply with the curfew.
The ordinance also requires businesses, including hotels, to ensure that unaccompanied minors are not present during the curfew period.
"There are other approaches that we are considering as well and we'll implement [them] if crowd violence continues and misconduct continues, not just Downtown, but other places in our city as well," said Johnson without elaborating. Food trucks parked along N. Water St. would be relocated said the mayor. Both Johnson and Norman said more targeted officer deployments would also occur.
Starting June 1 and continuing through Aug. 31, the curfew time is 11 p.m. throughout the week.
The curfew is enshrined as section 106-23 of the Milwaukee Code of Ordinances. The penalty is to be between $100 and $200, as determined by the municipal court. Defaulting on payment could result in a Milwaukee County House of Corrections detention of no more than eight days.
"It shall be unlawful for any person under the age of 17 years to congregate, loiter, wander, stroll, stand or play in or upon the public streets, highways, roads, alleys, parks, public buildings, places of amusement and entertainment, places of employment, vacant lots or any public places in the city either on foot or in or upon any conveyance being driven or parked thereon, between the hours of 10 p.m. and 5 a.m. of the following day, official city time, Sunday through Thursday and between 11 p.m. and 5 a.m. Friday and Saturday, from September 1 through May 31; and between 11 p.m. and 5 a.m. from June 1 through August 31."
The curfew, based on a legislative history file, dates back to 1991.
Investigation Into Friday Incidents Ongoing
The police department, with the support of the FBI, continues to investigate the three separate shootings from Friday.
Norman said no known gang involvement has been determined.
Those with information about any of the shootings are encouraged to report them via any method available, including the anonymous CrimeStoppers line (414-224-8477). Videos, photos or other content can be uploaded by scanning a QR code associated with an FBI tip line (included below).
Captain Chris Moews walked the media through a video of the second incident, where no arrests have been made. Looking at the patio in front of Lowcountry restaurant, 1114 N. Water St., Moews pointed out three different shooters. One used a rifle.
Norman confirmed that "rifles" are included in the weapons recovered from the other shootings. Photos of bullets at the scene include those used in an AR-15.
Johnson praised the work of the officers involved.
"In this incident Downtown, the city's system worked," said the mayor noting that arrests were quickly made, guns were recovered and charges are forthcoming. He said those calling for more police also need to provide resources for the city to maintain its police force and to limit access to guns for individuals.
"I continue to implore our partners at the state to work with us to solve these problems," he said.
Milwaukee Downtown, Business Improvement District #21 hired a nightlife consultant in 2021 to study options for the district. Representatives from Kansas City, Memphis and New Orleans presented their strategies in August to Milwaukee officials including metal detectors, age requirements and anti-loitering rules.
No major changes have been implemented in Milwaukee, but a large surface parking lot on the 1200 block of N. Water St. remains fenced off to deter loitering and prevent large crowds from forming. Portions of N. Water St. and E. Juneau Ave. are also regularly closed to motor vehicle traffic late on weekend nights. The city established a late-night no-parking zone around the bar districts in 2021 and aggressively towed violators in an attempt to disrupt loitering.
Many of the issues on Water Street that occurred in 2021 were attributed to individuals loitering in the areas around the bar, not those in the bars themselves.
Joining Moews, Johnson and Norman at the press conference were FBI Milwaukee office special agent in charge Michael Hensle and Office of Violence Prevention Director Arnitta Holliman.
MPD reports arresting 11 people as a result of the three separate shootings, five of whom were shot themselves. Those that were shot and arrested include a 20-year-old, a 21-year-old, a 28-year-old, a 29-year-old and a 30-year-old.
Those who were arrested, but not shot, include a 19-year-old, three 20-year-olds, a 23-year-old and a 24-year-old. All of the individuals arrested were male.
MPD is referring charging recommendations to the Milwaukee County District Attorney.
Victims' ages ranged from 15 to 47. All of the shooting victims are expected to live.
Second Shooting Video
QR Code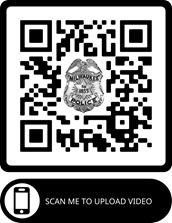 If you think stories like this are important, become a member of Urban Milwaukee and help support real, independent journalism. Plus you get some cool added benefits.