No Early Voting at Miller Park, Fiserv Forum
City fears legal challenges of sites not approved at June emergency meeting.
//end headline wrapper ?>
Get a daily rundown of the top stories on Urban Milwaukee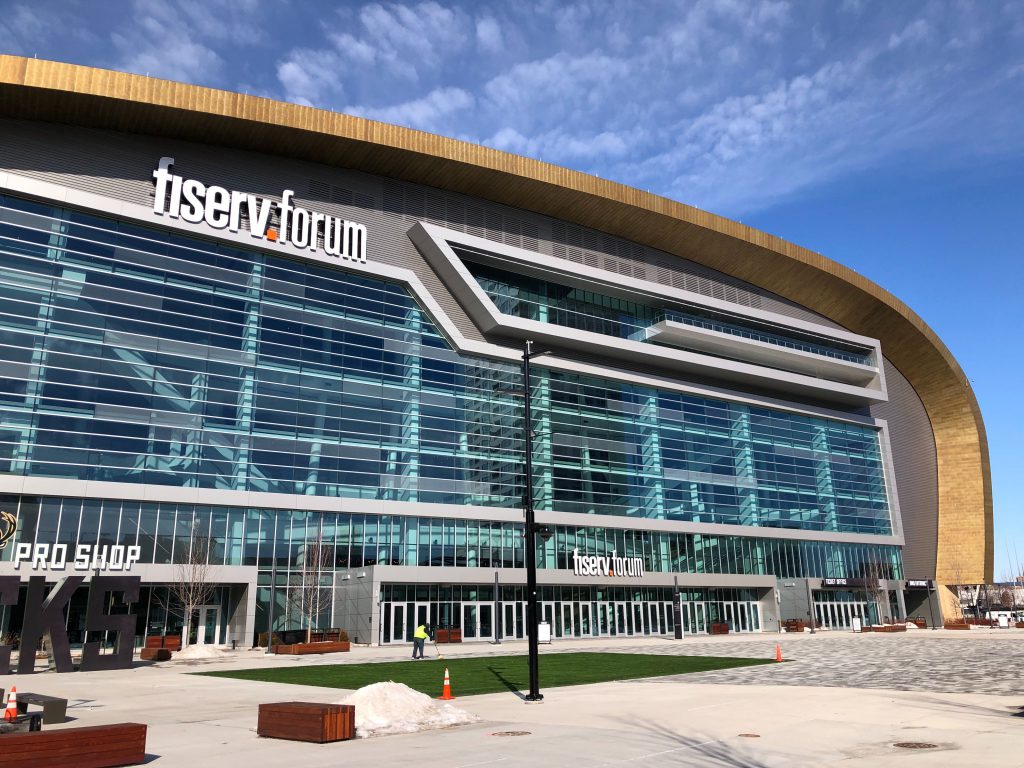 A plan to use Miller Park and Fiserv Forum as early voting sites has been canceled by the Milwaukee Election Commission due to concerns over legal challenges.
"Unfortunately, the addition of these two sites could be legally challenged due to a recent court ruling, and we don't want to do anything that could risk a City of Milwaukee voter's ballot (not) being counted," said commission executive director Claire Woodall-Vogg in a press release.
Miller Park was to serve as a drive-through voting site and Fiserv Forum was to be used as as a large, indoor early voting site. Both sites were scheduled to open as allowed under state law on October 20th and close on November 1st. Neither would have been a voting site on election day, November 3rd.
They were each added to the city's voting site list after a highly unusual Milwaukee Common Council emergency meeting was held on June 11th at 11:30 p.m. to approve a list of early voting sites. The council voted, with little explanation, to approve the city's list of polling places in accordance with a state statute. The council had not voted to approve the early voting locations in the past decade, according to a search of city records.
Woodall-Vogg told Urban Milwaukee in an interview that a recent ruling by federal judge William Conley explicitly prevented the extension of that June 11th deadline and additional guidance from the Wisconsin Elections Commission issued Monday reinforced the deadline.
It's not what Woodall-Vogg expected. "It's a disappointing decision, but one thing I think we have to make," said Woodall-Vogg.
On August 31st, Woodall-Vogg said "I hope not" when asked if she expected legal challenges to adding voting sites to the already approved list.
"It is our belief that COVID requires flexibility and safety," said the executive director. She said Madison had also expanded its list of early voting sites after first publishing a list. "In 2018 we didn't announce our early voting sites until about this time, same in 2016." Mayor Tom Barrett also said the pandemic afforded the city the flexibility to change sites.
The city had three early voting sites in Fall 2016, eight in November 2018, three for the April 2020 election and three for the August 2020 primary. A recent federal court ruling limits early voting to only the two weeks prior to the election.
The city still plans to offer 13 early voting sites where voters can cast in-person absentee ballots or drop off mailed absentee ballots.
Starting October 20th, early voting will be available at the Frank P. Zeidler Municipal Building (841 N. Broadway), Midtown Center (5700 W. Capitol Dr.) and Zablocki Library (3501 W. Oklahoma Ave.) weekdays from 8:00 a.m. to 7:00 p.m., and Saturdays and Sundays from 10:00 a.m. to 4:00 p.m.
The following sites will be open shorter hours (Monday-Tuesday 7:00 a.m. to 1:00 p.m., Wednesday-Friday 1:00 p.m. to 7:00 p.m., Saturday-Sunday 10:00 a.m. to 4:00 p.m.):
Bay View Library, 2566 S. Kinnickinnic Ave.
Cannon Park Pavilion, 303 N. 95th St.
Clinton Rose Senior Center, 3045 N. Dr. Martin Luther King, Jr. Dr.
East Library, 2320 N. Cramer St.
Good Hope Library, 7717 W. Good Hope Rd.
Mitchell Street Library, 906 W. Historic Mitchell St.
Tippecanoe Library, 3912 S. Howell Ave.
Villard Square Library, 5190 N. 35th St.
Washington Park Library, 2121 N. Sherman Blvd.
The UW-Milwaukee Student Union (2200 E. Kenwood Blvd.) will be open Monday through Friday from 10:00 a.m. to 3:00 p.m.
November 1st is the last day of operation for any of the sites.
Previously approved early voting sites at Manitoba School, Milwaukee Area Technical College's downtown campus and Independence First have been removed, at least temporarily. "I am working with MATC to add hours potentially," said Woodall-Vogg.
But Manitoba School is closed as part of Milwaukee Public Schools virtual school switch and Independence First has a high-risk population. The executive director said the sites could be potentially restored.
The Zeidler Building served as a drive-through early voting site in the April election that featured a line several blocks long with a wait time that could exceed one hour. Woodall-Vogg previously said the Miller Park layout would avoid that problem, allowing voters to pull aside while filling out their ballots. But there are currently no plans to offer drive-through early voting she said. "We offer curbside at every polling place," said Woodall-Vogg of the ability for voters to request poll workers to come to their vehicle.
Despite the change in early voting sites announced Tuesday, on Monday Woodall-Vogg told a council committee that efforts to recruit poll workers and collect absentee ballots were going well.
The City of Milwaukee plans to have 173 polling places on election day.
If you think stories like this are important, become a member of Urban Milwaukee and help support real, independent journalism. Plus you get some cool added benefits, all detailed here.