The Crazy "Bay View Prius Lady"
72-year-old reckless driver now has song, music video by local band Two and a Half Stars.
//end headline wrapper ?>
Get a daily rundown of the top stories on Urban Milwaukee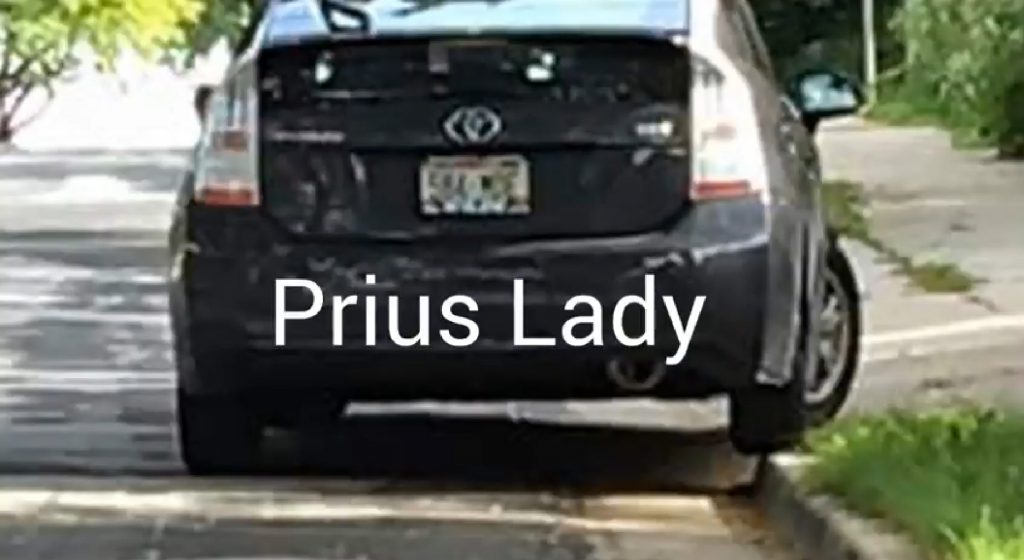 Milwaukee's most well-known reckless driver now has her own song and music video.
Milwaukee-based band Two and a Half Stars released the music video earlier this year. The song highlights the aggressive driving of the 72-year-old Bay View resident who has been known to regularly motor between southeast Bay View and Downtown via the Hoan Bridge.
The song is the title track off Two and a Half Stars' EP "Prius Lady" released December 2017. The self-described "punk 'n' roll" band consists of Jon Newcomb (guitar, vocals), Lynn Winter (drums) and Trevor Hyde (bass).
The catchy chorus of the song asks something everyone who has encountered the aggressive driver has thought: "why can't you be more like the Milverine? Put down the keys to the death machine." The Milverine, John Hamann, is a well-known, often-shirtless construction worker that walks, not drives, between Bay View and Downtown.
Actual footage of the Bay View Prius Lady driving, previously posted to social media, is included in the music video.
Two and a Half Stars is scheduled to perform with Murton Dur and Crimes Against Nature at Frank's Power Plant on Friday night.
About the Bay View Prius Lady
A search of circuit and municipal court records shows that "Prius Lady" has been ticketed at least five times since 2014 for failing to make a left turn, failing to yield, speeding, inattentive driving and an "unsafe lane deviation."
Multiple sources indicate that her family is attempting to get her to stop driving, apparently with no luck: a private Facebook group dedicated to tracking her dangerous driving notes she's still on the roads. She is reported to be a pleasant person when not behind the wheel and is known to pull over to talk to dogs.
Individuals with non-emergency reports of her dangerous driving are requested to call the
Milwaukee Police Department
non-emergency line at 414-933-4444 and report the time, location and license plate number. Alderman
Tony Zielinski
has also previously requested that additionally people contact his office so he can elevate the issue.
For a brief period the sound of her driving became a daily presence in the Urban Milwaukee office when she would speed south down N. Milwaukee St. in the afternoon, laying on the horn the entire way. The police eventually pulled her over, which resulted in a number of employees of area businesses running outside and cheering as one person yelled "they got her!"
Besides the group tracking her dangerous behavior, references to the Bay View Prius Lady are regularly posted online. She's half internet meme, half serious threat to public safety. And now a song. Can an indie movie immortalizing her be far behind?
At least one individual has been injured in a collision with her, which resulted in both vehicles being totaled. She has since acquired a new Toyota Prius which fortunately has the same license plate, 584-MDE, making it easier to track her.
If you think stories like this are important, become a member of Urban Milwaukee and help support real independent journalism. Plus you get some cool added benefits, all detailed here.