Bar Exam
A Bar That's Also a Museum
Brew City MKE in Grand Avenue Mall serves only Milwaukee beers -- and brewing history.
//end headline wrapper ?>
Get a daily rundown of the top stories on Urban Milwaukee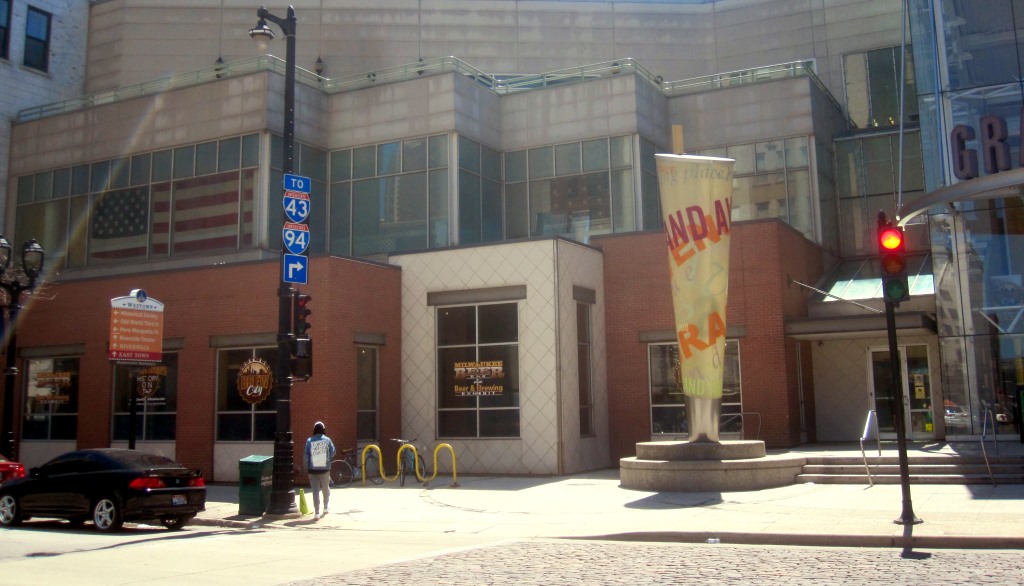 Around the world, museums are using new and novel approaches to draw visitors to their doors, sometimes by opening satellite locations. The Milwaukee County Historical Society did this in October 2017 when it debuted a scaled-down version of its 2016 Brew City MKE exhibit in the Shops of Grand Avenue, 275 W. Wisconsin Ave., just two blocks immediately south of its historic Beaux Arts headquarters at Pere Marquette Park.
The museum signed a one-year renewable lease for a former Applebee's restaurant that had closed in July 2016. The terms were favorable: rent was free and the museum was only on the hook for the utilities. Thrifty museum officials realized that it would be silly to tear out the bar that Applebee's left behind, so the museum plans included a working bar, open to the public during the museum's business hours. Admission to the bar is free. Patrons who choose to visit the exhibition pay $10, which gets them a free beer, and a free trip to the museum's main facility and library that day.
This interesting "pilot program," as the museum calls it, deserves to be better known, since Grand Avenue has been hurting for a bar ever since Mike Murphy closed his place over a decade ago. (Applebee's does not count.)
On Site of Former Palm Garden
Back in 1910, this was the site of the Palm Garden of the Schlitz Hotel, one of the most famous and attractive of the brewery giant's many Tied Houses, so the beer lineage is impeccable. The facility itself dates to the 1982 construction of what was then the Grand Avenue Mall, and the entrance to the museum is immediately east of the main entrance to the mall. From the street it is not easy to read that there is a bar behind the windows that offer a peek into the museum display. But if you look at the many signs and banners, you realize they do say Milwaukee BEER Museum and BAR. Perhaps the operators might consider putting some neon beer signs in the window to attract more attention. There's a fine one from Lakefront Brewery inside the bar, and there are likely collectors who have some vintage ones to offer.
Once you realize that there is a bar in the place, everything falls together quite quickly. Upon entering the establishment, the eye is drawn to a wall-sized sign reading "BEER". The letters are composed of hundreds of beer labels from many decades, superimposed upon one another, and rather engaging as art. The walls are hung with a number of old lithographs, like an 1885 calendar from when
Pabst Brewing Company
was still named after
Fred Pabst
's father-in-law,
Phillip Best
. The bar sits in the middle of the room, with steps leading to the museum proper, which is also accessible by a ramp. We'll get there in a minute, but let's have a look around the bar. There are eight tap lines. Only Milwaukee beers are served, and they are listed on a chalkboard, including the neighborhood of origin. (Lakefront Brewery is located in Brewers Hill, appropriately.) The board also includes the A.B.V., and the availability of the various beers in various sized glasses at various prices. There is a curious machine that will seal your tap beer in a 25.4 oz. can to go, which is a nice touch. Also at the bar is a shelf filled with family-friendly board games. The museum also maintains an active events calendar. On May 9th, it will screen
The Cabinet of Dr. Caligari
, a silent 1921 classic that the museum claims to have "MKE ties." The screening is the first in a new monthly series entitled "Vintage Movie & Games."
Curates What Ales You
Beer in hand, it is off to the museum. Many readers of Bar Exam enjoy finding old bars with neat old photographs and other memorabilia within. The Best Place at the Pabst Brewery is a treasure house of Blue Ribbon ephemera, but it is safe to say there is no single collection under one roof (and serving beer at that) to rival the display in the attached museum.
The display includes considerable text pondering such existential matters as:
Milwaukee has long been known as the city of beer, but one must ask … Why Beer? Why Here?
There were a number of factors involved, we learn, including abundant farmland, accessible hop fields, good water, ease of transportation, location near population centers, rivers and lakes filled with ice in the winter, and a huge immigrant population from Germany and other Northern European beer-drinking countries.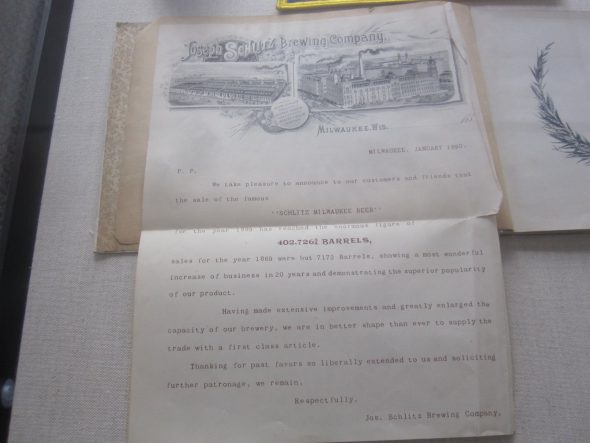 A letter from the Joseph Schlitz Brewing Company boasted 1889 production of 402,726-3/4 barrels of beer, up from 7,172 barrels in 1869. During that time, the city population swelled from 71,440 to 204,468. There are other delights within — chairs from the Gettleman Brewery manufactured from barrel staves, samples of malted barley to touch and taste, any number of bottles and glasses, some quite rare, and an abundance of advertising material.
A photograph of the Pabst Brewery art department in the 1890s is full of fabulous items, and reminds us that beer was always a leader in mass advertising techniques. There are lots of pretty Victorian ladies in various states of undress. Displays also recount Milwaukee's famous brewing families, and even include handy recipes for home brew, including the non-alcoholic kind that nobody ever made.
The display also notes the ancillary businesses that grew to prominence here in the service of the breweries. There are the ice harvesters, for example. Ice was crucial to keep beer chilled during the lagering process, and breweries used hundreds of thousands of tons annually. (Another geographic benefit for Milwaukee was the presence of hills into which beer caves could be dug.) Brewing was the first industry to embrace mechanical refrigeration in the late 19th century, so companies like Vilter Manufacturing, makers of ice machines, also figure in the analysis. Then there are the companies that made the bottles, and the companies that made the machines that washed the bottles, as well as the various means of transportation used to get beer and its ingredients from one place to another. These include everything from dollies to locomotives. A beautiful display from Pabst is festooned with ribbons its horse teams won at the 1904 World's Fair in St. Louis, home of archrival Anheuser Busch.
Other displays include equipment used in making industrial quantities of beer, including blending machines used to maintain quality and consistency, a Lauter Grant, an early bottling machine and other wonders that beggar description.
Isn't it time you support your local museum? And have a beer while you're at it?
On Tap - Sponsored by Lakefront Brewery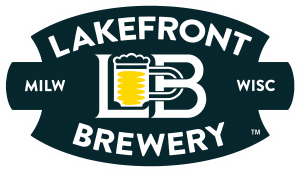 Explorium Toasted Coconut Porter
Gathering Place The Wordsmith
Lakefront Brandy Barrel-Aged Cherry Lager (2018)
MKE IPA
Miller High Life
MobCraft Ode Etta Sahti
Third Space Java Blanca
Black Husky Obstinator
Photo Gallery
The Verdict
Trade Name: Brew City MKE
Location: Shops of Grand Avenue, 275 W. Wisconsin Ave. City of Milwaukee
Neighborhood: Kilbourn Town
Subdivision:

Original plat of the Town of Milwaukee West of the River [1835]


Phone Number: 414-897-8765
Website: www.BrewCityMilwaukee.com
Facebook: @BrewCityMilwaukee
Twitter: @BrewCity_MCHS
Description: An unique community outreach by the Milwaukee County Historical Society includes a bar featuring local beers and a small fraction of the group's magnificent collection of breweriana, located in a former Applebee's in the Shops of Grand Avenue. For fans of beer history, this is a must-see exhibition. It could use better street visibility
Capacity: 168
Year Established: Opened October 2017
Year Building Constructed: 1982
Building Owner: Tony Janowiec

Estimated Annual Rent: According to the Class "B" Tavern License Application, the renewable lease that runs through 08/31/2018 has an annual rent of $0. Operator is responsible for utilities
Property Assessment: Could not be readily determined due to the complexity of the real estate
Legal Entity: Milwaukee County Historical Society. Mame McCully, [D.O.B. 12/22/1984] Executive Director, Agent
Business: Tavern, Museum. Alcohol Sales: 20%; Museum Admission: 80%
Walk Score: 88 out of 100,  "Very Walkable" Most errands can be accomplished on foot." City Average: 62 out of 100.
Transit Score: 71 out of 100: "Excellent Transit." Transit is convenient for most trips. City Average: 49 out of 100.
Aldermanic District: 4: Robert Bauman
Police District: 1
Bike Racks: One right outside the door
If you think stories like this are important, become a member of Urban Milwaukee and help support real independent journalism. Plus you get some cool added benefits, all detailed here.
If you think stories like this are important, become a member of Urban Milwaukee and help support real, independent journalism. Plus you get some cool added benefits.
Displaying political contributions between people mentioned in this story. Learn more.
Bar Exam