Bar Exam
Unique New Place for Craft Beers
Eagle Park Brewing Co. is now in the century-old former space of The Hamilton. It is solid.
//end headline wrapper ?>
Get a daily rundown of the top stories on Urban Milwaukee
In 2015 brothers Maxwell T. Borgardt and Jackson T. Borgardt founded Eagle Park Brewery, LLC. They opened a pilot facility and tasting room in January 2017 at the Lincoln Warehouse in Bay View, while most of their beer was produced offsite by a contract brewer.
This week, Eagle Park opened in its new facility, a 5,000-square-foot former parking garage built in 1919 at what was originally 238-Hamilton St. for the A. F. Gallun & Sons Tannery, founded in 1858.
The tannery, now the site of the River House Apartments, closed in 1993; the company's warehouse and offices, a handsome building at 1818 N. Water St., has been converted into condominiums, and is located across the street from the new taproom. The neighborhood is a far cry from what it was during its tannery days, when the northern end of N. Water St. was a desolate place, with only the Five & Ten tavern to serve as a refuge.
This garage building had a mix of uses after the closing of the tannery, including serving as a Furniture Manufacturing and Retail facility for Big Blue Industries (1996) and as the home of Holzhauer Sign Manufacturing Co. in 1999.
The building, with its skylit interior and massive reinforced concrete construction, entered the alcohol business in 2011 when it became The Hamilton, a lounge that simulated a hotel lobby (minus the hotel.) It was one of the first neighborhood locations to go through the trouble of muddling, bittering, and otherwise fussing around with cocktail preparations in a retro fashion. For awhile, the place served as an outpost of Like Minds Brewery, which specialized in sour beers. Those barrels went into the Dumpster a couple of months ago when Eagle Park took over the lease of the building and bought the equipment.
A Band of Brothers
The Brewing Borgardt Brothers, along with two other siblings, founded the Eagle Trace Band, a local alternative rock group in 2011, when Jackson was only 19 and unfamiliar with fermented malt beverages, due to his youth and innocence. Eagle Trace is also the corporate name of the brewery, and was taken from the name of the New Berlin street where the brothers grew up.
According to the brewery website:
Eagle Park Brewing Company has been in the beer business since…well, since we first tasted (legally, of course) the sweet, marvelous beverage that's made from malted grain. … Two brothers who love writing music and playing in a band together. Two brothers who absolutely love drinking beer together. Two brothers who started brewing in their garage together.
Brother Breweries are not rare. In Milwaukee, Lakefront Brewery, just across the river from Eagle Park, was founded 30 years ago by Russ Klisch and Jim Klisch. Both are still involved in the operation, but only Russ has an ownership stake. Other sibling sudsmakers include Veteran Brothers, Two Brothers, Brothers and Bond Brothers breweries, all founded by brothers.
There are also instances of brothers opening rival breweries, including twins Mikkel Borg Bjergso and his brother Jeppe Jarnit-Bjergso. The latter has opened a brewery called Evil Twin. They don't get along.
The Borgardt brothers certainly do, and share the labor at the brewery. They both have the good sturdy build that comes in mighty handy when you are hauling around 50-pound bags of malt.
An Investor With Deep Pockets
Eagle Park only brewed 5.5 barrels of beer in February, so the brothers are excited to be in the new space, since it will take quite a bit more production than that to meet the expenses of this costly real estate. They hope to see about 43 per cent of the revenues come from the sale of food; the place is equipped with a fine kitchen, under the control of chef Nathan Heck, whose experience includes a stint at Braise. A recent Brunch Menu includes Croque Madman, Grit Cake and Bacon, and Smoked Brisket Pierogi.
The other 57 per cent of the revenue is expected to come from sales of beer in the taproom, which has a capacity of 240.
Although the brothers are equal partners in the venture, each has only a 24.6 per cent share. Another 23.1 per cent share belongs to James J. "Joel" Quadracci, the President and CEO of Quad Graphics, Inc., a NYSE-traded company. [NYSE: QUAD]. Quad Graphics was founded in 1971 by Quadracci's father Harry. Joel Quadracci received cash compensation of $3 million from his company last year, so it appears he will be able to handle the financial strain of getting this brewery off the ground. The remainder of the ownership is scattered among those with less than a 20 per cent interest.
Memberships are also available. The Black Membership [$1,000] gives you half-priced beer for life; the Gold membership gives you half-priced beer for a year, while the Frequent Flyer gives you a buck off your beer for a year.
A Look Around the Place
The building is an attractive utilitarian structure with vaguely Mediterranean details, composed of a buff brick with arched windows. A central entryway was once for vehicles, and is now more conventionally designed for retail use. The walls are painted in gray, largely, and are postered with various musical photographs, album covers and suchlike. The place is flooded with lights, thanks to skylights above, which don't leak, even under a heavy April snow cover. The floor, like the building structure itself is concrete, and the place has tables and stools for the customers, plus a little lounge area in the front. The bar is along the west wall, and gives the bartender ample space to do his work. This is one solid structure.
A turntable behind the bar awaits Wednesday evenings, which is "Bring Your Own Vinyl Night." This has the potential to draw a good crowd of vinyl lovers to the place, and will be worth following. Drinks are half-priced when your record is playing.
A door beyond the bar leads to an ample deck that could probably seat 100 people in season. It overlooks the parking lot, and the River House Apartments. The Holton Marsupial Bridge is temptingly close if you care to head across it and see what the folks at Lakefront are up to.
Joint IPA to be Released
Eagle Park and Lakefront will be brewing a collaborative beer to be released in July. Along with taprooms and canned beers, collaborations are the new thing in the ever-changing craft brewery business.
But you don't have to wait until July to enjoy a collaborative, since Eagle Park and 1840 Brewing Co. have teamed up on what they call, fittingly, "Joint IPA," described as a "Dank IPA" which will have its release at the brewery today. Chef Nate will be serving a special "Munchies Menu," to accompany the beers, which will be available to go in cans (Eagle Park) or bottles (1840).
On Tap - Sponsored by Lakefront Brewery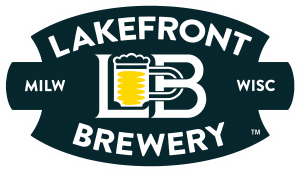 Huey Lewis And the Booze Brown Ale - Other
Huey Lewis And the Boozier Brown Ale - Imperial / Double
Loop Station Golden Ale
Pilot Batch: 027 Pale Wheat Ale - American
Set List IPA - American
Immortal Soul IPA - Imperial / Double
Photo Gallery
The Verdict
Trade Name: Eagle Park Brewing Company
Location: 823 E. Hamilton St. City of Milwaukee
Neighborhood: Lower East Side
Subdivision: Hubbard & Pearson's Addition [c. 1850's]
Phone Number: 414-585-0123
Website: http://www.eagleparkbrewing.com/
Facebook: https://www.facebook.com/EPbeer/
Twitter: @EagleParkBeer
Description: A new brewery, equipped with canning line and taproom opens in a 99-year old tannery garage near Brady Street
Capacity: 240
Year Established: As Brewery, 2015. Pilot brewery and tasting room opened in Lincoln Warehouse, Bay View, January, 2017; opened at current location April, 2018
Year Building Constructed: 1919 as parking garage for the nearby Gallun Tannery. Lot to the west, with parking for 30 automobiles, has been vacant since at least 1919
Building Owner: 823 Hamilton LLC c/o Founders 3 Management

Estimated Annual Rent: Estimated at $21.34 per square foot, annual rent for the 3,333-square foot taproom is $71,126.22; Estimated at $8.99 per square foot, annual rent for the 1,667 square foot brewery is $14,986.33 for a total estimated annual rent of $86,112.55 according to Assessor's calculations. Rental estimates do not necessarily reflect actual rent, but are used by Assessor to calculate property value. Building is leased by operator
Property Assessment: The 20,000-square-foot lot is assessed at 460,000 [$23.00/s.f.] and the improvement is assessed at $191,000 for a total assessed valuation of $651,000. Previous assessment: $634,000. Building is leased by operator
Property Tax: $17,340.29, paid on the installment plan
Legal Entity: Eagle Trace Brewing Company, LLC. Atty. Erin M. Strohbehn, Agent. Maxwell T. Borgardt [D.O.B. 05/27/1989] Agent, 1st Partner [24.6%]; Jackson T. Borgardt [D.O.B. 01/14/1992] [24.6%]; James J. "Joel" Quadracci [D.O.B. 01/07/1969] [23.1%]; Other owners hold less than 20 per cent interest each.
Business: Brewery, Full Service Restaurant. Alcohol Sales: 57%; Food Sales: 43% (Place has large kitchen)
Walk Score: 89 out of 100,  "Very Walkable" Most errands can be accomplished on foot." City Average: 62 out of 100.
Transit Score: 57 out of 100; "Good Transit." Many nearby transportation options. City Average: 49 out of 100. Green Line; Route #15 steps away
Aldermanic District: 3, Nik Kovac
Police District: 1
Bike Racks: No. Plenty of fence and a gas meter
If you think stories like this are important, become a member of Urban Milwaukee and help support real independent journalism. Plus you get some cool added benefits, all detailed here. 
Displaying political contributions between people mentioned in this story. Learn more.
Bar Exam