Data Wonk
Why Can't MPS Improve Results?
Perhaps because our leaders ignore data on which schools work.
//end headline wrapper ?>
Get a daily rundown of the top stories on Urban Milwaukee
Why does Milwaukee lag other large cities when it comes to the success of low-income students, particularly African American and, to a lesser extent, Hispanic students? The recent attempt to terminate the charter school contract for Daniels University Preparatory School helps, I think, illustrates the problem.
Let me start my exploration of this problem with a seemingly unrelated question, but one that the Data Wonk series has increasingly concentrated on: why an increasing amount of innovation is taking place in a relative handful of cities that vote Democratic. A large part of the answer, I think, is these are the places that are most tolerant of odd ideas. Expecting the demand for coal to recover, for instance, is not a formula for economic success. When ideology overwhelms evidence, problems become much harder to solve.
When it comes to Milwaukee education, the loudest voices on the left owe more to the Tea Party than to pragmatic liberalism. They only get truly energized when they sense a threat to their ideology favoring traditional public schools. Once the threat is over, they withdraw until the next threat. Meanwhile Milwaukee Public Schools enrollment continues its slow decline. When Mayor Tom Barrett proposed taking over MPS some years ago, he was confronted with a very energetic opposition. Much the same thing happened when County Executive Chris Abele agreed to legislation that would have allowed him to take responsibility for a couple of underperforming MPS schools.
The chart below shows the breakdown of results on Wisconsin's 6th grade language arts test for two MPS charter schools and one regular MPS school. Both charter schools–Milwaukee Excellence and Daniels University Preparatory School– had a rocky time before the Milwaukee School Board.
Milwaukee Excellence's application for a charter was initially rejected by the board. Several months later the board reversed course and approved a charter for the school. I was on the MPS charter school review committee that unanimously recommended that the board contract with the school.
More recently a board committee recommended that Daniels' charter not be renewed because it had not met the conditions of its contract. Among those opposing the renewal was the Milwaukee Teachers Education Association.
The third school whose test results I show is a regular MPS school, the Hopkins-Lloyd Community School. During the fight over the establishment of the Opportunity School District by Abele, opponents of the district pointed to Hopkins as an example of the kind of school that should be established.
I picked those three schools to look at not as a random sample, but because each, in its own way, was a player in the fight over whether MPS should authorize more charters. In addition, the three are near each other on Milwaukee's north side. They also serve similar populations—over 90 percent African American and heavily low income.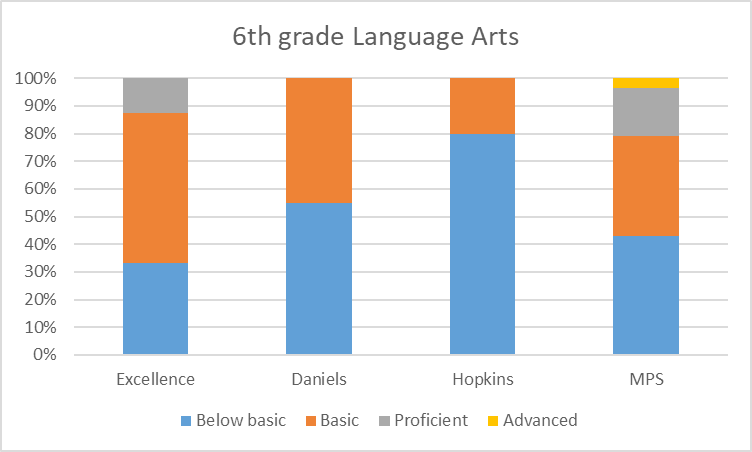 The next chart shows the breakdown of the same schools' results on the state's 6th grade mathematics test. I chose this grade because it was the only grade that all three schools have tested so far. Milwaukee Excellence is only in its second year of operation, starting with 6th grade and planning to add a grade each year.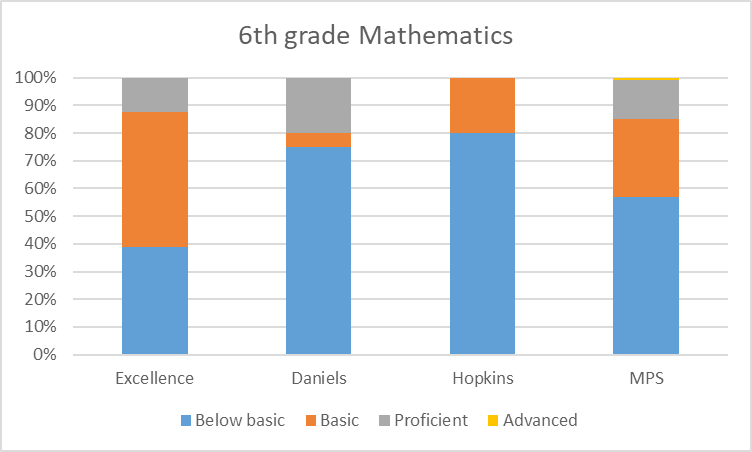 The next chart shows how two of the schools fared on the state report cards and compares them to the average MPS district and statewide schools score. Because Milwaukee Excellence is a new school it did not receive a report card; with only one year of data, student growth could not be calculated. As can be seen, the Daniels school outscores Hopkins Lloyd school but also outscores the MPS district score in the state's calculations, implying that closing Daniels would have resulted in most of the displaced students attending a lower state-rated school.
The next chart shows the growth score for the two schools, as well as for the district and for Wisconsin as a whole. This score is calculated on how much a student's score improves on the Language Arts and mathematics test from one year to the next. Particularly with students who start out behind, I consider this growth measure the most meaningful measure of school success. Do their students continue to fall further behind—or does the gap narrow? On this measure, Daniels beats not only Hopkins and the district, but Wisconsin as a whole.
Measurement of student achievement and student progress remains controversial in education circles—particularly if multiple-choice tests are used. Yet without some sort of measurement it is hard to see how the process can be improved. There is also a clear, but not perfect, correlation between test results and other measures of student success. Some years ago, I looked at 8th grade scores and student graduation five years later. The better the score the more likely a student would graduate.
Milwaukee is often ranked high among cities for its poverty and other sources of student distress. Among possible factors inhibiting student success is lead exposure from paint and perhaps lead laterals, trauma from living in a violent neighborhood, and evictions and homelessness of a child's family. But these challenges are not limited to Milwaukee.
Figuring out how schools can help their students meet these challenges is not a trivial matter. However, a first step is to recognize that some schools do better at this than others. The next step is setting aside prior beliefs whether from ideology or from adult self-interest and looking at what the evidence tells us.