U.S Oil Won't Ship Oil From Port
Signs written agreement and city gives it additional land at no charge.
//end headline wrapper ?>
Get a daily rundown of the top stories on Urban Milwaukee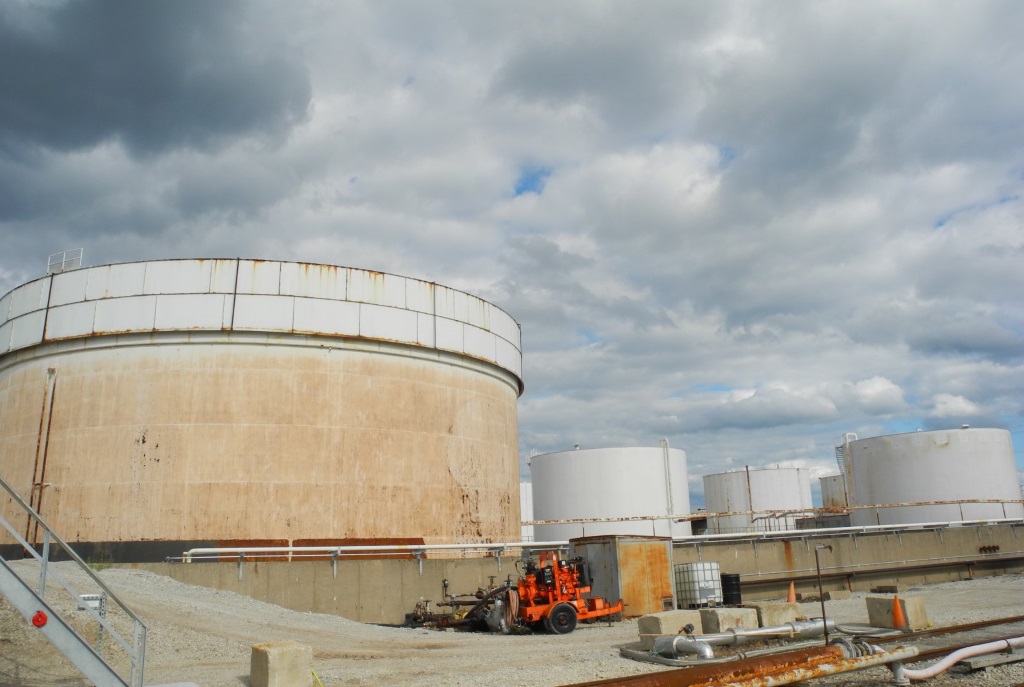 A new amendment to U.S Oil's ground lease in the Port of Milwaukee promises the company will not handle or ship crude oil out of their facility, while adding another .95 acres to their property free of charge.
U.S. Oil, a subsidiary of U.S. Venture Inc., went before the Common Council's Public Works Committee in May to secure a tract of land for a pipeline connecting their terminal to the port's liquid cargo dock. As Urban Milwaukee reported then, advocacy groups and elected leaders expressed concern about the pipeline and the potential increase in traffic of hazardous materials at the port. But they were particularly concerned that U.S. Oil's lease allowed them to handle and ship crude oil out of their facility.
At the May meeting, U.S. Oil representatives assured the committee their primary interest was shipping ethanol."Wisconsin has a very strong ethanol industry and it's an export market for the state. So we've always looked at Jones Island as an outlet for that product, for international markets primarily," Richard Sawall, director of business development for U.S. Oil, told the committee.
But advocates pointed to interviews Sawall gave to shipping trade magazines where he said U.S. Oil was "considering" shipping crude oil out of their Jones Island terminal, and even discussed the volumes of crude oil their terminal on Jones Island could receive by rail.
Later in May, when the land deal went before the full Common Council, it failed to earn enough votes to be adopted the first time a vote was called. But after council members considered that preventing access to the liquid cargo dock would violate the company's master lease and be considered a breach of contract, it was adopted after another call of the vote.
But Ald. Nik Kovac also proposed that U.S. Oil commit to not ship crude oil from the port. So U.S. Oil representatives came back Wednesday for another amendment to their lease promising not to handle crude oil at their facility. The new amendment also adds two parcels of bare ground to their lease that add up to .95 acres for no additional rent.
"I do want to thank them for being true to his verbal word and putting it in writing," Kovac said of Sawall and the company. "On the narrow issue of does this lease make us feel a little bit safer on the Great Lakes… Yes it does."
Kovac added that the lease amendment barring crude oil at the terminal was thanks largely to the concern and efforts of local advocacy groups like Citizens Acting for Rail Safety and the Milwaukee River Keepers.
Still, "there are a number of unanswered questions," he noted.
Eric Hansen, of Citizens Acting For Rail Safety, said he and others are still troubled by U.S. Oil's expanded footprint and their handling of liquid petroleum gas (LPG) at the port. They were also concerned about a potential tire pyrolysis plant, which decomposes tires at high temperatures, and is allowed for in the master lease.
Sawall said they had no plans for the pyrolysis plant currently. Then he said, "Quite honestly I don't understand why it's our responsibility to forecast our private plans at the Port of Milwaukee," and added that "the fact of the matter is opportunities come and opportunities go."
Advocates feel differently. Hansen said the waters in the lake, the port and the surrounding rivers represent "decades of clean water efforts." And he feels that any storage and shipping of hazardous materials from the port deserves significant scrutiny.
"And the health of those waters and the health and safety of our citizens," he said, "are not a private matter."
But for now, the committee and U.S. Oil have an agreement, which will be reviewed at the next meeting of the Common Council.