House Confidential
The Mansion Where Nuns Lived
With connections to France, novelist Henry James and abolitionist Edward Holton.
//end headline wrapper ?>
Get a daily rundown of the top stories on Urban Milwaukee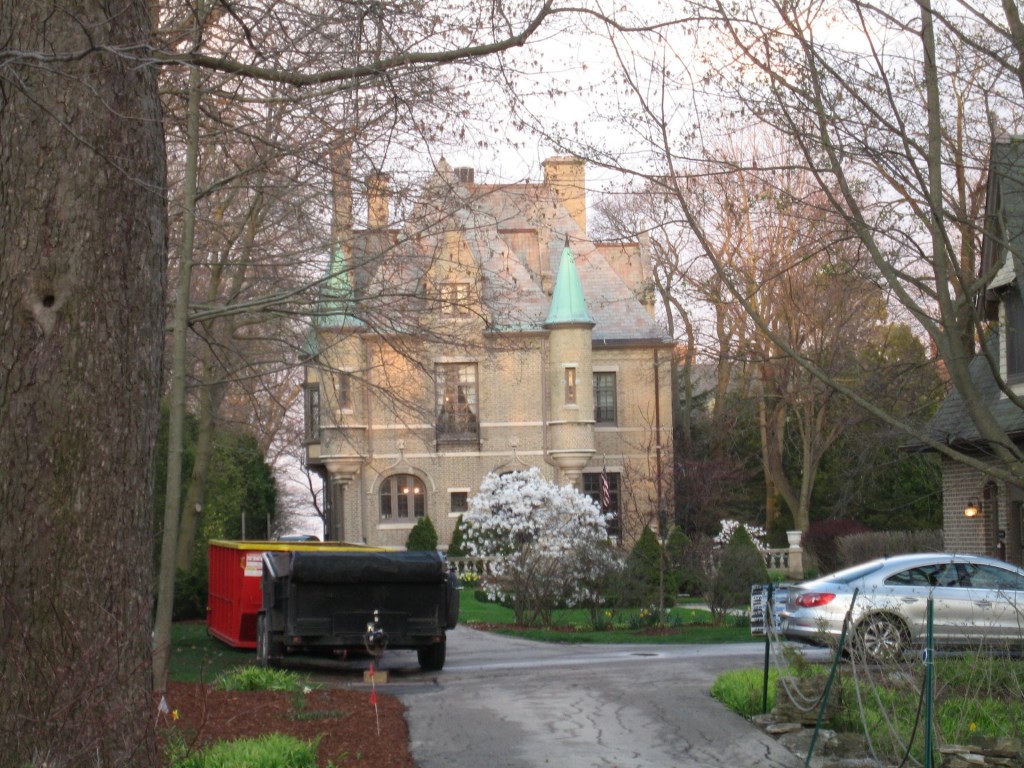 This home was built in 1912, and is pattered after the 16th century Chateau Azay-le-Rideau that caught the fancy of Orrin W. Robertson and his wife Harriet Holton Robertson on a trip to the Loire Valley of France.
The Robertsons were particularly avid home builders — they were in their 60s when this place was completed, and went on to build yet another home on Lake Drive in 1922, as well as at least two in California. Today it is the home of Michael P. Buethe and his wife Lisa Buethe, a playwright who has staged original productions in this mansion, designed by famed architect Alexander Eschweiler. The Buethes will open the home to the public May 14th during Historic Milwaukee Incorporated's 2016 Spaces and Traces Tour. For most of the 20th century, the home served as a residence for nuns — both Catholic, and Episcopalian, a very rare breed of nun indeed. What with Ms. Buethe's theatrical interests, and the long line of previous owners, it is safe to say that this home is more closely identified with women than any other heretofore visited.
Quite a Spread, Enough for Many Nuns
Let us first note that this immense mansion has more than 9,000 square feet of finished living area in two structures, eight bedrooms, five full and two half-baths along with four fireplaces. It has the features one would expect in a mansion of the era, particularly one with a sentimental look to a romantic past. It has turrets, for instance. What could be more romantic than that? A story by the Catholic Herald recently described the home as "the castle-like abode… just south of Hartford Avenue, set deep within an acre-and-a-half estate that includes lush gardens and an arresting view of Lake Michigan."
You might ask yourself why the official publication "Serving the Archdiocese of Milwaukee," is concerned about the architecture of a Milwaukee mansion. That would be because of its unique history. The home's original owners, the Robertsons, lived here only until 1928. Tanning executive David B. Eisendrath and his wife later lived there and sold it in 1963 to the Sisters of Our Lady of the Retreat in the Cenacle "as a residence for the order's provincial mother and her staff" the Catholic Herald notes, who "quickly gave it a new name: the St. Regis House."
The order sold the entire property in 1981, and the Buethes book the home in 1987. But let us now turn back to home's early history, for it is filled with tales of the rich and famous.
Edward Holton, Family and Friends
History has recorded that Orrin Robertson was the president of the Western Lime and Cement Company, founded in 1870, so it is fitting that the home features a great deal of dressed stone. But before we get too excited about the fortunes of the great gravel kings, we should direct our attention to his wife, Harriet Holton Robertson [1851-1941], the daughter of Milwaukee pioneer Edward D. Holton [1815-1892], who made a fortune in the wheat trade in the 1840s and he helped establish and became president of the Milwaukee Board of Trade.
It appears that his daughter is the one who called the shots, architecture-wise and perhaps otherwise in her marriage with Orrin Robertson. Certainly she had the means to bankroll her projects: She and her two sisters each had inherited $500,000 upon their father's death, which gave them a purchasing power that would be valued in the tens of millions of dollars today. (Around the same time the Pabst descendants were making about that much per year.)
Robertson, the gravel king, was dirt-poor by comparison.
Along with a great pot of money, Harriet Robertson inherited a social conscience from her abolitionist father and her mother, a first cousin of President Millard Fillmore.
Edward D. Holton served on the board of the Milwaukee College from 1853 to 1872. Previously he had been the President of the Milwaukee School Board among other offices in the late territorial and early statehood period. After he left the board, his wife Lucinda Millard Holton served on the college board from 1872 to 1878.
Harriet Holton Robertson, their daughter and the force behind the construction of this home, graduated from Milwaukee College in 1871 and, like both of her parents later served on the college board, in her instance from 1889 to 1900 by which time the college had merged with Downer Seminary to create what later became the University of Wisconsin – Milwaukee. Her father's 1892 challenge grant of $37,000 was the largest the college had seen to that time. Holton Hall remains in his honor.
Sought Role — and Public Offices for Women
In 1891 Harriet Robertson was one of the founders of the Women's School Alliance of Wisconsin. In 1895 she wrote about the mission of her group. The women:
banded themselves together for the purpose of improving the condition of the public schools. While in no sense pretending to criticize the work of the School Board, the ladies felt that there were many things in school life which are apparent to mothers that are unnoticed by fathers. [Emphasis original.]
Mrs. Robertson also added a little note to the group's mission statement reading:
Effort should be made to have women added to the School Board
This, at a time when women could not vote, and when educating them was given little priority in society.
Pioneer of Western Education
Her father was one of the most traveled Americans of his era, and in 1879 set out by stagecoach and train with Lucinda Holton and a grandson Edward Holton James on a trip to California to inspect some land there that had been bought by a Milwaukeean. The book, Travels with Jottings: From Midlands to the Pacific, was early digitized by the Library of Congress and is a classic.
He and the family had earlier spent years wandering Europe, including during the Civil War — despite her Public School fascination in later life, Harriet had herself been educated in Switzerland as a young woman.
In 1906 she and her husband bought a home in Ojai California, near where her father and cousin had visited decades before. They bought a German style home there that year. When it burned down in 1917, it was rebuilt again, and then in 1918 she built El Mirador, another mansion in Ojai.
Ojai is the home of the Thacher School, the oldest boarding school west of the Mississippi. Robertson's granddaughter Margaret Thacher married Anson Thacher, headmaster and son of the founder.
The Henry James Connection
By curious coincidence, Harriet's sister Mary Holton married a fellow named Robertson as well. However, in this instance Robertson was his first name, and a rather stilted one at that. To complicate things for future researchers, Robertson's last name was James, which in most instances is a first name.
Robertson James came to Milwaukee to find his fortune — shall we say he did that simply by marrying Mary. However, theirs was a troubled marriage disrupted by his drinking. In 1883 James opened an art studio in Milwaukee. A reporter noted that James had already been "among other things" a reporter himself.
Robertson James had yet another brother who married into a Milwaukee family — Garth Wilkinson James, who married Caroline Eames, a friend of Mary Holton. He is buried at Forest Home Cemetery here.
He, too, did not find success in life. Both of the James brothers suffered from alcoholism. They also suffered from comparisons to their elder brothers Henry James, the great novelist, and William James, the great philosopher, as well as their sister Alice James.
The James family correspondence shows that they did not much care for the Holtons or Milwaukee, for that matter. This is a shame, for Edward D. Holton was a great man, and he could pack more into a short sentence than Henry James could fit into a page-long sentence.
Edward D. Holton on Juneau, Walker and Kilbourn
[Delivered at the opening of the Chamber of Commerce, November 22nd, 1858]
"Behold the Men!
JUNEAU, WALKER and KILBOURN.
Of nearly equal height and size!
The First from Montreal
The Second from Virginia
The Third from Connecticut.
The domains of the First lay north and east of the Milwaukee River;
That of the Second south of the Milwaukee and Menomonee Rivers;
That of the Third north of the Menomonee and west of the Milwaukee —
Three Grand Divisions.
Upon one point these men were agreed, and only one.
And that was that neither of the others were to have a town on their lands."
Photo Gallery
The Rundown
Owner: Michael P. Buethe and Lisa B. Buethe
Location: Milwaukee
Neighborhood: Downer Woods
Subdivision: Government Lot #4
Year Built: 1912
Architect: Alexander Eschweiler
Style: 2 Story Mansion; 2 Story Coach House Residence Old Style
Size: Mansion: 7,350 s.f.; Coach House:1,804 s.f.
Fireplaces: Mansion: 4; Coach House: 0
Rec Room: Mansion: Yes; Coach House: No
Assessment: Land: Current location: 58,650 s.f. lot is assessed at $325,300 [$5.55 /s.f.]. Improvements: $1,126,700 Total: $1,452,000. Current owner purchased property in 2011 for $1,400,000.
Taxes: $ 42,414.28 Paid through an installment plan.
Garbage Collection Route and Schedule: CP1-2A Monday Blue
Polling Location: Plymouth 2717 E Hampshire St.
Aldermanic District: 3, Ald. Nik Kovac
County Supervisor 3 Sheldon A. Wasserman
Walk Score: 33, Car Dependent
Transit Score: 55, Good Transit
How Milwaukee Is It? The Residence is 4.3 miles from City Hall and 5.23 miles from the Court House.
[Researched by Dylan Deprey]
Historic Tour
What: Spaces and Traces — Historic Water Tower Neighborhood. Tour of eight homes and four commercial buildings. Presented by Historic Milwaukee Inc.
Where: On Milwaukee's east side. Headquarters for the event is the Church in the City, 2648 N. Hackett Ave.
When:9 a.m.-5 p.m. May 14.
Tickets: HMI members pay $20; non-members, $25; volunteers, $10. They are available at the Historic Milwaukee Inc. office, online, at all Milwaukee-area Colectivo locations and at Winkie's Toys & Variety store in Whitefish Bay.
For more information: See the website or call (414) 277-7795.
House Confidential Database
| Name | City | Assessment | Walk Score | Year |
| --- | --- | --- | --- | --- |
| Name | City | Assessment | Walk Score | Year |